Five

 Fall Health Trends 

You'll

 

Love

 
Hello fall. Hello. It's finally here. The cooling of the temps. The leaves changing colors and crackling under your feet. Why not take a little time out to give your overall wellbeing routine a refresh? After a scorching summer, here are five fall health trends you'll want to try.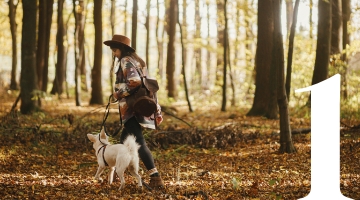 Many of us aren't too eager to spend time at crowded gyms or in indoor fitness classes. And is there any season more perfect for hiking than fall? It combines exercise and foliage-spotting, plus, nature is super soothing for your soul. To search for trails near you, the American Hiking Society has a handy tool for finding the best local options. And while you're at it, check out the Japanese art of forest bathing. This practice allows you to reconnect with nature while boosting your mood.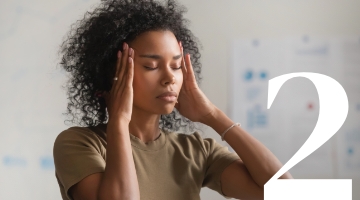 No mat or accessories required! Face yoga doesn't even involve actual yoga poses, it's a set of facial exercises you can do to tone the muscles beneath your skin. This natural alternative to anti-aging remedies increases circulation and blood flow to create a more youthful and radiant complexion.  
Go ahead, unclench your jaw a little, take a deep breath in, and try these exercises right now. 
TENSION RELIEF
Stimulating this acupressure point helps to reduce eye strain. You can use it to calm down during the day or before you fall asleep. 
Press into the inner corner of your eyes for 30 seconds.

Then circle gently in one direction for 30 seconds.

Repeat in the opposite direction.

 
EYE CIRCLES
This exercise boosts oxygen circulation and alleviates puffiness. Use light, featherweight touches. 
Place your ring fingers at the inside of your eyebrows.

Gently tap your fingers toward the outside of your eyebrows.

Press into your temples for a few seconds.

Continue to tap above your cheekbones to the inner corner of your eyes.

Continue for 30 seconds.

 
BROW SMOOTHER
This exercise relaxes the large muscle at the front of your forehead, which can cause stiffness, rigidity, and expressions of stress.  
Place your fingertips at the center of your forehead, facing inwards.

 

Gently press your fingertips into your forehead as you move your fingers toward your temples.

 

Release your fingers.

 

Continue for 30 seconds.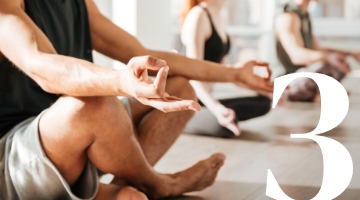 Find your personalized place of peace. There is no one-size-fits-all solution to emotional health. Aura is the first app that learns how to best help You. Tap into an endless library of resources for your wellbeing, all taught by the world's best coaches, therapists, and storytellers. 
Aura's personalized recommendations are curated daily, just for you, so you can rise, take on the day, and go to bed feeling centered. 
Try Aura for free! For a one-month free membership and 40% off after the free month expires, enter code Isagenix at AuraHealth.io.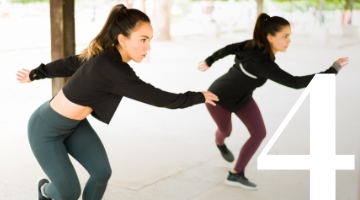 With attention spans stretched thin, micro-HIIT workouts have become popular. These short bursts of high–intensity interval training range anywhere from three minutes to 20-minutes. They're appealing because it's much easier to work at max-effort for a shorter time. Plus, you'll boost your metabolism not just while you're working out, but for a period afterward. You can find micro-HIIT workouts on various apps offering cardio, strength, and balance workouts as short as 10-minutes.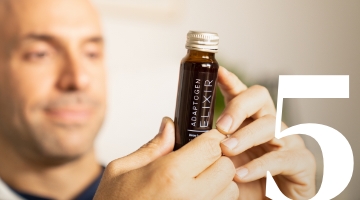 This fall, even your drinks are stepping it up with adaptogen ingredients. Adaptogens are a group of plants that gradually help your body adapt to stress.* And while these herbs, roots, and mushrooms may seem revolutionary, they've been used for centuries in Ayurvedic and Chinese medicine.  
The unique blend of herbs, botanicals, and adaptogens found in Adaptogen Elixir creates a time-tested yet modern way of managing daily stress.* So go ahead, sip your way to serenity. It looks great on you.
* This statement has not been evaluated by the Food and Drug Administration. This product is not intended to diagnose, treat, cure, or prevent any disease.