Meet Your IsaBody Finalists for the 2022 U.S. Judging Period 2
The IsaBody Challenge® is kind of a big deal to our entire Isagenix family. How could it not be? It's a 16-week journey to work toward whatever wellbeing goal you set your mind to—and it includes your own personal cheer team every step of the way to help make it happen.
Our latest Judging Period has ended, meaning five 2022 U.S. Judging Period 2 IsaBody Finalists have been chosen. Each will receive US$3,000 and a chance to become the U.S. IsaBody Grand Prize Winner or Runner-Up!
Let's hear what each of our finalists has to say about their journey. Get ready to be inspired!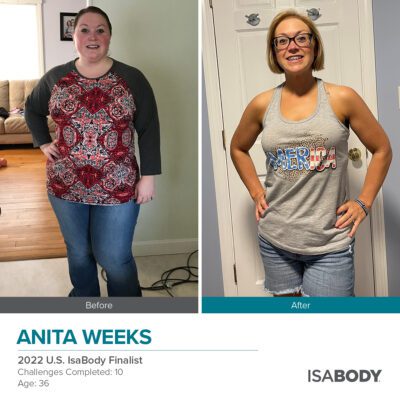 Anita Weeks
Augusta, Maine
Age: 36
Height: 5'2"
Total Weight Loss: 106 pounds*
Challenges Completed: 10
Anita's weight plagued her for years. Spending more time on the couch as a spectating parent to her daughter because of these conditions, she was desperate for a change. She tried the Isagenix 30-day system and was thrilled not only with the weight she lost, but how much better she was feeling overall.
"I kept at it and did something I swore I wouldn't do – I started exercising!" Anita started slow, doing just a few minutes a couple times per week. But as the pounds kept melting off, her energy exploded. "I was able to build up to cardio workouts 5-7 times a week! I found an amazing balance between regular exercise, following the system (including the beneficial 2-day cleanse) and was still able to be a 'foodie'!"
In November of 2019, she hit her goal of losing 100 pounds and was inducted into the Isagenix 100-Pound Club. Since then, she's lost a few more pounds and maintained it throughout 2020. The ability to do that through lockdowns and the stress of having a young child home doing remote learning, along with summertime BBQ's and holidays, is deserving of an award!
"I'm able to participate in life, instead of being a bystander on the couch. I can keep up with my seven-year-old daughter and enjoy life with her. I'm able to set a healthy example for her, which is extremely valuable. Thank you Isagenix for helping me get my life back!"
Chad Ulrich
Garden City, Kansas
Age: 48
Height: 6'0"
Total Weight Loss: 42 pounds*
Challenges Completed: 2
In 2020 Chad found himself in the worst shape of his life. "I was 40-50 pounds overweight, with large amounts of belly and visceral fat, dangerously high blood pressure, and little energy. My wife, also struggling physically, and I needed a drastic change."
As a former college football player, he knew how to workout, how to eat right, yet repeatedly struggled with losing and then gaining weight. "I'd step on the scale and say, 'This is the heaviest I will ever let myself get.'" But in October of 2020, he reached his breaking point.
"I didn't mind eating healthy but when I did, I was famished after working out. I would end up pigging out on something, killing my momentum, and sabotaging my results. I never could quite figure out the nutrition piece of the puzzle." Then along came Isagenix.
He and his wife, Laurie, reconnected with an old friend who mentioned she was working with Isagenix and coaching on their nutrition. "The first excuse for not starting was the cost. I couldn't afford this, right? My poor health and my wife's desire to make a change caused me to take another look." After doing a 30-day audit on their dining out expenses, he and his wife had their answer. "We were spending more each month than Isagenix would cost and that's when we decided to set aside any excuses to not jump in all the way."
The biggest difference for Chad on this journey was the Isagenix community. Tiffanie was an incredible coach and endless leaders and users on Facebook were willing to help them in any way. They were overwhelmed with the support.
"I knew I would lose weight. What I didn't expect was how I felt and how much lean muscle I began to build. I had more energy and more focus than ever before. Together, my wife and I have released 75 pounds."
But it was what his son said two months into his journey that impacted him most: "My wife was taking an updated picture of me and my son walked in and said, 'Dad, you have abs!' That was it. I was sold."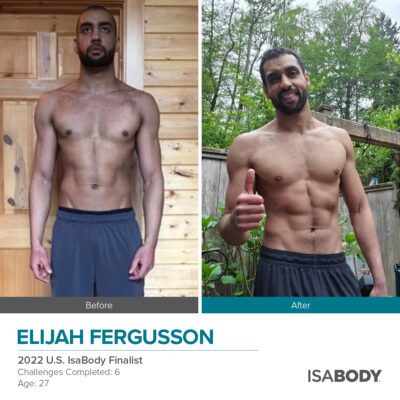 Elijah Fergusson
Clinton, Washington
Age: 27
Height: 6'0"
Total Weight Loss: 10 pounds*
Challenges Completed: 6
This IsaBody Challenge had less to do with Elijah's physical appearance, and more to do with his physical capability. It was also one of the reasons for changing his approach towards achieving his fitness goals. "When I entered my first IsaBody Challenge I was on the tail end of a five-year battle with cancer."
Over the course of a year, he managed to gain roughly 25lbs of muscle with the help of daily IsaLean Shakes and a healthy gym routine. His mindset was obtain more muscle to become healthier, and his mantra worked.
Reaching his physical goals made his body strong and motivated him to eat healthy and stay consistent with it throughout the day. Still, something inside of him felt a little off. "I came to realize that the physical goals I had set were not serving the best version of myself. I was healthy, I was strong, and I looked good, but all these things did not give me the physical freedom I really desired."
Childhood memories of effortlessly leaping over fallen trees and shrubs as he ran through the forest flew through his mind. He missed that freeing feeling of running around for hours on end without getting tired, "I was always the first to jump at the opportunity to take off exploring into the forest and the last of my friends to call it quits."
So, he changed his training approach. "My workouts now consist of mostly bodyweight movements, and when I do use weights, 25lbs is the heaviest I use. These practices highlighted many imbalances and weak points in my body, some I didn't know I had. The feeling of being increasingly solid is starting to make those dreams of physical freedom come true. And the amount of muscle retention is ridiculous!"
Eiljah is now happily running around the forests again, this time with a few IsaLean Bars to keep him going.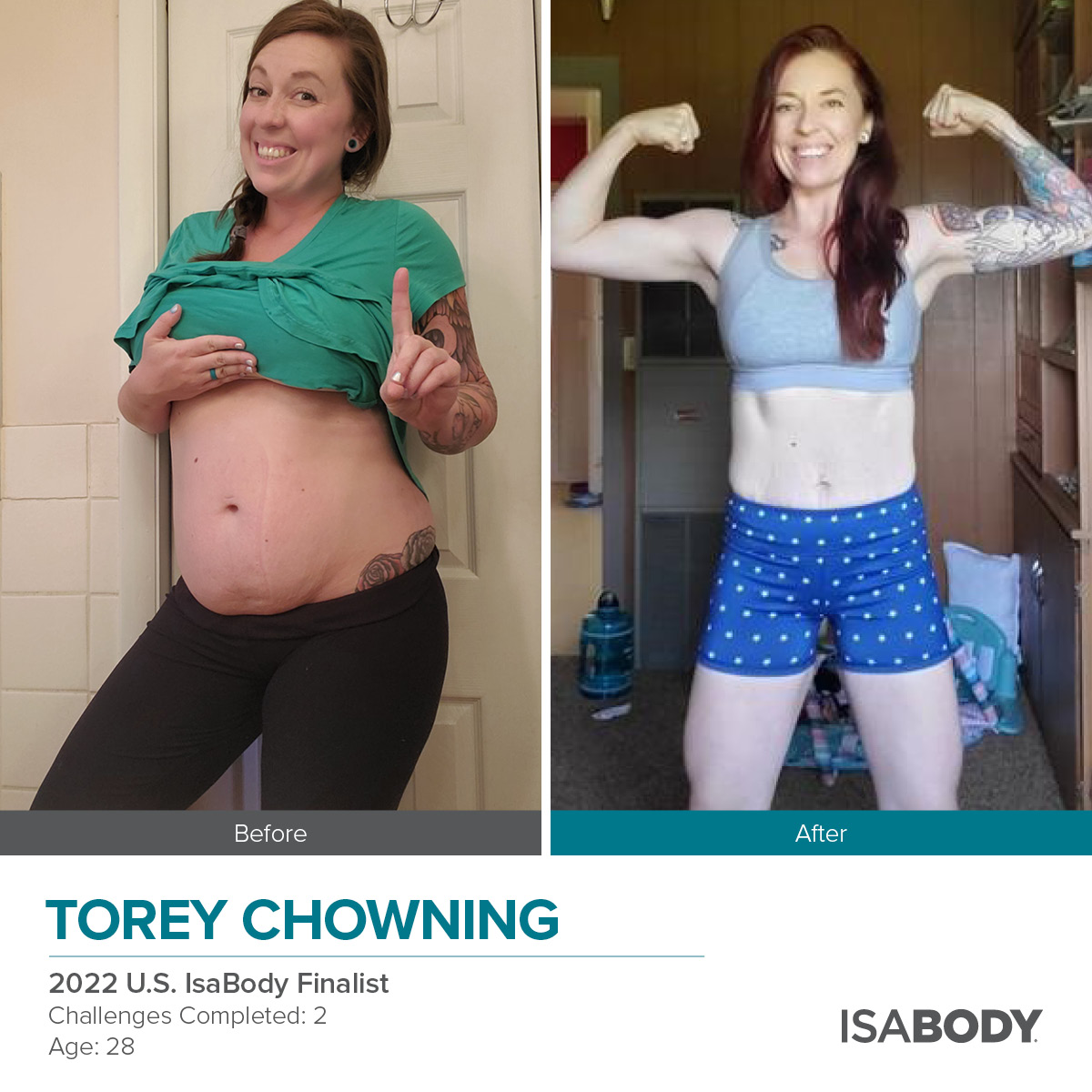 Torey Chowning
Scott City, Kansas
Age: 28
Height: 5'5"
Total Weight Loss: 38 pounds*
Challenges Completed: 2
"I believe the greatest gift you can give your family and the world is a healthy you." Joyce Myer said that, and it's a core belief of Torey's. Living as an adult with undiagnosed ADHD (until recently) was a struggle for her. Things like meal prep or sticking to a healthy routine weren't her strong points.
"I would absolutely kill myself in the gym to see the scale go nowhere. My relationship with food was at best unhealthy and I thought I had to starve to get results." After becoming a mom to two kids in the same number of years, Torey witnessed her friend Alexxa's transformation using Isagenix and it blew her away. She finally decided to give it a try.
Torey still can't believe how her postpartum journey has been with Isagenix! At less than 8 months postpartum, she's down 70 pounds.*
"While releasing 70 pounds feels good, that's not even the best part. I feel healthier than I ever have in my whole life at 28 years old. I have an amazing community of people to lean on, which is a new thing for me. This company and these products have helped me make huge strides in loving myself."
Her number one goal in life is to be a good example for her children and the best mom and wife. She'll confidently tell you that she's on that path. She'll also tell you it's more than losing weight. It's gaining friendships and tools to grow as a person, healing your relationship with food, and learning to not quit on yourself.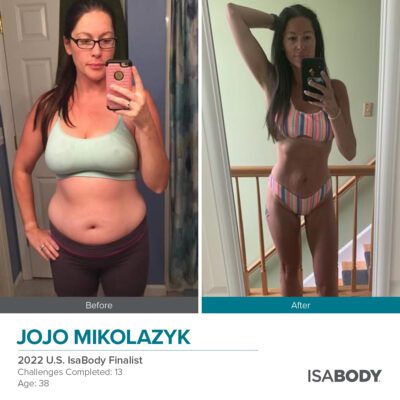 Jojo Mikolazyk
East Falmouth, Massachusetts
Age: 38
Height: 5'9"
Total Weight Loss: 39 pounds*
Challenges Completed: 13
JoJo's been in an IsaBody Challenge consistently for the past 4 1/2 years but says this is the one that left her feeling her healthiest, strongest, and absolute best.
"I am the leanest I have been in my adult life with defined muscles and enough energy to crush my goals every day. I've incorporated Hydrate, XM moringa, BĒA, and Repair into my daily routine. My friends and family cannot believe how amazing my body looks and I am blown away by how incredible I feel every day. I workout four to five days a week, making it a nonnegotiable portion of my self-care routine now."
Jojo alternates working out with light weights and riding her Peloton bike. Utilizing the hashtags #ISABody and #ISABodyChallenge allowed her to connect with so many other Isagenix people. It's especially delightful when a fellow IsaBody Challenge teammate is on a ride to push each other.
There really is no comparison to the IsaBody community and culture of constant support and encouragement. "When I post about it on social media, I always get the most amazing feedback. I love to inspire others to also be their best selves every day. My 9-year-old daughter even joins me on my bike rides and her hashtag on the bike is #IsaKids."
Jojo has formulated a vision of seeing herself on the IsaBody Challenge stage. "My team can see me up there too. When I started Isagenix in October 2016 I was fatigued, irritable, and did not have much self-worth regarding my physicality. But now, through this tremendous process and the help of this amazing nutrition, I know I can accomplish any goal I set."
Be one of our next U.S. IsaBody Finalists!
*Weight loss, muscle gain, lifestyle, and other results depicted here reflect exceptional individual experiences and should not be construed as typical or average. Participants in a 2016 study showed weight loss of 24 pounds after 12 weeks of the cleansing and fat-burning system. Results vary with individual effort, body composition, eating patterns, time, exercise, and other factors. If you are pregnant, nursing, diabetic, on medication, have a medical condition, or on a weight control program, consult your physician before beginning any fitness plan or attempting to lose weight.