Written By
Michelle Oeltjen
Meet Your 2023 Canada Judging Period 3 IsaBody® Finalists 
Ready to be inspired? Our 2023 Canada Judging Period 3 IsaBody® Finalists know a thing or two about determination and perseverance, especially in the face of adversity. Each will receive $3,000 and a chance to become the IsaBody Grand Prize Winner! Read more about their IsaBody journeys and what drives them to get after their goals.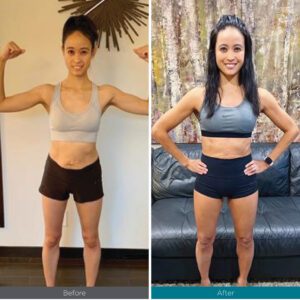 Winnipeg, Manitoba 
Age: 40
Total Weight Gain: 5 pounds 
Challenges Completed: 8 
It's all about family for Sharon. Her love for IsaLean™ Shakes and products with Moringa oleifera has been passed down to her husband and three growing children. "They all love these products!" 
Sharon challenged herself even further for this IsaBody Challenge by attending a local high-intensity gym with her husband. She was powered by AMPED™ products, confident she could push herself further and further each day.  
The Isagenix products she uses, including the beauty line, have made such a difference in the way Sharon looks and feels. "I see a huge boost in my energy and mental clarity. I'm sleeping well and keeping up with my children!"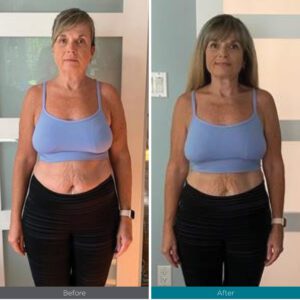 Lower Coverdale, New Brunswick
Age: 55 
Total Weight Loss: 21 pounds
Challenges Completed: 1
Frustrated and defeated. That's how Kelly Smith was feeling with symptoms of weight gain, poor sleeping patterns, low energy, and joint pain. 
She decided to reach out to her coach who had incredible results over the years with Isagenix and committed to completing an IsaBody Challenge. Kelly set a personal goal of losing 20 pounds and successfully achieved that… and more! "After 16 weeks of using Isagenix products, I now have more energy, I'm sleeping better, and my joint pain has subsided. I now exercise daily and eat healthy, balanced meals." 
Kelly finds the routine of Shake and Cleanse Days so easy and simple to follow. She even packs Isagenix products on vacations so she's always on track.  
She looks forward to helping and inspiring others after retiring from her 32-year career as a dental hygienist. "I recently became a grandmother and I'm excited to have this renewed energy in my life! I am so thankful I started this journey for myself."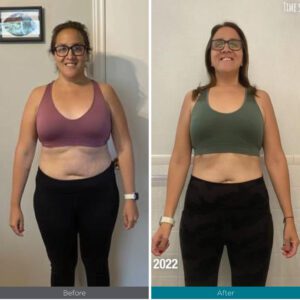 Miramichi, New Brunswick
Age: 37
Total Weight Loss: 60 pounds
Challenges Completed: 7
Before finding Isagenix, Ana Rodriguez was lost and didn't feel she belonged anywhere. She was missing her family in Mexico, had no energy, and her weight kept creeping upward.  
"When I discovered the Isagenix community, it affected my life in the most positive way. The team I joined was hosting a Fall group challenge, so I participated and eventually won! Everyone celebrated ME! I hadn't felt that good in years." 
Ana's goal for this challenge wasn't about weight, it was about breaking old patterns, staying active, nourishing and hydrating her body, and doing more things she felt aligned with who she was becoming. She let go of old beliefs that no longer served her—such as feeling she needed to earn her food or work out every day in order to eat whatever she wanted on the weekends. 
"I lost a total of 50 pounds since starting Isagenix and created a new way of life. I exercise regularly and now live a much healthier lifestyle." 
The IsaBody Challenge helped Ana rediscover and redefine her life. Every challenge brings her closer to the person she wants to be… the happiest, healthiest version of herself.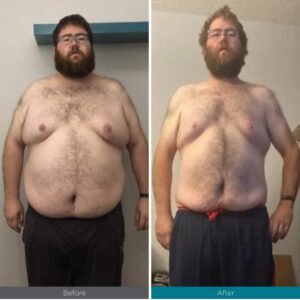 Calgary, Alberta 
Age: 33
Total Weight Loss: 109 pounds
Challenges Completed: 7
Aaron Brogan has never felt better in his life. He started his journey with IsaBody two years ago. Back then he was unhappy with his life, especially his weight. After his sister introduced him to Isagenix, he went from 340 pounds to 230, in addition to losing numerous inches around his body.  
He loves the simplicity of Isagenix. "I don't need to think about breakfast or lunch. I just start my day and know that my meals are taken care of. With the snack options available you never feel the need to cheat or eat something that'll mess with your progress." Aaron loves that he can have a cheat day or enjoy evening meals and still see progress while reaping the nutritional benefits of Isagenix.  
"Thanks to Isagenix for the development of such an easy system. Anyone can change their lives if they want to put in the work." 
Ready to Try an IsaBody Challenge? 
Whether your wellbeing goals are to stay lean, build muscle, or simply be more active, IsaBody® can help you get there. Register today to discover how you can transform your life in 16 weeks. 
*Weight loss, muscle gain, lifestyle, and other results depicted here reflect exceptional individual experiences and should not be construed as typical or average. Participants in a 2016 study showed weight loss of 24 pounds after 12 weeks of the cleansing and fat-burning system. Results vary with individual effort, body composition, eating patterns, time, exercise, and other factors. If you are pregnant, nursing, diabetic, on medication, have a medical condition, or on a weight control program, consult your physician before beginning any fitness plan or attempting to lose weight.