Meet Your
IsaBody
Finalists for the
2022
C
anada
Judging Period 3
The 2022 Canada IsaBody Challenge is a 16-week commitment that participants make to change their lives. They commit to a goal, pick the right nutrition, and create a fitness routine that puts them on top. And there's a community supporting them the whole time.  
Our latest Judging Period has ended and our four 2022 Canada Judging Period 3 IsaBody Finalists have officially been chosen. Each will receive CA$3,000 and a chance to become the Canada IsaBody Grand Prize Winner! 
Let's learn more about each of our finalists and their inspiring stories.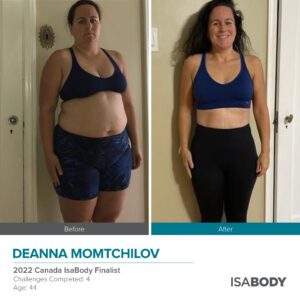 Winnipeg, Manitoba 
Age: 44 
Height: 5'1" 
Total Weight Loss: 59 pounds* 
Challenges Completed: 4
Deanna's last challenge lived up to its promise. It truly was a challenge. With uncertainty and difficult news in the media, Deanna grew weary. For her, she had to push through her own mental health struggles while continuing to parent four children through challenging times. It wasn't easy for her, especially when comfort food seemed to be the only option. 
But amidst the chaos, Deanna chose to find balance. She had to fight through the lie that letting go of her health goals would be easier and bring her more peace than fighting forward. Instead of giving in, she chose to press on towards better health. "My journey wasn't perfect, nor did I expect it to be. But I was able to maintain my weight loss through difficult times. And I was able to keep my mental health in check as well.
The Choice
Deanna chose not to reflect on the negative during her 2022 Canada challenge and instead reminded herself what her "why" was. She focused on why she wanted to eat healthier and how it made her feel better. Sometimes she would fall off track but would wake up the very next morning to drink IsaLean™ Shake and take her Ionix® Supreme. Successfully navigating her ups and downs, Deanna will continue to wake up each day and choose her health. "I am grateful for Isagenix products to support me on my journey."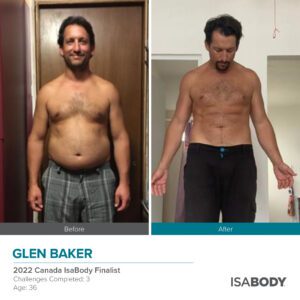 Manitoba, British Columbia 
Age: 36 
Height: 5'8" 
Total Weight Loss: 18 pounds* 
Challenges Completed: 3 
The first challenge Glen completed helped him stay focused. For four months, he worked out consistently and ate nutritiously, including supplementing with AMPED™ and other vegan products. But with his consistency, Glen realized that switching things up within his routine helped keep things fun. He focused more on strength and lifestyle routines and listening to his body when he needed to rest. 
Even with all his success, it wasn't as easy as he made it seem. "The results of my latest challenge weren't the best, but I'm happy with the progress I made. When I started this in April, I was in one of the worst conditions I've ever been in." Glen struggled with isolation orders and struggled to stay motivated with his fitness. Looking forward to summer weather and another IsaBody Challenge helped him stay dedicated.
Dedication
His dedication to fitness wasn't the only thing he gained from Isagenix. Sitting on a ferry one day, he saw someone with an Isagenix shaker in her backpack. The cup broke the ice, they started talking, and now they make an awesome power couple! "Thank you judges for picking me as a Finalist."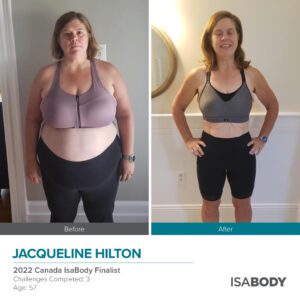 Port Dover, Ontario 
Age: 57 
Height: 5'5" 
Total Weight Loss: 101 pounds* 
Challenges Completed: 3 
Jacqueline has now completed three challenges and is happy to say that The Art of Wellbeing encompasses everything she does! Last year, she struggled with climbing stairs, tying her shoes, and was always out of energy. Now she runs a 5k twice a week, exercises consistently, has lots of energy to play with her grandkids, and feels fantastic!  
When she started her journey, Jacqueline was focused on losing weight and being able to do things she couldn't. "But the numbers are only part of my success. My energy level, mood, skin, and fitness have all come so far." Going into her third challenge, her thinking and attitude evolved from one of a weight loss journey to a healthy lifestyle transformation. She added dumbbell strength training and started a running program. "I see each decision each day as an opportunity to make healthier choices. I'm not perfect, but who is? I've developed so many good habits and found so much good advice from my Isagenix friends." 
Fit & Healthy
During the 2022 Canada challenge, Jacqueline discovered how much she loves working out at home. She has her favourite yoga routines, workout instructors, and uses Isagenix daily. "Staying fit and healthy is a lifestyle now. Excuses are easy. Every day now, I choose me." Jacqueline has had the best 11 months of her life. She's feeding her body what it needs, has a leaner body mass, and is choosing herself every day. "I am now living my life to the fullest and will continue to improve and become the very best version of myself—all while being present in my family's life."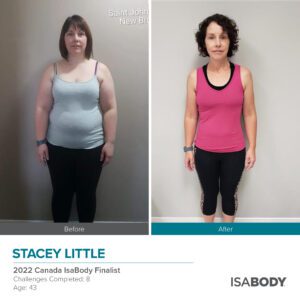 Fairfield, New Brunswick 
Age: 43 
Height: 5'5" 
Total Weight Loss: 67 pounds* 
Challenges Completed: 8
During Stacey's most recent IsaBody Challenge, she started it with a goal to lose more weight. But as time went on, she realized where her focus needed to be. "It was time to focus on my next goal of gaining muscle and toning up." She decided to commit to the challenge and incorporated AMPED™ into her regular workout routine. She noticed a difference in her ability to tone and gain muscle.  She grew to love the products and says they helped her power through her workouts and stay strong. 
Not only was she able to get physically stronger from her most recent IsaBody Challenge, Stacey grew mentally stronger, too. Quarantining, bad weather, and health issues had gotten her down but, "I am proud to say I powered through and was able to stay on track with the help of my Isagenix team, community, and products."
Community
Stacey realized that with Isagenix, it's not just the products that are meant to help you. The sense of community she gained from participating in the IsaBody Challenge uplifts her when she's feeling down and cheers for her when she succeeds. "I will forever be thankful that Isagenix helps me mentally and physically and helps me stay strong during challenging times." 
*Weight loss, muscle gain, lifestyle, and other results depicted here reflect exceptional individual experiences and should not be construed as typical or average. Participants in a 2016 study showed weight loss of 24 pounds after 12 weeks of the cleansing and fat-burning system. Results vary with individual effort, body composition, eating patterns, time, exercise, and other factors. If you are pregnant, nursing, diabetic, on medication, have a medical condition, or on a weight control program, consult your physician before beginning any fitness plan or attempting to lose weight.