Meet Your IsaBody Finalists for the 2022 U.S. Judging Period
3
The IsaBody Challenge is a life changing opportunity. For 16-weeks, our participants push themselves to complete any goal that improves their wellbeing. And, there's a community behind them supporting their journey. We've been reading stories and seeing how hard our IsaBody Finalists worked to change their lives.  
Our latest Judging Period has ended, meaning five 2022 U.S. Judging Period 3 IsaBody Finalists have been chosen. Each will receive US$3,000 and a chance to become the U.S. IsaBody Grand Prize Winner or Runner-Up! 
We wanted to take a moment to learn more about each Finalist. Grab your tissues and inspiration journal, these stories are amazing!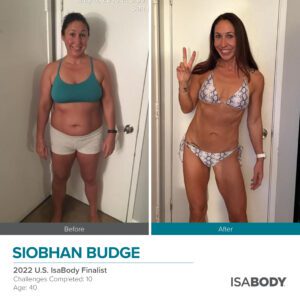 San Rafael, California 
Age: 40 
Height: 5'9" 
Total Weight Loss: 59 pounds* 
Challenges Completed: 10 
Siobhan started her IsaBody Challenge at 205 pounds, 5 months sober. For many years, she had been using substances and food to fill the void she had been feeling. Only a decade prior, she was training and racing in triathlons. Her body had once been in athletic shape, but now she felt like she was losing the battle. That was, before Isagenix appeared. 
Siobhan's trusted friend and fellow triathlete Joy introduced her to Isagenix. She saw Joy's results and never gave it a second thought. On May 4, 2018, she dove right in. 
As she found a new lifestyle and support system, she saw her mind and body transformed. She realized that what she was learning would be a fundamental base she would build upon for the rest of her life. Isagenix helped her lose weight, as well as teach her how to live in her body again. Siobhan found that a functional, simple system works best for her, including eating lots of superfoods! 
Becoming One of the IsaBody Finalists
On August 15, 2021, Siobhan was able to complete the Alcatraz Triathlon with a 2nd place finish! She is honored and grateful to tell her story along with all of all its raw struggles. One of her hopes is that she will encourage others to start, then take it one day at a time. 
Today, she has lost 60 pounds total and is almost four years sober. She no longer feels like she needs to fill a void of any kind. Now, she has better energy, performance, and a home in the vessel she was meant to live in. Through the help of Isagenix and recovery, Siobhan now feels like she can live a full, healthy, and balanced life! 
"I just turned the big 4-0 and am incredibly grateful for the Isagenix platform that I can always depend on and can't wait for all the Isagenix chapters ahead. So excited!"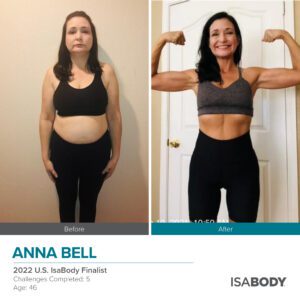 Oakley, California 
Age: 47 
Height: 5'6" 
Total Weight Loss: 37 pounds* 
Challenges Completed: 5  
When Anna first started Isagenix almost two years ago, she was unhappy, had no self-confidence, was overweight, and always exhausted and in pain. Now, she's 5 challenges into this amazing lifestyle! 
Anna started Isagenix early in 2020. She struggled with stay-at-home orders, working outside of the home, being a busy mom of four, and having lots of other personal struggles to deal with. Even though she had many reasons to quit, she didn't! "I trusted in my amazing coach, the Isagenix systems and products, and stayed focused, consistent, and driven." Anna started to see her body and health change from the inside out. 
During challenge 4, Anna's coach encouraged her to get out of her comfort zone. They told Anna that she should submit an essay for the IsaBody Challenge. She was honored and surprised to be picked as an Honorable Mention, and is grateful for the power and confidence boost it gave her. "My coach and this community believed in me when I didn't believe in myself yet." 
Journey to the Finals
Anna surpassed her first goal weight within 9 months of being with Isagenix. Now she uses all of her newly learned skills to maintain her weight, and is passing them on to her teenage boys. She recognizes the positive impact the changes she made can have on them. 
"Isagenix helped me become the best possible version of myself. I have way more energy now and get to be the wife and mom I always wanted to be. Plus, I look and feel 10 years younger than I am. And, I get to be a role model to my children and show them how to be strong and confident. Thank you Isagenix for giving me an active lifestyle and helping me make new and wonderful memories with my family."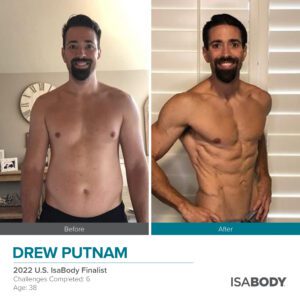 Gilbert, Arizona 
Age: 38 
Height: 5'10" 
Total Weight Loss: 29 pounds* 
Challenges Completed: 6  
Living in Gilbert, AZ, Drew Putnam heard about Isagenix over the years, but always thought it would be too expensive and that he couldn't afford it. He also considered his lifestyle to be relatively healthy. But, one August, he decided to commit to becoming the healthiest version of himself. After connecting with his coach, Ben and engaging in regular, motivating, conversation, he made the investment in himself and ordered Isagenix products for the first time. 
From day one, Drew could tell there was something special about the products, company, and community he just joined. Now, he has tried several products and relies on a few staples each day such as AMPED™ Nitro, AMPED™ Repair, IsaFlush®, IsaLean® Shakes, and others. Since starting his first IsaBody Challenge and the products, he has noticed lots of positive changes to his body.
Finalist Bound
With six challenges under his belt, Drew has been able to focus on furthering his health goals to be one of our IsaBody Finalists. "As compared to my first two challenges, I focused more on the use of the Amped™ and IsaLean® Pro products to build more lean muscle and get the 'look' I've always wanted. These products helped me propel my fitness to a level that I have strived to attain for years and once thought I could never achieve." 
Not only that, but Drew is also committed to sharing his amazing results with others. He wants to help others transform themselves and feel confident in their bodies. "The IsaBody Challenge immediately provided a system of accountability, community, and motivation that rewarded me for my efforts and dedication to the process of becoming the best version of myself. This company, these products, and the IsaBody Challenge changed my life in an unimaginable way. I want to help as many people as possible have this feeling!"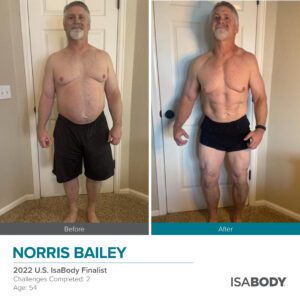 Highlands Ranch, Colorado 
Age: 54 
Height: 5'8" 
Total Weight Loss: 51 pounds* 
Challenges Completed: 2 
Norris has completed two IsaBody challenges, and is currently working on his third! Norris's focus on physical health has helped him in multiple ways. As a healthcare worker, recent events caused him to feel exhausted and took a toll on his physical and mental health. He decided to change his focus and shift his energy from all of the negativity that seemed to surround him on a daily basis. But, when he shifted his focus through the IsaBody Challenge, he started noticing a positive impact on his marriage and his relationship with his children as well.
Start to Finalist
As Norris began his second challenge, he continued his journey to overall better his health and fitness. But this time, he moved his focus from losing weight to gaining strength. He adjusted his diet to include more AMPED™ Tri-Release Protein, increasing from two scoops daily to three or four. So, he continued to use his favorite Isagenix products in his daily regimen, pairing it with weight and resistance training three to four days a week. Running and walking 15-20K steps per day helped build up his endurance and increase his strength. "During this process, I realized that I could be leaner, but stronger than I was at 230 lbs." 
Though the small town he lives in doesn't allow him access to a gym, that doesn't stop Norris. He uses a variety of at-home workout equipment, like a suspension strap, dumbbells, a Bosu ball, and a fit ball. On the weekends, he and his wife enjoy the beautiful foothills of Colorado for running and hiking. 
"I have created new routines that I will continue to follow in my quest for overall better health and well–being."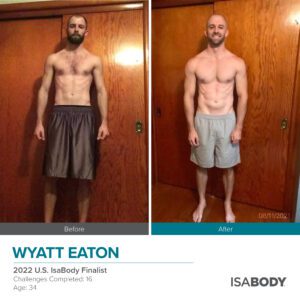 Wyatt Eaton
York, Pennsylvania 
Age: 34 
Height: 6'1" 
Total Weight Loss: +25 pounds* 
Challenges Completed: 17
Wyatt was an athletic kid growing up and played almost every sport possible. He made a lot of friends through school and sports and had a great support system around him. Then, he was recruited for both soccer and track in college. So he felt like he had a lot of great things going for him. But despite his athletic prowess and success, he had developed a poor self-image through all of it. He dealt with being called names and being bullied for being "skinny and weak." As an adult, those experiences translated into a lack of self-confidence and unhappiness. He tried making changes but continued feeling like a failure. That was until he discovered IsaBody.  
Staying Motivated
"I came across the quote, '"If you can't stop thinking about it, don't stop working for it," and it's what I've lived by ever since. When I was introduced to Isagenix, committed to myself, and put in relentless work." Through the process of completing IsaBody challenges, Wyatt was able to gain muscle and be proud of who he saw in the mirror. He wants to use his platform as one of the IsaBody Finalists to speak directly to those who feel like he used to feel. On top of that, he wants everyone to feel hope that they can change their story and become what they've always wanted to be.
One thing Wyatt learned through these challenges is that even if he gets off track, he has the ability to pull himself right back up. He is now able to recognize when he's been thrown a curveball in life, and how to get back on track. With the things he's learned and gained, he was able to complete a 25-mile Toughest Mudder event in the top half of his field! "I am excited to get back into racing. I look forward to keeping myself around this weight and I know I can."
Be
o
ne of
o
ur
n
ext U.S. IsaBody Finalists! 
Inspired by these incredible stories? Register for your own IsaBody Challenge today, and discover how you can transform your life in 16 weeks. 
*Weight loss, muscle gain, lifestyle, and other results depicted here reflect exceptional individual experiences and should not be construed as typical or average. Participants in a 2016 study showed weight loss of 24 pounds after 12 weeks of the cleansing and fat-burning system. Results vary with individual effort, body composition, eating patterns, time, exercise, and other factors. If you are pregnant, nursing, diabetic, on medication, have a medical condition, or on a weight control program, consult your physician before beginning any fitness plan or attempting to lose weight.