Meet Your 2022 Canada Judging Period 2 IsaBody Finalists
The IsaBody Challenge® is kind of a big deal to our entire Isagenix family. How could it not be? This 16-week journey enables you to work toward whatever wellbeing goal you set your mind to! On top of that, it includes your own personal cheer team every step of the way to help make it happen.
Our latest Judging Period has ended, meaning four 2022 Canada Judging Period 2 IsaBody Finalists have been chosen. Each will receive CA$3,000 and a chance to become the IsaBody Grand Prize Winner!
Let's hear what each of our finalists has to say about their journey. Get ready to be inspired!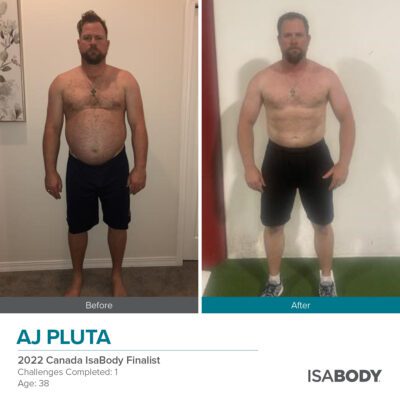 AJ Pluta
North Saanich, British Columbia
Age: 38
Height: 6'2"
Total Weight Loss: 39 pounds*
Challenges Completed: 1
After traveling the world as a professional baseball player for 13 years, he retired, moved to Canada, got married, and started a whole new life. He enrolled at the local university for a master's degree, and he and his wife bought their first home and had their first child. Life was good.
But he wasn't taking care of himself. One day his 7-year-old daughter exclaimed, "Look, I have a belly like you daddy!"
At dinner she would take seconds and thirds because she wanted to eat like daddy so she could look like him. AJ knew it was time to get his health and wellbeing back in order.
After witnessing total transformations of his fellow professional baseball brother, Alvie Shepherd, and his former teammate, Shaun Ashman, AJ was ready to hear how Isagenix changed their lives. He committed to Isagenix for one month and lost 20 pounds.*
"My daughter has seen my transformation and is now eating healthy and using Isagenix products for snacks. I would not be where I am today without Isagenix and am beyond grateful for the amazing community of mentors that have helped push me along the way."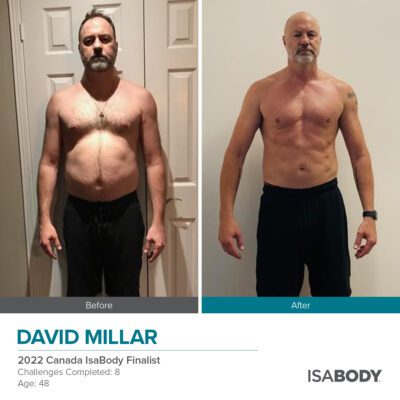 David Millar
Newmarket, Ontario
Age: 48
Height: 6'0"
Total Weight Loss: 8 pounds*
Challenges Completed: 8
"This one was tough." After David failed to be a finalist during his last IsaBody Challenge, or even receive an honourable mention, he decided to step it up. This time he pushed himself by eating healthy, doing Kung Fu three times per week, and lifting weights at least three times per week.
"I've done a detox, dropped a few pounds, and have changed my life for the better. I will be entering into this next challenge with the target of getting down to 190 pounds and 10% body fat. I want to demonstrate that I am resilient, I am worthy of being selected as an IsaBody Finalist and perhaps, if I work hard enough, even have a shot at winning. Thank you Isagenix for continuing to be one of the rocks in my life."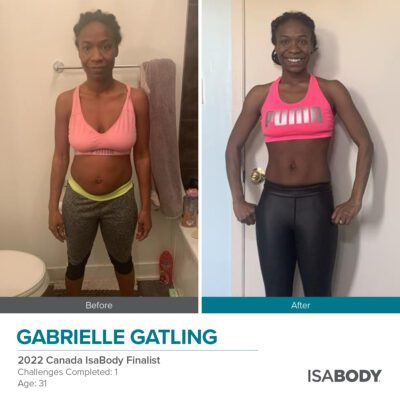 Gabrielle Gatling
Ottawa, Ontario
Age: 31
Height: 5'3"
Total Weight Loss: 7 pounds*
Challenges Completed: 1
When her son was diagnosed with cancer in 2017, Gabrielle's mental health was shaken. She wanted to be fit and healthy to be the best mom she could, and started drinking shakes daily. She says the support from her team during the IsaBody Challenge helped her through it.
Even though the shakes were an acquired taste for her, Gabrielle soon fell in love with Whole Blend IsaLean™ Shake — Birthday Cake Flavour. "I was scared it would be too sweet for me but it's perfect. Even my children love this shake."
Her journey has her feeling beach ready because she's in the best shape of her life! Gabrielle considers the progress she's made a reward she has 100% earned. "I have to remember to have balance in life and do what I love. I'm giving myself the life I deserve. I'm so grateful for my Isagenix team for supporting me through this health journey."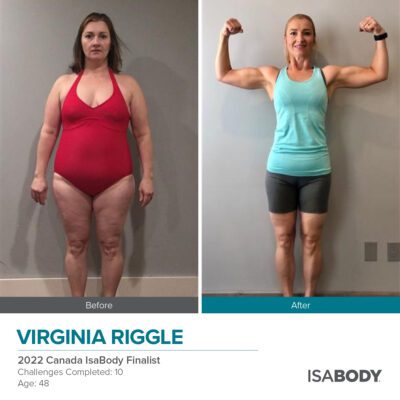 Virginia Riggle
Athens, Ontario
Age: 48
Height: 5'4"
Total Weight Loss: 36 pounds*
Challenges Completed: 10
Four things carried Virginia through this 16-week health & wellness transformation:
Simplicity
Consistency
Accountability
and Creativity
"These times have us stressing more, sleeping less, snacking too much… but then there are some of us who have chosen to use this time as an opportunity to work on ourselves."
Virginia is grateful for Isagenix's quality nutrition delivered straight to her doorstep. She loves the natural solutions to help combat stress and improve sleep (hello Ionix® Supreme and Sleep Support and Renewal™ spray)!
Her inspiration is also fueled by the community of supportive, positive role models. And the pandemic-resistant, second stream of income she earns on her own time is just the icing on the cake.
While home-schooling her two young boys, and working and studying part-time on her own, Virginia has been able to further her health and wellness education. "Isagenix has not only been my fuel, but it's also been a catalyst for an exciting, continued reinvention of myself. Thank you Isagenix for helping me obtain what I could have never dreamed possible!"
Be one of our next IsaBody Finalists!
*Weight loss, muscle gain, lifestyle, and other results depicted here reflect exceptional individual experiences and should not be construed as typical or average. Participants in a 2016 study showed weight loss of 24 pounds after 12 weeks of the cleansing and fat-burning system. Results vary with individual effort, body composition, eating patterns, time, exercise, and other factors. If you are pregnant, nursing, diabetic, on medication, have a medical condition, or on a weight control program, consult your physician before beginning any fitness plan or attempting to lose weight.