Congratulations to Isagenix Millionaires No. 201, Allan and Lari H.!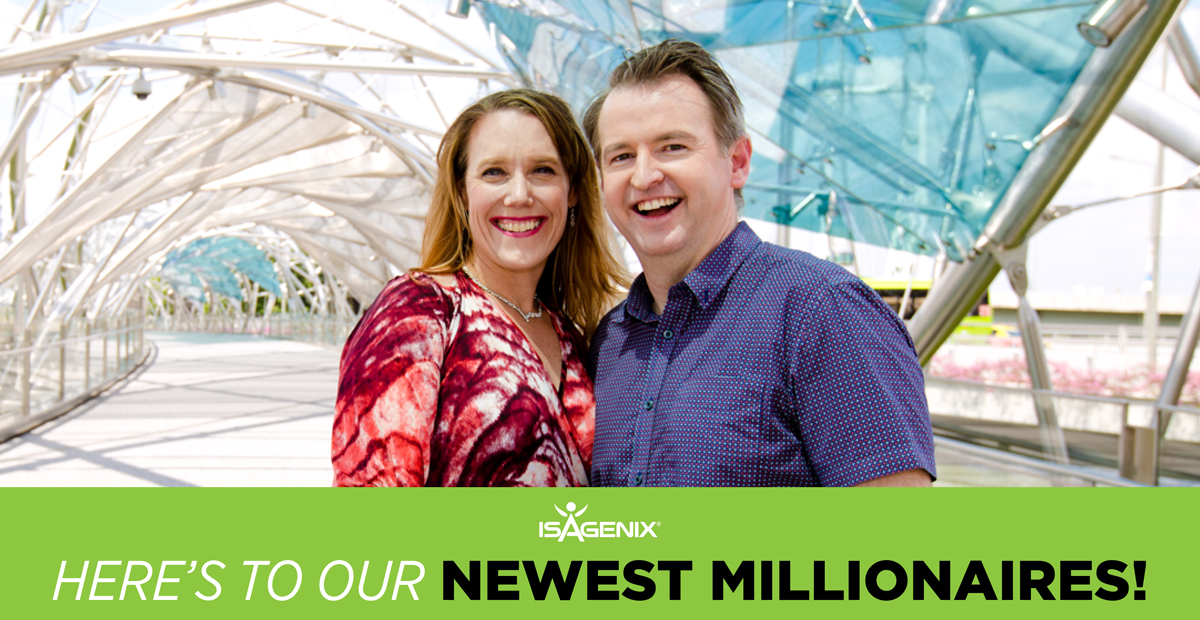 Allan and Lari wanted the best for their family, but between working full time and running two additional businesses, the parents of two were running themselves into the ground trying to juggle their commitments.
"We were feeling exhausted, and our health was suffering," says Lari. "We weren't spending any quality time together as a family."
The couple set out on a mission to better their health and lifestyle and were introduced to Isagenix by their friend, Jackson P. Allan and Lari agreed to try the Value/President's Pak and were thrilled about the results.
"We started to feel alive again!" Allan shares. "The improved nutrition made us feel great, and that helped everything else in our life flow better."
It wasn't long before family and friends began to ask questions, but with no intention of building a business, neither Allan nor Lari told anyone about the products they were using.
"We loved the products and our results were outstanding, but we just weren't interested in the business side of Isagenix," says Lari. "We were too busy with our other commitments."
Jackson confronted the couple with something they hadn't thought of before.
"We were talking to Jackson about how much we love the products, and he hit us with some truth, as he so often does," Lari laughs. "He said, 'If I hadn't introduced you to Isagenix, how would you feel right now?'"
For Allan and Lari, that moment was huge, and they knew instantly what they had to do.
A Turning Point
With newfound passion and responsibility, Allan and Lari began sharing Isagenix with their friends and family.
"Sharing the products was hard to do at first," admits Lari. "I was so worried that they wouldn't enjoy the products like we had."
It wasn't long, though, before the couple witnessed those around them experiencing incredible results. Feeling inspired, they decided to attend their first Isagenix event.
"Jackson told us that Celebration is very focused on personal development and that we would learn more about building our Isagenix business," says Allan. "That really piqued our interest."
The event was a big turning point for the pair, and they were instantly drawn in by the Isagenix culture and the caliber of speakers.
"It wasn't just successful people being celebrated," explains Lari. "People from all different backgrounds, levels of education, and walks of life were being celebrated. It was incredible!"
Pursuing New Goals
Attending Celebration left Allan and Lari motivated to set new goals, and they made a commitment to build and expand their Isagenix business.
"We knew we had to share this gift with the world, so we made the necessary sacrifices to pursue our new goal," they say.
With their vision in focus, Allan and Lari demonstrate an unwavering work ethic, so it comes as no surprise that they have reached Isagenix Millionaire* status. Using competitions such as IsaDerby™ as a framework for their business, the couple has achieved numerous accolades such as the Spirit of Isagenix award and, most recently, the prestigious Global Impact Award.
"It feels surreal," says Allan. "We would never have achieved these awards in our other businesses."
While reaching this milestone is an incredible achievement, for Allan and Lari, the impact their success has had on their team and family is most important.
"We couldn't have done it without our team, and knowing how many lives we've impacted really puts things into perspective," says Lari.
Their children have been heavily involved throughout their journey, and growing up in such a positive environment has impacted their futures.
"They're growing up with the invaluable belief that they can achieve anything."
Allan and Lari say they are forever grateful for the opportunities that Isagenix has provided them.
"We want to be the driving force that inspires our friends, family, and the world," says Allan. "We are creating a legacy for our family, and that wouldn't have been possible without Isagenix."
*Isagenix Millionaires are defined as Isagenix Associates who have cumulatively earned $1 million or more with Isagenix. Earning levels for these Isagenix Independent Associates substantially exceed the average results achieved by all Associates during the same time periods and should not be construed as typical or average. Income level achievements depend on many factors, including the individual Associate's business and networking skills, personal ambition, time commitment, work habits and other abilities. For average earnings, please see the Isagenix Independent Associate Earnings Statement found at IsagenixEarnings.com.