Churros, baby, churros
September was National Breakfast Month, and to honor the most important meal of the day, we hosted a recipe contest to find the best original recipe using Whole Blend IsaLean® Shake.
And you delivered! We received a ton of entries and adored them all. However, Cheila Monteiro of Vancouver, British Columbia, pushed the boundaries of anything we could ever imagine and created her own spin on churros!
Churros for breakfast? When created Cheila's way, you'll say, "Yes, please!"
 The inspiration
"I take savory foods and make them healthier."
Call it a pastime that's after our own hearts. Here at Isagenix, we try to do that as well! Cheila's personal inspo came from a cooking show where she saw a chef making churros. Fried with oil and heavy on the white flour, she knew it was something she wouldn't make in her personal kitchen, but she was still intrigued.
With the thought, "One day, I want to make this my way," she soon saw our Whole New Breakfast contest and knew the time had come.
Cheila's churro recipe
No need for the deep fryer and tons of oils.
Dairy-Free • Eggless • Gluten-Free • Low-Sugar
Ingredients
Churros  
210 g (1¾ cups) oat flour
¼ cup dry sweetener of choice (I used coconut sugar)
1 tbsp ground flaxseed
2 tsp baking powder
¼ tsp salt
½ cup unsweetened vanilla almond milk
60 g (5 tbsp) butter (for vegans, use vegan butter)
2 tsp vanilla extract
2 tsp honey
6 tbsp sweetener of choice
1 tsp ground cinnamon
2 tbsp Rich Chocolate Plant-Based Whole Blend IsaLean Shake
2 tbsp coconut oil, melted
Chocolate Sauce 
50 g unsweetened dark chocolate
70 g unsweetened almond milk (add more if needed to make the sauce your consistency of choice)
1 scoop Rich Chocolate Plant-Based Whole Blend IsaLean Shake
1 tbsp honey (add more for sweeter sauce)
Instructions
Line two cookie sheets with silicone baking mats, and prepare a pastry bag with a piping tip (use the one that looks like shark teeth).
In a small bowl, whisk together the oat flour, sugar, flaxseed, baking powder, and salt.
In a medium-sized saucepan, add the almond milk, butter, vanilla extract, and honey. Stir with a rubber spatula over medium/low heat until the butter is completely melted. Remove from the heat.
Preheat your oven to 350 F.
Add the dry ingredients from the small bowl into the saucepan. Stir together. When all is incorporated, place the pan back over the heat and stir with the spatula until the mixture is thick and forms a ball.
Scoop the dough into the prepared piping bag, and pipe churros out onto the cookie sheets. Bake for 12-13 minutes. Carefully transfer the silicone baking mats or parchment paper off the hot baking sheets and onto the counter.
In a small bowl, whisk together the sugar, Whole Blend Shake mix, and cinnamon. Brush the melted coconut oil over the churros, and sprinkle the cinnamon-sugar mixture on top.
To make the chocolate sauce, in a medium saucepan, combine the chocolate, almond milk, Whole Blend Shake mix, and honey. Set over medium heat and stir often until the chocolate is melted through. Remove from heat, and let cool slightly before serving. Enjoy!
Why Cheila loves Whole Blend for her recipe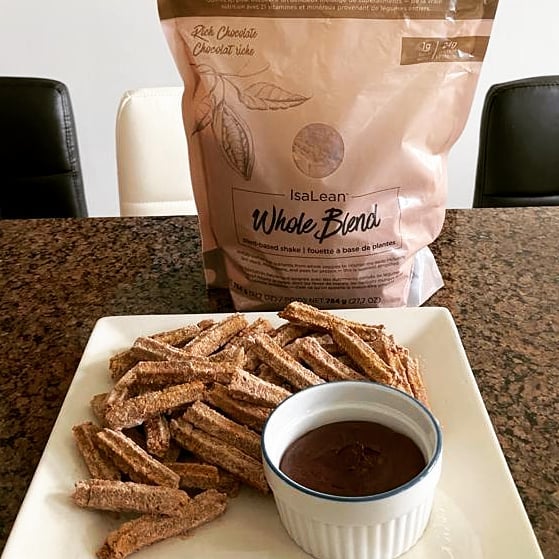 Cheila's diet does not contain wheat, dairy, or red meat. She is diligent with adding fruits and veggies to her meals and relies on fish and eggs as one form of protein. Up until she discovered Isagenix in January, she used another protein powder to make morning smoothies.
After a search for the cleanest protein powder she could find, Isagenix found its way into her tummy and her heart. Isagenix products are gluten-free. And Cheila's recipe is, too.
Cheila says she'd like to create an e-book of all her healthy recipes one day. We're staying tuned. In the meantime, check out Cheila's Instagram @fit.by.che_ and follow her healthy, active, and inspiring adventures.
Want some Whole Blend IsaLean Shake of your own? Get some today!