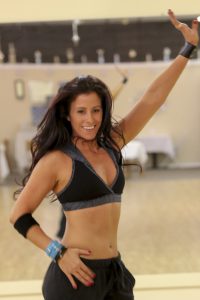 Millionaire No. 119
Since Tara can remember, eating healthy and working out has always been a big part of her daily routine. In fact, before she became a Zumba instructor, she wanted to become a P.E. teacher.
At the time, teaching jobs were hard to come by, so Tara worked three part-time jobs to make ends meet.
"I taught 10 to 20 fitness classes a week and worked two bartending jobs on the weekend," she explains.
The Business of Fitness
At the same time her sister, Alexis, was building an Isagenix business and saw the financial freedom it could offer. She knew she had to share it with her sister.
"She was always emailing things about Isagenix," laughs Tara. "I was quietly deleting them."
After not receiving a response to any of her emails, Alexis decided to give Tara a 30-Day Cleansing and Fat Burning System for Christmas.
That gift changed Tara's life forever.
"Somewhere in the first or second week I remember calling my sister saying 'I am wearing a size 7,'"* exclaims the New Jersey resident. "I was slipping into clothes I hadn't tried on in years."
A New Routine
For the next two years, Tara was a faithful product user mixing up two shakes a day, until one day she decided to look into the business opportunity with Isagenix.
"I didn't have the belief in the beginning," says Tara. "It took a little while before it clicked."
Then, one sunny day in March 2009, Tara decided she was ready to embrace her own Isagenix business. She also made it her mission to show others they too were worthy of the same success.
"I never imagined my life would be where it is now. I am just an ordinary person," shares the newest Isagenix Millionaire. "There is nothing special about me."
Achieving Her Personal Best
Tara's focus was crystal clear: She no longer wanted to live paycheck to paycheck.
"People fail when they see little or no activity over a certain period of time," explains Tara. "I kept going!"
During that time, Tara also discovered how easy it was to share Isagenix using IsaMovie.com. Even still, after gaining momentum within her business, she still encountered challenges.
"It's been five years and this business is still very new to me," shares Tara, "especially having had no network marketing experience prior to starting my business."
Today, this leader sees the same disbelief in others she once had and understands. She also has the tools needed to dispel their worries—and does.
"This business has allowed me to pursue my dreams," shares Tara, "and because I took that leap, I get to travel the world sharing my passion for health and fitness thanks to Isagenix."
*The weight-loss testimonials presented apply only to the individuals depicted, cannot be guaranteed, and should not be considered typical. A 2008 university study showed a statistically significant weight loss of 7 pounds (3.2 kg) during the first nine days of the Cleansing and Fat Burning System.