Getting Older? How to Embrace Gray Hair
If you embrace the gray or still say "no way," getting older is a fact of life. As we age, our hair tends to thin, become duller, and we start to gray (whether we like to admit it or not!) While a lot of beauty comes with age, it's important to support and nourish your hair as you get older. Today we're sharing our top 5 ways to embrace your gray.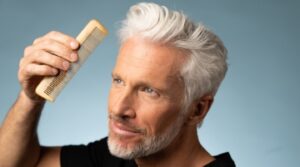 1. FULLY Embrace Gray Hair—No More Dyeing!
The day many people dread is when the pepper starts to look like it has more salt in it…in other words, people fear gray hair. Interestingly enough, younger generations are paying hundreds of dollars to get the perfect gray mane. Why not take a tip from them and embrace your new color?
While dyeing your gray hair can make you feel temporarily younger, over-processing your hair can cause thinning, fallout, split ends, and frizzy hair.
Instead of dyeing your hair every time you see a new gray strand, try to wait longer in between salon visits. Instead, take some time to love on your gray hair with a moisturizing mask. You can also find toning treatments specifically for gray hair that will remove any yellow tones and make your silver mane shiny, bright, and gorgeous!
2. Continue to Trim
Something everyone worries about as they get older is their hair becoming thinner. This might create an attempt to latch onto any length you have left. The truth is, when you stop getting regular haircuts, split ends might take over. This causes further breakage higher up on your hair strand, adding to thinning.
Instead of trying to hold onto your ends, get a regular trim to make sure that your hair stays healthy. This will also help improve your overall look, gray hair or not.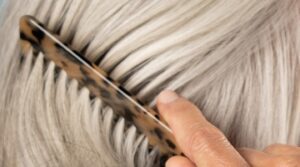 3. Reduce Gray Hair Stress
Limiting gray hair stress throughout your entire life is essential to perfect hair. You can do this by minimizing heat, using cooler water, combing and drying with caution, and avoiding over-processing your hair. Damage caused by all these things can lead to hair loss, thinning, and dullness.
If you were quick to pick up a straightening iron in the past, don't worry. It's never too late to reduce the stress on your hair. Start today by taking a break from heated styling tools!
4. Make Your Products Work for You
Another essential for taking care of your hair as you age is making your products work for you. As we get older, we may find it hard to take care of our hair the way we used to. Finding easier-to-use products for self-care is a great way to support your needs while also taking care of yourself.
If you find that detangling your hair has become more of a workout than a quick routine, here's a tip. Condition your hair as normal in the shower, and gently dry. Then, before brushing, use a leave-in detangling spray and let it sit in your hair while you continue your shower routine. After a few minutes, your brush should glide gently and quickly through, reducing the  effort and time it takes to take care of your hair.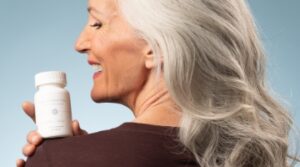 If you're looking for a constant throughout your life, here's one—your hair will always need to be moisturized! Even if it feels a little overly oily, you still need to run some conditioner or healthy oils through the ends of your hair. This is essential for healthy, shiny locks.
Quick Tip: Another thing to keep in mind is to get a moisturizer that works well with your hair type. Even if you're going gray, your hair could still be curly, dry, oil, frizzy, straight, and more. Keep an eye on how your hair behaves as you age and get the right products.
Still stressed about your 'do? Remember—our bodies are well-equipped with processes that keep our hair looking and feeling great, even as we get older. But it's important to make sure that we're giving our body the proper nutrition to complete these processes fully. Using an internal hair supplement is a great way to help your hair stay thick, shiny, and healthy.
Check out Hair Revival. With plant extracts, vitamins, minerals, and amino acids for optimum nourishment to support healthy hair growth, it features a patented banana flower extract that protects from external stressors. Hair Revival can also improve hair thickness, texture, and shine.*