Congratulations to Isagenix Millionaires No. 229, Amy and Christian Andrade!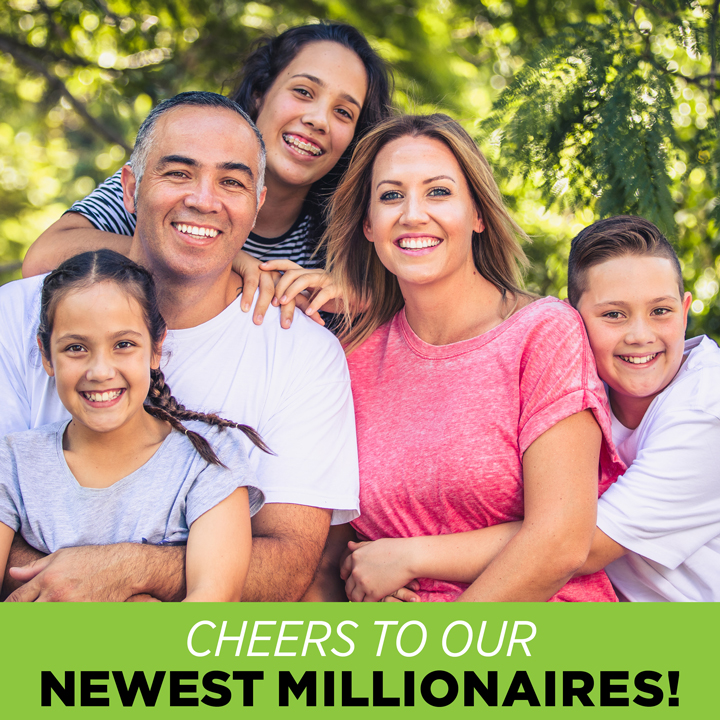 "Doing it tough" used to be the norm for the Andrade family, with Christian working as a truck driver seven nights a week and Amy searching for a midwifery job as a recent college graduate.
The couple struggled to make ends meet and were going to extreme measures just to make time for their three children.
"I slept two and a half hours in the morning and two and half hours in the evening so I could spend time with my kids before and after school," said Christian.
Amy worried about Christian's lack of sleep and the effects it was having on his health and concentration, especially because he drove his truck at night. Christian was concerned about Amy's energy levels as well, as she was often feeling sluggish.
Making a Change
"I had noticed that Amy was feeling lethargic all the time and expressed my concerns," said Christian.
He reached out to a friend on Facebook who had recently shared his health transformation with Isagenix, but Amy wasn't interested, so he let it go for the time being.
The owner of the couple's CrossFit gym invited them to a Launch Party. Still uninterested, Amy only agreed to go for Christian.
"He wanted the best for both of us and thought this could be the solution, so I attended," she said.
When they got there, Amy was intrigued by the way the products were presented, and with some encouragement from Christian, she decided to try the 30-Day System.
Casting Their Vision
As weeks went by, the pair began to receive questions from their friends, many curious as to how they were achieving their weight loss while still gaining muscle and energy.
"We attend church every Sunday as a family, and friends we see each week were noticing the changes," said Christian.
They wanted to share the nutrition they were now so proud to fuel their bodies with and talked to their enrolling sponsor, Kylie Donaldson, about building a business. The pair's team began to grow gradually, and they were excited at the prospect of earning an income through sharing what they'd grown to love.
Kylie encouraged the pair to attend a Celebration event, and Amy decided to go with her best friend Samantha. The event was a whirlwind, and both left brimming with belief and excitement.
"I wanted to get Christian home with us and get rid of some of our financial stress," said Amy. "Celebration showed me that this was more than just a pipe dream, and my thought process went from 'wouldn't that be awesome' to 'we are doing this.'"
Learning to Lead
From then on, Amy and Christian made it a priority to attend events, and as their business grew, they knew it was essential to bring their team. Personal development became a huge part of their lives, and they learned how to be confident leaders.
"Building each other up is so important on both a personal and professional level," they said.
They strive to be an example for others, showing them what they can achieve if they allow themselves to see their full potential.
Expanding Their Vision
After experiencing so much success in their business, Christian has been able to stop driving his truck, allowing their family to spend more time together. Now, their vision is to help other families do the same.
"I want to help other families make it possible for both parents to be home with their children," said Amy.
Giving back to their church is a big focus for the Andrade family as well, where their donations go to those in the community who need help or to a larger humanitarian aid fund that provides assistance around the world. Because of the flexible nature of their business, the Andrade family has the ability to dedicate time to the church and involve themselves and their children in many church projects.
"What excites us the most about reaching this milestone is knowing how many lives we have touched and how many more we can touch with our story," they said. "Isagenix has proved to us that we can do anything."
*An Isagenix Millionaire is an Independent Associate to whom Isagenix has paid a gross total of $1 million or more since joining Isagenix. Earnings reflect gross amounts that do not include any business expenses. Earning levels or income statements (including claims such as the ability to quit a job or stay at home or portrayals of luxury lifestyles) for the Isagenix Independent Associates discussed here exceed the average results achieved by all Associates during the same time period, are not necessarily representative of the success or compensation that any particular Associate will receive, and should not be construed as typical or average. The ability to earn income under the Isagenix Team Compensation Plan depends on many factors including an individual Associate's business, social, and sales skills; personal ambition and activity; availability of time and financial resources; and access to a large network of family, friends, and business contacts. Isagenix cannot and does not guarantee any particular level of earnings. Even Associates who dedicate a significant amount of time, effort, and personal funds may not achieve a meaningful level of success. For average earnings of Independent Associates, refer to the Isagenix Earnings Disclosure Statement at IsagenixEarnings.com.