Transformed: Meet Your IsaBody Finalists for the 2023 US Judging Period 2
Who transformed this year? If you've heard of the IsaBody Challenge®, you know how life-changing it can be—but if you haven't yet, it's a 16-week commitment that wellness champions take on to reach their health goals. Even better, there's a whole community participating and providing support along the way! 
The 2023 Judging Period 2 just ended, and five more IsaBody Finalists were officially chosen. Each will receive US$3,000 and a chance to become the US IsaBody Grand Prize Winner! 
Let's learn more about each of our finalists and their inspiring stories…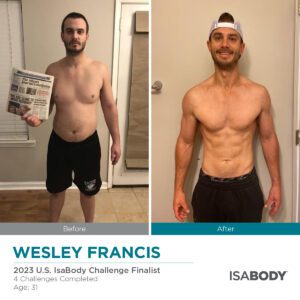 Cumming, GA
Age: 31
Height: 5'10″
Total Weight Loss: 43 pounds*
Challenges Completed: 4 
This challenge is the one that transformed Wesley's life forever. He had lost weight slowly in the past but always felt like there was more he could do to achieve his weight and fitness goals. The list of excuses to fall back into old habits seemed to be getting longer. His breaking point came the morning his son asked him to build a fort, and he realized he was too tired. He knew he had to change—not only for himself but for his family. 
"I'm Transformed."
"I am proud to say that I truly embraced a healthy lifestyle and incorporated it into my daily life through this IsaBody Challenge®." Now, instead of watching his kids play from the sidelines, he's right in the mix with them and loving every second. He's grateful for the energy and confidence Isagenix gave him. Seeing others get inspired and start their own healthy journeys because of his story is a bigger reward than even his own success. 
"Thank you Isagenix for being a building block for my family and for others. I am forever grateful! Let's keep crushing our goals!"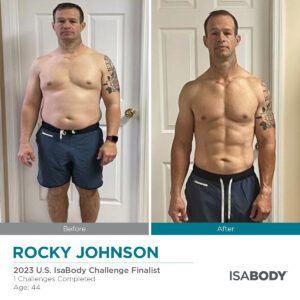 Clanton, AL
Age: 44
Height: 5'7″
Total Weight Loss: 25 pounds*
Challenges Completed: 1 
In February of 2019, Rocky was a few months away from getting married and wasn't happy with how he looked or felt. With a strict diet, weight training, and an insane amount of cardio, he was able to reach his weight goals by his wedding. Unfortunately, he wasn't able to maintain it. 
Fast forward to May of 2022, Rocky felt miserable being back where he was before in his weight management journey. He wanted to achieve the same goals as before, without doing so much cardio. Everything changed when he noticed the astounding goals the Best Man at his wedding achieved. He asked him what his secret was, and that's when he discovered Isagenix… 
The Turning Point
At first, Rocky was skeptical. As a busy person, it seemed impossible to do a complete lifestyle change. When he discovered that Isagenix was designed for just that kind of person, he decided to give it a try.  
"There has not been one bad experience with Isagenix, and I truly understand that this is a lifestyle." Rocky transformed his life. He exceeded his weight loss goals since starting with Isagenix and even gained five pounds of lean muscle. "Isagenix totally changed the way my wife and I eat, the choices we make before leaving home, and the choices we make when eating out. I surpassed my goals in my first IsaBody Challenge® and will continue to better myself."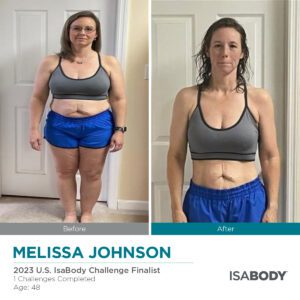 Clanton, AL 
Age: 48
Height: 5'3″
Total Weight Loss: 32 pounds*
Challenges Completed: 1
Melissa struggled to maintain her weight goals. Stuck in a cycle of being happy with her weight for a year, then gaining it back, losing it again, and repeating the cycle. After recovering from a knee replacement, she struggled to get to a place where she was happy with how she looked. Everything transformed when her husband brought up Isagenix. 
They both saw the results a friend achieved from the system, but Melissa was skeptical. Regardless, she said she would try it and give her best effort. Within four days, she already noticed a difference in how she felt! 
Feeling Transformed
Since starting with Isagenix, Melissa has finally seen consistent weight loss. Even more exciting, she has been able to build muscle that she hasn't seen in years! In the future, Melissa wants to continue toning and gaining muscle. "I want to be the healthiest me I can be." She credits her success to the fantastic nutrition from Isagenix products and the support that comes from the Isagenix community. 
"This system changed my life for the better! Thank you, Isagenix!"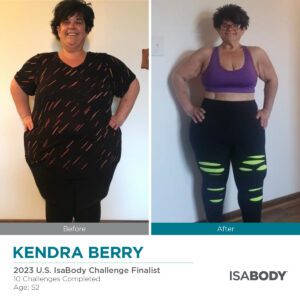 Chambersburg, PA
Age: 52
Height: 5'1″
Total Weight Loss: 136 pounds*
Challenges Completed: 10
Kendra started her weight loss journey when she was 49. Before turning 50, she wanted to change her life for the better. Being unhappy with her weight her entire life, she never found a program that fit her lifestyle or needs. Luckily, her daughter introduced her to Isagenix.  
"With this great nutrition and the support of family, friends, and the Isagenix community, my dreams came true! I transformed!" Now, Kendra feels like she's truly living. She feels more comfortable when doing everyday things like clothes shopping and more extreme things like parasailing! 
Beyond the Visual
The best change is feeling better from the inside out. Kendra recently became a grandmother and enjoys getting on the floor and playing with her granddaughter in a way she wasn't able to before. IsaBody Challenges keep her on track with toning and building more lean muscle. Her motto? "One Shake Day at a time!" 
"Thank you, Isagenix, for helping me feel like I can smile on the inside as well as the outside. Onto the next IsaBody Challenge®! I am worth it."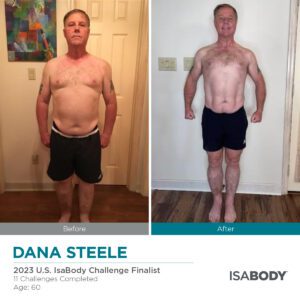 Bern, NC
Age: 60
Height: 5'6″
Total Weight Loss: 76 pounds*
Challenges Completed: 11
At 60 years old, Dana feels 30 years younger! After his Navy career and subsequent retirement in 2001, he saw a decline in his fitness and health. A sedentary job and lifestyle made him unhappy with his weight. He started avoiding family gatherings and activities because he was too embarrassed. He felt depressed and like he was running on autopilot. Dana knew something had to change, but he felt like there were no solutions. 
Luckily, his solution came when his sister introduced him to Isagenix. Eventually, both Dana and his sister were inducted into the '100 Pounds Club'! They experienced walking up on stage at Celebration 2019 together. He had regained his dignity, freedom, and wellness. He completely transformed his life.
How Dana Transformed
"Isagenix helped me with improved sleep, higher energy levels, incredible weight loss, and better overall wellbeing." Across multiple IsaBody Challenges, Dana shifted his focus from weight loss to running—including running both the Boston Marathon and Spartan races! He uses Isagenix products to fuel him the whole way. Now, he runs, cycles, and lifts weights, making him stronger, faster, and leaner than ever before. 
"The consistent and daily use of our incredible products, supported by the motivation, focus, and inspiration through my enrollment in the IsaBody Challenge®, completely changed my life. It's taken me to greater levels of health, wellness, and athleticism I never thought possible for me at this stage in my life." 
*Weight loss, muscle gain, lifestyle, and other results depicted here reflect exceptional individual experiences and should not be construed as typical or average. Participants in a 2016 study showed weight loss of 24 pounds after 12 weeks of the cleansing and fat-burning system. Results vary with individual effort, body composition, eating patterns, time, exercise, and other factors. If you are pregnant, nursing, diabetic, on medication, have a medical condition, or on a weight control program, consult your physician before beginning any fitness plan or attempting to lose weight.