Changed: Meet Your IsaBody Finalists for the 2023 CA Judging Period 2 
Who changed their lives this year? If you've heard of the Isabody Challenge®, you know how life-changing it can be. If you haven't yet, it's a 16-week commitment that any wellness champion (even you!) takes on to reach their health goals. Even better, there's a whole community participating and supporting them along the way! 
Our latest Judging Period just ended, and we officially announced four Judging Period 2 IsaBody Finalists for Canada. Each will receive CA$3000 and a chance to become the Canada IsaBody Grand Prize Winner for 2023! 
Let's learn more about each of our finalists and their inspiring stories.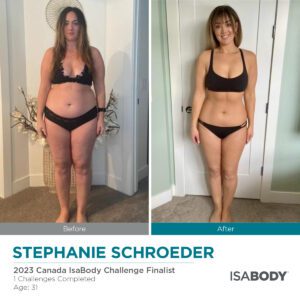 Calgary, Alberta, CA
Age: 31
Height: 5'9″
Total Weight Gain: 36 pounds*
Challenges Completed: 1 
Struggling with different health and life challenges, Stephanie felt like she spent 31 years living at half her potential. Her dream of being a nurse quickly became disillusioned after having to graduate early and join the frontlines of a pandemic. She did all she could to help until she no longer could.  
Feeling like she was out of hope, she knew the only person who could choose to change her life was her. But she couldn't do it alone…
How Stephanie Changed
That's when she found Isagenix. "I started Isagenix, but my health and life transformation also began." Stephanie felt her energy, health, and hope returning. She felt support from the Isagenix community and learned to love her body.  
Now, she's back to dreaming big. Her vision is to be a role model and mentor for others who are just like her. "Isagenix changed my life. This is my destiny. This is something great."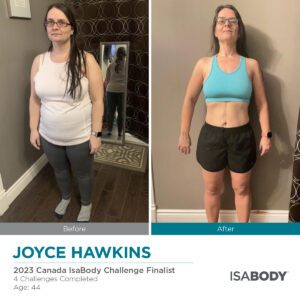 Quispamsis, New Brunswick, CA
Age: 44
Height: 5'1″
Total Weight Loss: 47 pounds*
Challenges Completed: 4 
Having lost weight in previous Isabody Challenges®, Joyce's focus for this challenge was to define her new lifestyle, one that includes proper nutrition, Isagenix products, better sleep, more water, and lots of movement. "I would consider myself not in maintenance mode, but just living life." 
Isagenix helped Joyce find the consistency she needs to live her life and maintain her weight loss, knowing that Isagenix will be a consistent source of nutrition. So what changed for her?
The Difference-Maker 
What is Joyce gaining the most from these challenges? Confidence! In her own body, seeing and meeting new people, and her physical capabilities. Now, she just competed in her first-ever Sprint Triathlon. Her final time was an astounding 1:41:40! "The possibilities are endless, but my new goal is setting a new personal best. I have myself and my health back, and I don't intend on stopping!"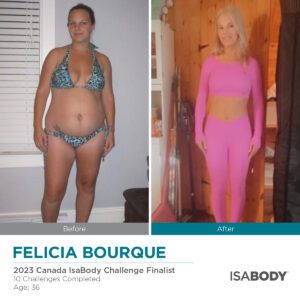 Dieppe, New Brunswick, CA
Age: 36
Height: 5'7″
Total Weight Loss: 61 pounds*
Challenges Completed: 10
After seven years with Isagenix, Felicia still felt excited for this Isabody Challenge®. Until now, she managed to keep her weight loss off. But, starting in December 2021, she decided to focus on getting fully back to herself. 
Felicia completely changed and is now happy to report that she's going to the gym again and using the 30-Day System consistently.
What Changed for Felicia?
"I feel like the one constant in my life has been the Isagenix products. I'm always achieving amazing results with them, no matter what stage I'm at in my journey."
Now, she can't remember a time when she loved how she looks like she does today. She felt like something was missing and didn't realize that one thing was confidence. These days she feels like she's happy with herself and is looking forward to sharing her story with others. "I'm going to keep trying to improve daily and motivate others to do the same."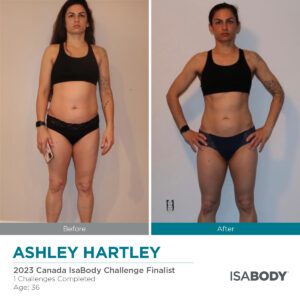 Sarnia, Ontario, CA
Age: 36
Height: 5'3″
Total Weight Loss: 8 pounds*
Challenges Completed: 1
As a busy wife, dog mom, and aunt, Ashley's struggle to get pregnant was taxing on her. After a devastating miscarriage, she began shutting the world out. At some point, she decided the sadness was weighing too heavily on her and changed her mindset to working on small goals.
She started focusing on her health. This began her journey toward becoming the best version of herself. A few months later, she was thrilled to find out she was pregnant with her daughter!
Ashley's Evolution
After her child was born, she realized she was lacking nutrition, low in energy, and plateauing on her fitness journey. That's when her friend Amanda introduced her to Isagenix. 
"I cannot believe the difference these 16 weeks and Isagenix have made. I feel nourished." With the support of Isagenix groups and motivated by her results, she is pushing through challenging Cleanse Days. She even craves the Vanilla IsaLean® Plant-Based shakes! 
"I am certainly proud of how far I've come in the last 16 weeks and cannot wait to give it another go and accomplish even more!" 
*Weight loss, muscle gain, lifestyle, and other results depicted here reflect exceptional individual experiences and should not be construed as typical or average. Participants in a 2016 study showed weight loss of 24 pounds after 12 weeks of the cleansing and fat-burning system. Results vary with individual effort, body composition, eating patterns, time, exercise, and other factors. If you are pregnant, nursing, diabetic, on medication, have a medical condition, or on a weight control program, consult your physician before beginning any fitness plan or attempting to lose weight.