Meet Your 2023 Canada Judging Period 1 IsaBody® Finalists
Looking for inspiration to boost your overall wellbeing? Our four 2023 Canada Judging Period 1 IsaBody® Finalists know exactly what it takes to meet their goals. They discuss their IsaBody journey and what motivates them to keep going even when the going gets tough. Each will receive CA$3,000 and a chance to become the IsaBody Grand Prize Winner!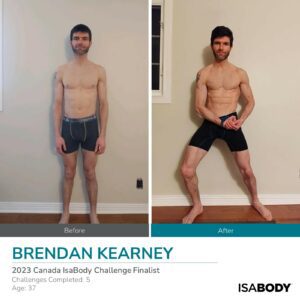 Lyn, Ontario
Age: 37
Height: 5'5
Total Weight Gain: 2 pounds
Challenges Completed: 5 
For seven years, Brendan has been working on himself in back-to-back IsaBody contests. And even though his goals have changed over the years, two things have remained the same: consistent workouts and utilizing the Isagenix products to fuel his body.  
He used to focus on aesthetics and muscle building as key indicators of his success. Now Brendan measures it by his performance, energy levels, recovery time, and mental clarity. He has found that simply doing the hard work – something that challenges him mentally and physically – is what matters most.  
"I've come full circle in my fitness journey. I haven't weighed myself in a while, but I have put on some weight. Funny how that wasn't even my intention this time around. I just let the food and training reveal the shape. I eat more now than I used to, but I also train more often." 
"I look forward to the next Isabody Challenge and the next chapter of my wellbeing and fitness journey. Thank you Isagenix for helping me make the most of it! February here we come!"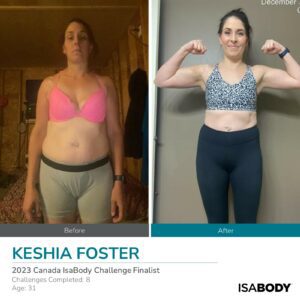 Lansdowne, New Brunswick
Age: 31
Height: 5'4
Total Weight Loss: 28 pounds*
Challenges Completed: 8 
A self-described "Isa-Lifer", Keshia is a busy stay-at-home mom who needed a simple nutrition system to reach her personal goals. Isagenix, along with the IsaBody Challenge, helped her achieve them.  
The universe threw Keshia a lot of curve balls while she was participating in this challenge. She used that negative energy and turned it into motivation to stay on track with her healthy diet and exercise routine. "I have been so much better at getting my workouts in, getting my sleep, and keeping my nutrition and water intake on point!"  
Keisha also credits the IsaBody community for encouraging and supporting her. They taught her creative ways to snack, meal prep, and complete cleanse days. "This community has pulled me through. They helped me stay positive and focus on getting better every day." She plans to share her success with others so they can improve their wellbeing too.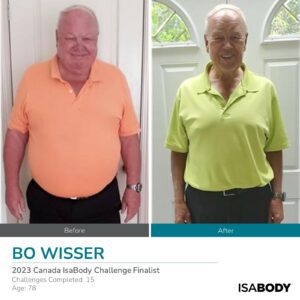 Oakville, Ontario  
Age: 78
Height: 6'0
Total Weight Loss: 100 pounds
Challenges Completed: 15
It's never too late to make a good decision. Just ask Bo, who says at 78, he's in better shape now than ever before.  
Before starting Isagenix, he was overweight and lacked the energy to even walk a golf course. He remembered an acquaintance who'd recently gotten into great shape, so he reached out to him and started on the same system. Bo felt his energy levels rise within a week and as he began shedding pounds, he was able to walk the entire golf course! 
He maintained his weight throughout the years and in 2016, his wife encouraged him to sign up for IsaBody. The results today speak for themselves. His pant size is now 38 down from 44. He walks an average of 5 miles a day and does weight training to build and maintain lean muscle. Even his golf game is getting better! 
"I can say a shift in mindset, exercise, and using Isagenix products to fill my nutritional gaps were the foundation for my health journey. I am ready to start my 17th IsaBody Challenge!"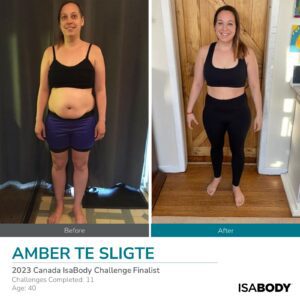 Selwyn, Ontario 
Age: 40
Height: 5'3
Total Weight Loss: 6 pounds
Challenges Completed: 11
This challenge was difficult for Amber. Normally a stay-at-home mom, she suddenly found herself working three jobs, with a typical workday starting at 7:30 a.m. and sometimes going till 8 or 9 p.m. With no more alone time, she had to find new ways to get her workout in. And she had to find ways to stay motivated.  
Raising four children with her husband made that a bit more daunting, but Amber overcame the obstacles. She utilized her mornings to walk the dog and sneak in a workout when she could. Amber also found that she could partner with her kids to work out, showing them the importance of instilling hard work and maintaining a healthy lifestyle even when life gets hard.   
This IsaBody taught Amber that there are times in our lives when things change and when it does, it's ok to be ok with our best, even if not's the same as it was before.   
"The IsaBody Facebook group reminds me to keep on. They have helped push me when I want to quit." 
She's ready to rock and roll on to her next IsaBody Challenge!  
Be one of our next

IsaBody

Finalists!

 
Whether your wellbeing goals are to stay lean, build muscle, or simply be more active, the IsaBody Challenge® can help you get there. Register today and discover how you can transform your life in 16 weeks. 
* Weight loss, muscle gain, lifestyle, and other results depicted here reflect exceptional individual experiences and should not be construed as typical or average. Participants in a 2016 study showed weight loss of 24 pounds after 12 weeks of the cleansing and fat-burning system. Results vary with individual effort, body composition, eating patterns, time, exercise, and other factors. If you are pregnant, nursing, diabetic, on medication, have a medical condition, or on a weight control program, consult your physician before beginning any fitness plan or attempting to lose weight.