Brandon was counting down the days to his wedding day. The guests made their travel plans, his tux was ready and waiting, and his life was right where he wanted it to be. He was happy. Until something happened that shattered his world – with wedding preparations in full swing, just weeks before his big day. Luckily, a fitness challenged transformed his life!
"I was excited for the future, I was motivated, I was successful. Then everything unraveled before my eyes…" he explained.
After calling off his wedding and ending his relationship, Brandon was devastated. Broken and disillusioned, he turned to food and alcohol to comfort his aching heart. Having struggled with his weight as a child, Brandon fell back into his unhealthy addiction with food, which resulted in weight gain.
 "I was unmotivated in all aspects of life. I felt like there was nothing left to live for," Brandon said.
The Fitness Challenge
But his life was about to take one more drastic turn, this time for the better. Brandon unexpectedly met the woman that would change his outlook on life and encourage him to join a fitness challenge to transform his body. Finding love again after such a dark time ignited motivation in Brandon, and his new leading lady introduced him to Isagenix and encouraged him to participate in the IsaBody Challenge®.
"[She] saw me not as the man I was at that moment but as the man I could be," Brandon said.
After shedding 20 pounds,* this IsaBody™ Finalist now has a new passion for life, has a burning desire to help others, and has fallen in love with health and fitness again.
"Isagenix has changed my life. It not only transformed my body but also transformed who I am. It has reignited my passion for everything in life, especially for helping others. I want to tell the world about it!" Brandon said.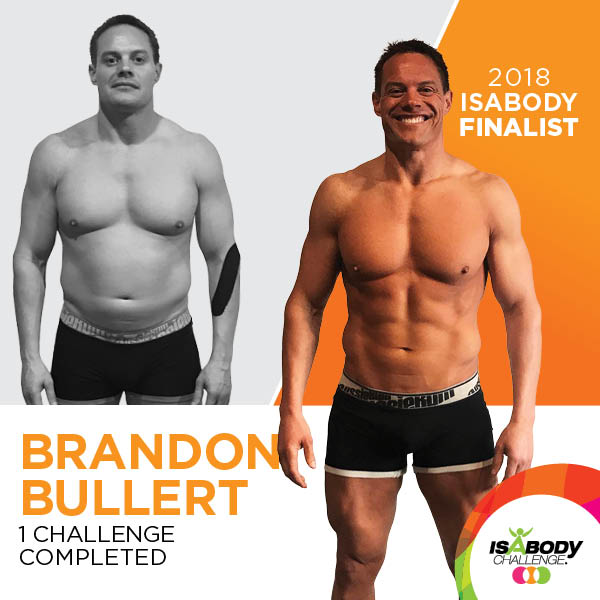 Get to Know Brandon
We asked Brandon a few questions about his success, and here's what we found out.
I: What's your advice for someone who's doing a fitness challenge like IsaBody for the first time?
B: My advice would be to start with a completely open mind. Trust the program, trust the process, and trust yourself! Go to work every single day building belief in yourself. Our beliefs about what is possible and not possible influence our daily actions, and our daily actions will determine the outcome. And lastly, don't beat yourself up if you aren't perfect! This doesn't require perfection; it requires consistency. If you fall off the wagon, just get right back on. Make the next decision a good one. Striving for perfection often leads us to self-sabotage. Strive to be your best, not the best.
I: What does your morning routine look like now after this fitness challenge?
B: Every day starts off with a cup of coffee and my daily devotion that I read and review my schedule for the day. I post to Facebook daily and touch base with those on my team doing Cleanse Days. On top of that, I'm all in with Isagenix and have daily and weekly goals for connections, consultations, and enrollments. I typically start my day off with an IsaLean™ PRO Shake with some added Isagenix Greens™, then depending on my client schedule, I hit the gym. It's important to spend quality time with my girlfriend, so most nights we prepare and eat dinner together and make sure we talk about something other than business. We love doing a "power hour" before phones are off for the evening.
I: In addition to your favorite Isagenix products, what foods are always in your kitchen to help you stay on track with your health and wellness goals?
B: My shopping list doesn't change much: always a few lean protein options (chicken, lean ground beef or turkey, eggs, and egg whites), clean carbs (brown rice, quinoa, organic wheat wraps), good fats (avocados, coconut oil), and lots of veggies! We eat frozen veggies every night and snack on peppers and cucumbers during day, and we always have a handful of organic spinach in our shakes. Teresa and I will prep one lean protein each week – either chicken, ground turkey, or beef – and one clean carb to have at the ready.
I: What's your hack for making living a healthy lifestyle easier?
B: Eliminate temptation! I don't have superhuman willpower. If I had to say "no" all the time, at some point I'd probably cave, so I make sure my kitchen is stocked with nutritious food and snacks that I enjoy (like IsaLean Bars and Whey Thins™). Out of sight, out of mind!
I: What do you want people to know about you?
B: Well, let's have some fun with this one! I like to eat ice cream with a fork, and I like sweets more than deep-fried food. My favorite number is 11, and my favorite color is red (well, I do like the red and black combo). I am more of a cat person than a dog person. I have a cat named Rambo, and he has been with me for almost nine years. He has always been there for me. I enjoy scuba diving, snowboarding, camping, hunting, traveling, going to live sporting events (hockey and football), and learning new languages.
Inspired by Brandon's incredible story? To try this amazing 16-week Challenge and discover how you can transform your life, visit IsaBodyChallenge.com.
Read more inspiring stories here!
*Results not typical. Weight loss, muscle gain, lifestyle, and other results depicted here reflect exceptional individual experiences of Isagenix Customers and should not be construed as typical or average. Results vary with individual effort, body composition, eating patterns, time, exercise, and other factors, such as genetic and physiological makeup. In a study performed in 2012 by University of Illinois at Chicago researchers, subjects lost an average of 9 pounds with an average of 2 pounds of the loss from visceral fat after 30 days on an Isagenix System. The subjects also had a greater level of adherence and had more consistent weight loss from week to week compared to subjects on a traditional diet. View the study results.