Elevating your Skincare Experience with Facial Massage
It's easy to turn a regular skincare routine into a spa-like experience! Keep reading to learn more about why facial massage is important and how to do it.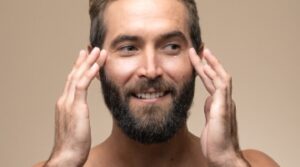 Improved Blood Circulation
Regularly massaging your skin can help improve blood circulation in the area you massaged. Practicing facial massage regularly can help improve blood flow to your skin, allowing it to heal better, reduce scarring, and keep your skin feeling fresh and looking bright!
Better Absorbed Products
If you apply a serum or moisturizer before massaging your skin, the products will absorb better. If you're using a facial roller or massage stone, it also becomes easier to ensure that all your product absorbs into your face rather than your hands (though your hands won't be hurt from some extra TLC!) 
Quick Tip: One of our favorite ways to combine facial massage and skincare is with facial ice globes. Suffer from puffy eyes in the morning? A great way to combat that is by dabbing on a light layer of Celletoi™ Restorative Eye Treatment under your eyes, then running ice globes lightly over the area. This helps reduce puffiness, lighten dark circles, and reduce redness! 
Smooth Skin Tone and Texture
One of the best results from facial massage is the overall improved tone and texture of your skin! Because it encourages soft skin, blood circulation, better product absorption, and lower stress levels, you will notice a visible difference in your skin. You may notice that it helps with lightening scarring, reducing puffiness, toning, brightening, and more!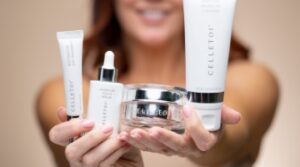 Start With Clean Skin!
The key to a good facial massage is always starting with clean skin! If you don't clean your skin beforehand, you could be rubbing pollution, dirt, oil, germs, and more unwanted things into your pores. Instead, start with a cleanser that will help cleanse your skin, without stripping it of moisture! We recommend the Celletoi™ Moisture Balancing Cleanser as the perfect way to start out your facial massage. It combines science and nature to carefully remove dirt and oil, without stripping your skin fully dry. 
Once your skin is clean, apply your favorite moisturizer or serum. You don't want to massage on a dry face—this can cause excessive pulling that can damage or wrinkle your skin! 
Quick Tip: The Celletoi™ Masterpiece Collection contains all the products we've mentioned in this article, and more! Check out the collection, including a free travel bag, here.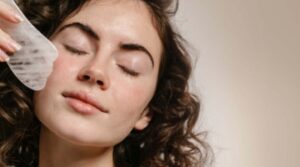 Use Tools…
There are a lot of great facial massage products available that do wonders for your skin, as well as guarantee that your products are fully absorbed. Facial ice globes are a popular and fun way to cool off, reduce puffiness, promote circulation, and soothe the skin. Other great options are tools such as face rollers and massage stones. Just be sure to thoroughly clean your tools after each use! If not, bacteria could build up and cause acne.
…or Don't!
If you'd rather use your fingers for your facial massage, there are plenty of great techniques that can be just as effective as using tools. Start by lightly rubbing your moisturizer or serum of choice all over your skin. From there, you can lightly drum and tap over your skin, massage up the sides of your jaw in sweeping motions, rub your temples, and slowly massage up each part of your face in firm, but gentle movements. If you need help knowing if you're doing it right, there are lots of tutorials online! 
Quick Tip: Have leftover product on your hands? Rub it into the backs of your hands and down onto your neck to moisturize and smooth the appearance of wrinkles. Visible signs of ageing start on your neck, face, and hands, so don't neglect these areas! And, for an extra boost, combine your massage routine with the Celletoi™ Advanced Youth Serum! 
Not sure if facial massage will work for you? Try it out as part of your daily skincare routine for just a week. Chances are you'll notice a huge improvement in your skin! Especially if you're combining it with our amazing Celletoi™ skincare line. Visit our Celletoi™ web pages to learn more about how to transform your skin into a masterpiece.