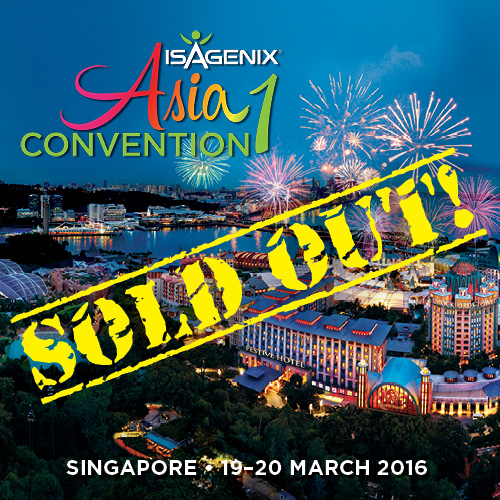 Tickets to 2016 Asia Convention 1 held March 19-20 in Singapore are sold out!
If you are looking to attend this first-ever regional Convention, there is still time to secure tickets.
Have a Ticket Transferred to You: If you know someone with extra tickets, now is the time to ask them to transfer a ticket to you. Contact your local Isagenix office to have the extra ticket transferred to your name.
Meet the 2016 Asia Convention 1 Trainers!
These extraordinary individuals built their Isagenix businesses from scratch and know exactly what it takes to develop long-lasting, sustainable success. These trainers will provide you with direction and relatable examples you can draw from and use in your business plan.  Learn more about the elite trainers.
Excited to hear what's happening at Asia Convention 1? Here's a rundown of what's to come:
FRIDAY, 18 March
Registration: 3 p.m. to 8 p.m. 
SATURDAY, 19 March
Registration: 8 a.m. to 10 a.m.
World of Isagenix Store: 12 p.m. to 7 p.m.
Doors Open: 9 a.m.
General Session: 9:30 a.m. to 6 p.m.
Super Rally Reception: 7:30 p.m. to 10 p.m. (Invite only)
 SUNDAY, 20 March
World of Isagenix Store: 8 a.m. to 2 p.m.
Doors Open: 9 a.m.
General Session: 9:30 a.m. to 6 p.m.
Country Wrap-Up Meeting: 6 p.m. to 7 p.m.
World of Isagenix Store: We have an incredible new product line that we're excited to release at Asia Convention 1. Attend the event and you'll be one of the first Associates in Asia to purchase the new products and event-only store specials!
Member Solutions Booth: Are you struggling to navigate your Back Office and reports? Head over to the Member Solutions Booth to query anything digital-related. Speak with the Isagenix App designers and receive assistance navigating the IsaPulse and IsaOrder apps.
Compliance Booth: Get your hands on tools and all things compliance-related, ensuring you walk away from Convention 1 knowing how to keep your Isagenix business compliant. Have all your questions answered here to confirm you're running a compliance-approved business.
IsaBody Challenge: Convention is the place to register for your IsaBody Challenge®! Don't forget to bring appropriate clothing so you can take your "before" photos. Just a reminder, we require trim-fitted athletic clothing to be worn in your photos. For those who are comfortable to do so, men can be shirtless and women can wear a sports crop-top. Please note, underwear is not allowed. Visit the stand to discover the support that's available for your IsaBody Challenge journey.
Ask the Nutritionist: Visit the World of Isagenix Store and head over to the Ask the Nutritionist Booth. You'll have the opportunity to find answers to your most frequently asked nutrition and products questions. The booth will be hosted by our local nutritionists from each of our Asian markets.
We can't wait to see you there!