We're just days away from the biggest holiday of the year, and you-know-who is feverishly making his list and checking it twice. You may even be doing the same! But, one thing you may not have decided yet is what will you leave out for Santa (*wink*) when he slides down the chimney.
If you're like me, you may be used to leaving out a pile of cookies or other sugary treats for the big guy. But, if you're like my husband, you will dip into said cookies once the kids have gone to bed, leaving nothing but a trail of cookie dust for good ol' Saint Nick. If this sounds all too familiar, we have a solution that will keep everyone happy AND healthy.
The More the Merrier
Our gingerbread protein balls put a twist on a traditional classic and leave anyone who tries them asking for more. The Healthy Giving Guide features this easy-to-follow recipe that makes plenty so you can share with family, friends, and the big guy.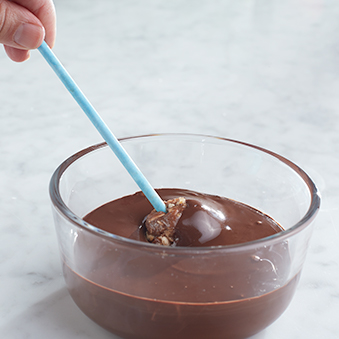 Here's what you'll need:
2 scoops Vanilla IsaPro®
1 cup rolled oats
1/2 cup sunflower butter
1/3 cup organic cornflakes
1/4 cup molasses
1 1/2 tsp ground ginger
1/2 tsp ground cinnamon
2 to 3 tbsp hot water
1/3 cup organic, unsweetened, reduced-fat coconut, finely shredded
Here's what you'll need to do:
Line a sheet pan with wax paper. In a mixing bowl, place IsaPro, oats, sunflower butter, cornflakes, molasses, ginger, cinnamon, and water. Stir until well combined.
 Scoop rounded tablespoonfuls of the mixture, and roll them into balls, placing them on the prepared sheet pan as you go.
 Place the finely shredded coconut in a bowl. Roll each ball one by one into the coconut to coat.
 Cover and refrigerate for 1 to 2 hours before serving.
Psst…You'll Want to See This, Too!
If you (or any kids you might know) are in the market to rack up a few last-minute points on the nice list, we've got a recipe that's sure to please Kris Kringle: IsaDelight® dipped spoons. They're deliciously decadent and simple to make. Swirl them in any hot cup of cocoa or Isagenix Coffee to put some pep in your step and give yourself a little extra jolt to get through the holidays.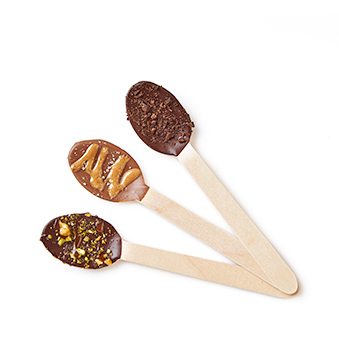 Here's what you'll need to make our dark chocolate with crushed espresso beans dipped spoons:
Here's what you'll need to do:
Line a plate or cookie sheet with wax paper. Melt IsaDelight chocolates over the lowest possible heat in a saucepan, stirring constantly. Optional: Once the chocolate has completely melted, stir in 1 scoop of Chocolate IsaPro until it is completely blended.
Tip the saucepan slightly so the chocolate runs to one side. Dip each spoon into the chocolate, and place it on the wax paper. Sprinkle each spoon with chopped espresso beans, and refrigerate them for 10 minutes or until hardened.
Stir the spoons into hot cocoa, coffee, or milk for a sweet, indulgent holiday treat!
Tip: Wrap chocolate spoons in plastic wrap or cellophane, and decorate with a festive ribbon. Pair them with Isagenix Premium or Organic Coffee and a mug for a fun holiday gift set!
For more holiday recipe inspiration, check out our Healthy Giving Guide today! Why wait for the new year to start all those health and wellness resolutions? Start now, and spread some Isagenix spirit!