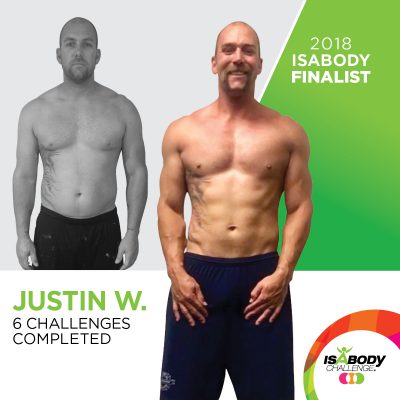 After two and a half years and six IsaBody Challenges, Justin came to a difficult realization. He realized that up until that point, he had been so consumed with becoming an IsaBody™ Finalist that he had forgotten what the IsaBody Challenge® was about.
"I forgot what truly matters, and that's being an example for those around you," said Justin. "Everybody is different, which is amazing. You are no good to anyone if you are just trying to be like someone else. As soon as you figure out why and how you want to change, that is when the true journey begins."
Justin now focuses on personal growth and development and simply on being himself. He's not hiding behind excuses or focusing on things he can't change; he's taking charge of his future and is concentrating on how he can help others do the same.
As a newly appointed deputy fire chief, small business owner, competitive strongman, husband, and father, Justin has a lot on his plate. This gives him the opportunity to be an example of what is possible even when one is worried that one can't do it all.
"I don't know many people who can do all that, nor would they want to, but there are people just like me who are doing these things and who are struggling with their time and health," said Justin. "My story resonates with them, and if I had still been focused on trying to be someone else, these people may not have found the motivation they needed."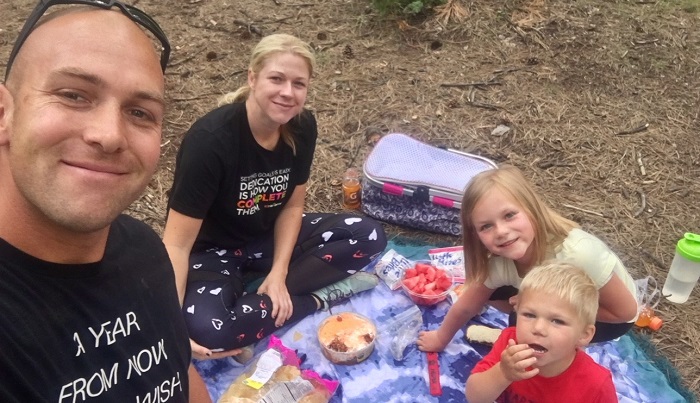 After completing this Challenge, Justin feels he is helping so many people find their own journey. He is finally proud of himself, and so is his wife, and their children have someone they can look up to.
"When my kids ask me each night who I have helped today, they expect an answer. With Isagenix and the IsaBody Challenge, I have yet to come up empty!"
Get to Know Justin
We had a few questions for Justin about his incredible success with the IsaBody Challenge, and here's what he had to say about his experience:
I: What's your best advice for someone who is doing the IsaBody Challenge for the very first time?
J: Create goals that you can accomplish. Whether they're short term or long term, your goals should be a "living document" that is constantly updated and reworked. Don't be upset if you don't hit a goal right away. I know it can be discouraging, but you must change the mentality of "I failed" to "it has not happened yet." You will get there!
I: How will being a finalist impact your future, both personally and with Isagenix?
J: When the team at Isagenix World Headquarters called to ask me to represent the IsaBody Challenge as a finalist, I was brought to tears! It solidified everything I have been trying to accomplish, which is helping people realize their self-worth and value to help others.
My wife and I are a team, so we share this title together, and it's providing a much larger platform for us to help more and more people. Many people focus on helping those who have not yet found Isagenix, but I'm focusing on those who are already here by encouraging them to continue in this Challenge. It is their photos, their stories, and their lives that are inspiring so many others.
I: What kept you going in moments when you wanted to give up or slack off?
J: Throughout my journey, I have wanted to quit more than a dozen times, but there are three things that have kept me going.
Remember to always quit tomorrow, never today. Whenever you feel like you want to quit, tell yourself you can quit tomorrow, because when tomorrow comes, 99 percent of the time you will not quit!
Lean on the IsaBody community. The IsaBody Facebook group is so powerful! I always tell others (and myself) to post their negativity along with their positivity. When you want to quit, share those feelings with the group. I guarantee there will be people there to convince you otherwise.
Reflect on your journey. I like to reflect on where I started, what I have accomplished, who I have helped, and where I am headed. If nothing else works, the fear of being my old self puts me back into the right state of mind.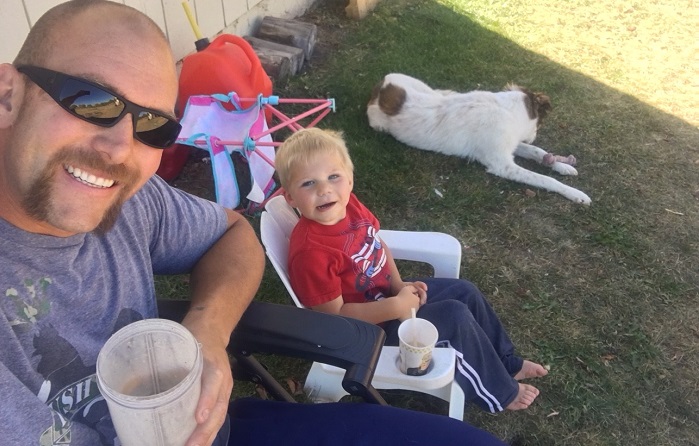 I: What advice can you give to fellow IsaBody participants who feel like they may be in this Challenge for the wrong reasons?
J: Take a long, hard look at yourself, and find out what YOU want to do. What do YOU want to accomplish? What do YOU want to achieve? IsaBody Challenge Finalists become finalists because they are themselves and because they don't try to be anyone else. They know their strengths and weaknesses and share those things with others to help those who can relate.
I: What is one thing that few people know about you?
J: Looking at me, people think I'm this big, tough guy, but I secretly love musicals and hate snakes!
Inspired by Justin's incredible story? To try this amazing 16-week Challenge and discover how you can transform your life, visit IsaBodyChallenge.com.
*Weight loss, muscle gain, lifestyle, and other results depicted here reflect exceptional individual experiences of Isagenix Customers and should not be construed as typical or average. Results vary with individual effort, body composition, eating patterns, time, exercise, and other factors, such as genetic and physiological makeup.