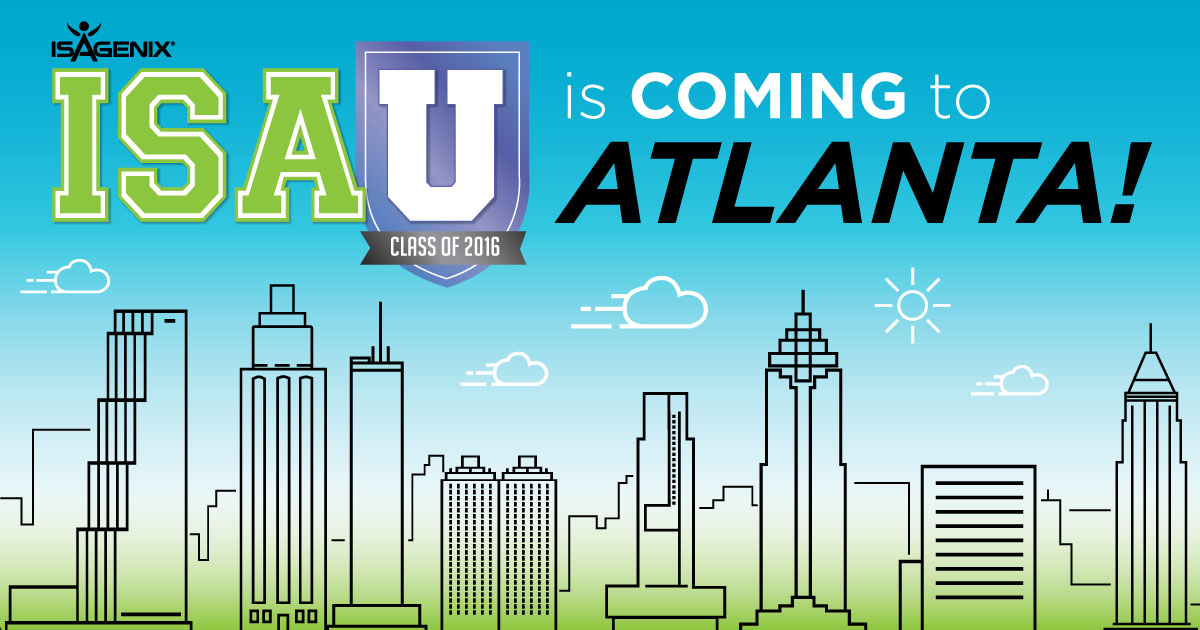 Isagenix University (IsaU) is headed to Atlanta, Georgia, and you should be, too! Hosted from October 20 through October 22, 2016, this life-changing event will help you and your team maintain the momentum and motivation from Celebration to carry you through the end of the year.
Whether you are new to Isagenix or a seasoned business builder, attending events is crucial to your personal and professional development. At IsaU Atlanta, you and your team members will gain insight and receive training on how to grow your business, share our no-compromise products, encourage and develop team members, and more. At IsaU Atlanta, you will also have the opportunity to advance your skills as a professional network marketer and acquire industry-leading business strategies from Isagenix top leaders!
"Attending this event with teammates elevates the experience and team cohesiveness phenomenally. The trainers are absolutely extraordinary…so poised and well prepared; not a moment is wasted! IsaU is a must for anyone who's interested in Isagenix from a business perspective, and honestly, I think it's important to go at least annually!" says Isagenix Associate Karolynn D.
We have a star-studded lineup of trainers prepared for this event. Don't miss top leaders Lynn Hagedorn, Michael Clouse, Laura Stevens, Dr. Paul Biondich, 2016 IsaBody Challenge® Grand Prize Winner Alvie Shepherd, and corporate trainers as they take the stage to share how to find and develop your "why," create a strong 30-Second Story, build connections, and more!
For a sneak peek into the Isagenix University experience, check out the video below!
Get Your Ticket to IsaU Atlanta
Are you ready to be inspired, empowered, and motivated and share your passion for Isagenix with others? If you haven't secured your spot in the audience at IsaU Atlanta yet, it's your lucky day! Tickets for this exciting, inspiring event are still available for purchase. Please visit IsagenixEvents.com to find more information and learn how to register!