New Year Kick Off 2016 has come to an end, and although we are sad to see it go, we are looking forward to another great reunion as "One Team" at Celebration 2016 in August!
Have you purchased your ticket to our flagship event yet? At just $149 per ticket, you can join thousands of your fellow Associates from around the world in Las Vegas from August 7, 2016 through August 10, 2016 for the biggest and best Isagenix event of the year.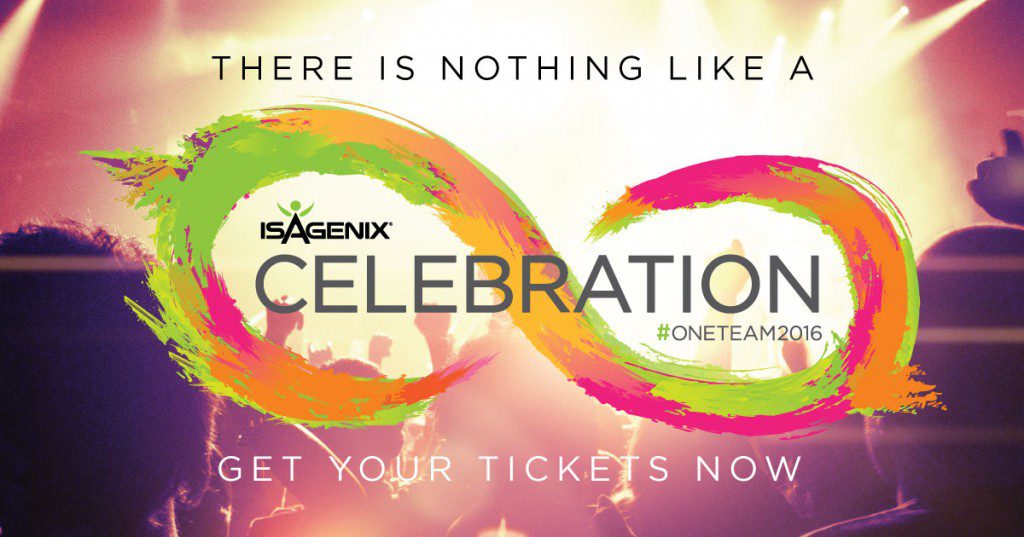 Surprise Guest Maroon 5 at Celebration Global After-Party
If you're like us, three days of General Session is just not enough time to soak in the raw energy and electricity that surrounds Celebration. Isagenix is proudly hosting, for the first time ever, the 2016 Celebration Global After-Party and you do not want to miss out! In honor of this special event, the Celebration Global After-Party will feature special guest, Maroon 5. We're so excited for this private event exclusively for Isagenix Celebration attendees!
Admission passes are on sale for the Celebration Global After-Party with Maroon 5 through your Back Office for $99, and Associates can purchase a maximum of 10. Please keep in mind that Associates must have a Celebration ticket and check in at the event registration to be eligible to purchase and use admission passes to the Celebration Global After-Party.*
There are only a limited number of admission passes available, so you don't want to wait to get yours! Associates do have the opportunity to qualify for complimentary passes or seats in a reserved section. Learn how!

What's on the Celebration Agenda
The Celebration agenda is packed with opportunities for learning, networking, and celebrating with your Isagenix community.
We've planned three days of General Session packed with powerful training segments to help build your Isagenix business and lead your team down the road to success. Our top trainers are prepared to share their insight and experience, transform the way you approach business building, and inspire and empower you to take your business to the next level in 2016.
All Associates with a Celebration ticket can attend The Gala, a green carpet awards ceremony that honors the achievements of leading Isagenix Associates. You also have a chance at qualifying for the Crystal Rally Reception, START Party, and more. Learn how to qualify for these exclusive receptions, parties, and meetings!
Be prepared for exciting product and sales tools launches. Plus, a visit to our Sales Programs and Exhibitors booths in the World of Isagenix is a must. Get up to speed on product information with Science Talks, sign up for the IsaBody Challenge®, and stock up on your Isagenix swag at the Isagenix Gear store.
Leadership Meeting Host Announced!
Network marketing expert and best-selling author Eric Worre will be training at the prestigious Leadership Meeting this year at Celebration. Associates ranked Manager and above** have an invitation to learn best practices and insights from one of the greats. Eric will teach top leaders how to maintain a successful mindset and transfer business building skills to their team members. He will wrap up the day by sharing six strategies to apply to your business.
Join the Celebration Now!
After immersing yourself in the Isagenix culture and receiving invaluable training and leadership skills, you will leave Celebration with the renewed drive and ambition to continue striving for success through the end of the year.
To purchase a Celebration ticket and get all of the details about this incredible event and the inaugural Celebration Global After-Party, visit IsagenixCelebration.com today!
*The Isagenix Celebration Global After-Party with Maroon 5 is a private event for Isagenix Associates and corporate employees only. It is not open to the public and is on a first-come, first-served basis. Doors will open at 7 p.m., and the Celebration Global After-Party will begin at 8 p.m. Not all Celebration attendees and ticket holders will be guaranteed an admission pass. Associates can purchase a maximum of 10 admission passes per member ID. You may assign additional admission passes to Celebration ticket holders until Tuesday, August 9. Admission passes cannot be sold or transferred to parties that do not have a Celebration ticket and can only be transferred for free or for a value equal to or less than the one-time fee previously paid. Every (1) admission pass to the Global After-Party must be attached to (1) Celebration ticket to be picked up, and the ticket holder must be checked in at Celebration 2016 event registration. Associates will be unable to pick up more than (1) admission pass if they only have (1) Celebration ticket. The corresponding Celebration ticket holder must pick up their admission pass in person. Identification will be required to pick up your passes and for entry into the event venue. Those who qualify for assigned seating via the Crystal Reset promotion will be assigned a reserved section. Children under the age of 16 will be allowed to attend the event (in the company of someone at least 18 years of age or older), but will be required to have a Celebration ticket to accompany their admission pass. All Celebration Global After-Party admission passes are non-refundable.
**Manager or above rank must be achieved by July 27, 2016 to qualify for entry to the Celebration Leadership Meeting.