Being a mom is hard, but making sure your kids get the nutrition they need shouldn't be. As parents, we all have days when we're running late to a meeting or spending hours driving kids to and from their after-school activities. Sometimes, breakfast is dry cereal in the car, and an afternoon snack consists of a bag of cheese crackers you found at the bottom of your purse. Fast and convenient? Yes. But healthy and nutritious? Not so much.
Kids need a balanced diet to grow and thrive. In fact, research says that unhealthy food can negatively impact their health and that those habits can carry into adulthood. Food that is rich in vitamins and nutrients can help kids focus, maintain a healthy weight, and improve their mood.
Life can be chaotic, and it can be a challenge to give your kids all the healthy food and nutrition they need. Check out these tips to help make your life a little easier.
No. 1: Sneak It In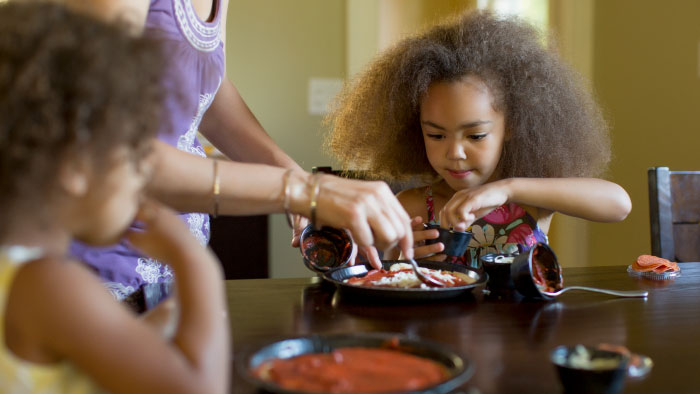 If the sight of a vegetable makes your kids scream, try hiding it in a dish they already like. One of my favorite ways to do this is in spaghetti. Finely chop carrots, celery, or even spinach, and then add it to your tomato sauce. Not only will you increase the nutrients, but you will also add flavor. If you have a kid with an aversion to texture, throw the ingredients into a food processor to disguise the veggies. This technique also works well with soups, stews, and casseroles.
No. 2: Provide a Dip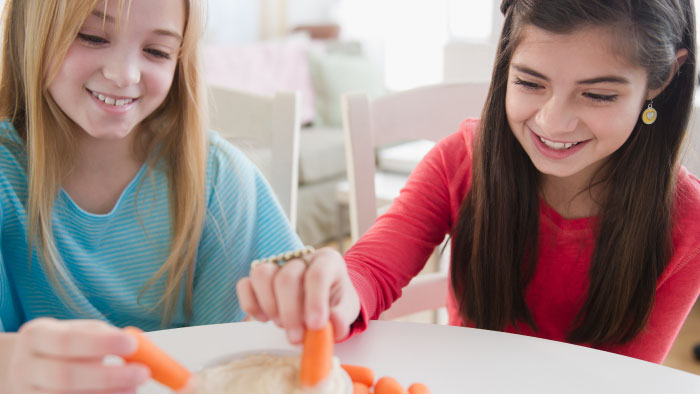 My kids go crazy for a veggie tray at birthday parties but won't eat said veggies at home. Why? Probably because they only like to eat raw veggies dipped in ranch dressing, which is often (and unfortunately) loaded with calories, fat, and sodium. When I'm buying ranch dressing at the grocery store, I always read the ingredients and look for low-fat and organic options. Another alternative? You can make ranch dressing at home using simple ingredients like Greek yogurt and fresh herbs. Other kid-friendly dipping favorites in our house are hummus, guacamole, salsa, and pesto.
No. 3: Remain Consistent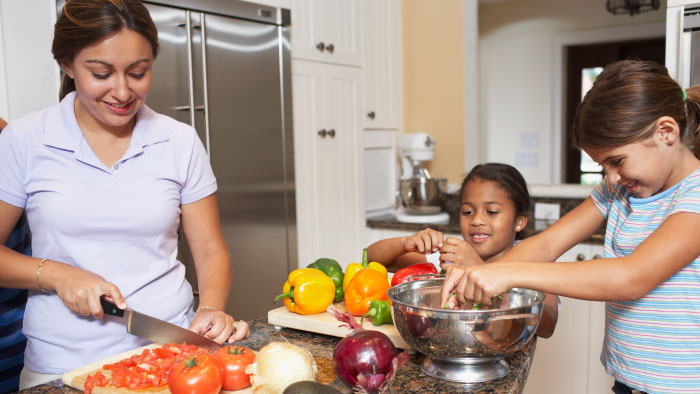 Consistency is key when it comes to serving healthy food to your kids. Maybe they won't ever touch steamed broccoli, but they may like it roasted, sauteed, steamed, or shredded in a slaw. Play with various seasonings that might appeal to your kids' sweet, spicy, or savory taste buds. Explore new foods together. Your picky eater might just surprise you one day!
No. 4: Be a Good Role Model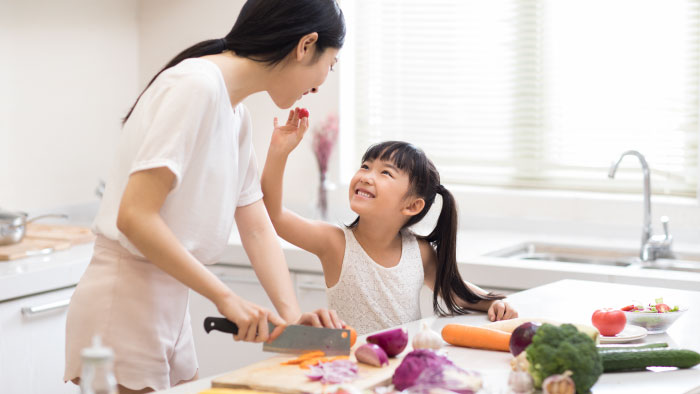 The saying "you can't talk the talk if you don't walk the walk" rings true when it comes to your kids and their eating habits. There are plenty of times during the week when I want to hit up the nearest drive-thru because I'm too tired to even think about making dinner. While that sometimes does happen, I always feel better preparing a healthy meal for my family at home. Meal planning, grocery shopping, and dining out with your kids are all excellent opportunities to demonstrate how to make good food choices.
No. 5: Try IsaKids Super Smoothie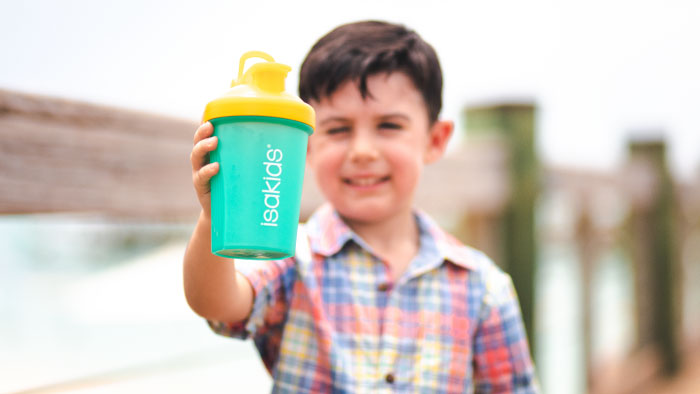 When your son has an early morning soccer game, or your daughter is hungry after a long day at school, reach for a quick and nutritious snack like IsaKids Super Smoothie, available in two delicious, kid-approved flavors: Strawberry Blast and Ice Cream Cookie Crunch Flavor. IsaKids Super Smoothie is created with quality ingredients and provides a balanced, age-appropriate amount of nutrition to support the growth and development of kids.
Now you can reinvent your mornings, take back your afternoons, and make mealtime more enjoyable. You got this!
Watch these kids learn about good nutrition!