Show you care with each heart-etched IsaDelight® square you share.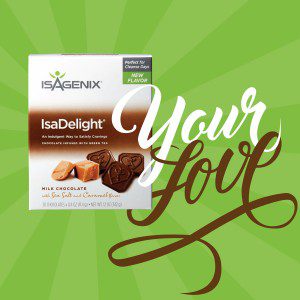 Valentine's Day is just around the corner, so why not show that special someone you care by giving them a box of irresistibe IsaDelight chocolates? Each box of IsaDelights contains 30 individually wrapped chocolates, so you can share the love with everyone you know.
If you're looking for Valentine's Day ideas, give the gift of chocolate with added benefits to nourish the body. Complete with green tea extract, amino acids, and antioxidants, IsaDelight chocolates are a treat you'll feel great about giving. It's available in four delightful flavors: Milk Chocolate With Sea Salt and Caramel Flavor, Dark Chocolate With Mint Flavor, Milk Chocolate, and Dark Chocolate.
Order yours today, just in time for Valentine's Day. Add a box (or two or three…) to your next Autoship order by logging in to your Back Office and selecting the "Orders" tab.