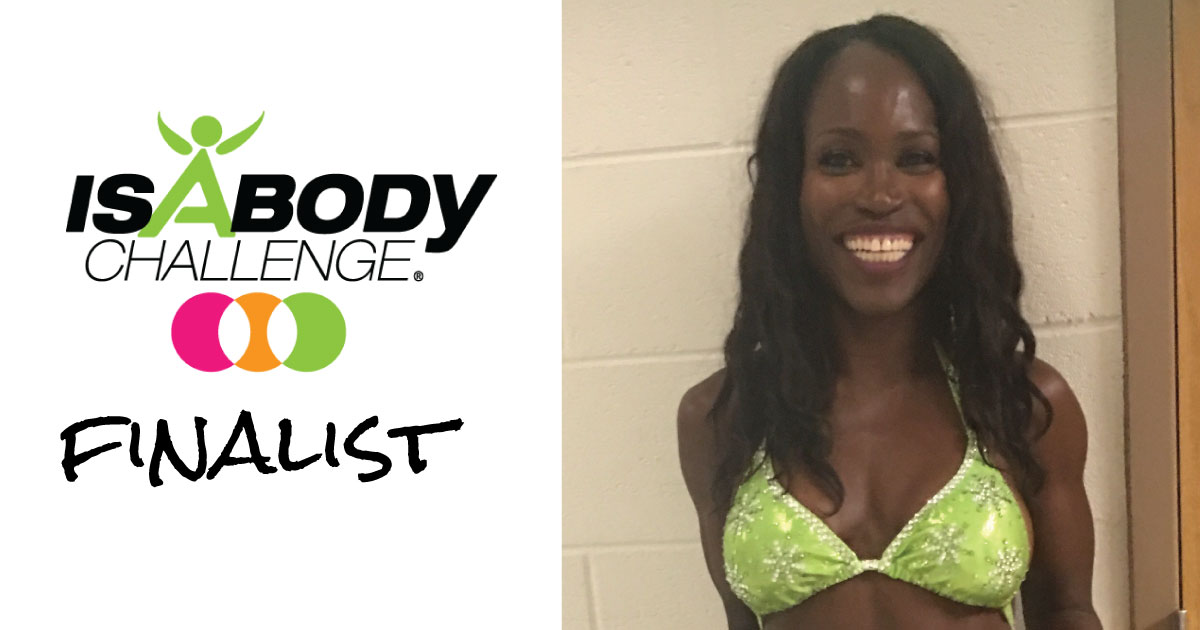 Years of heartbreak and trauma had left Joyce feeling abandoned, broken, and unfulfilled. Between her difficult childhood, her time in foster care, and her six years of service in the Navy, her past was littered with challenges. Joyce found herself at a low point physically, mentally, and emotionally and was living an unhealthy and unhappy lifestyle.
"I was drinking, I was stressed, and I felt like I had no purpose," Joyce says. "I could feel my body changing, my clothes did not fit as they used to, and my abdomen developed a kangaroo pouch. I had no real schedule to go by, my days drifted in and out, and I'd wake up two or three times at night unable to sleep, feeling unaccomplished and dissatisfied with myself," she remembers.
Stumbling Upon Isagenix
One day at church, Joyce recognized one of the gospel singers she had seen there a few times. She noticed this woman had a glow about her and looked younger and fitter. Joyce approached the woman, Andrea, and learned about Isagenix.
Andrea invited Joyce to a Launch Party and she accepted, thinking that Andrea was launching new gospel music. What she didn't realize is that it would be her introduction to the Isagenix products, science, and culture. After watching videos and hearing testimonials from others, Joyce decided to give Isagenix a chance.
"I wanted to cleanse my body," Joyce says. "And when I woke up the first week, I remember waking up before my alarm clock and having almost a clear feeling."
Joyce was amazed at how good she was feeling. She felt like she had more energy, stamina, and mental clarity than ever felt before.
"I went straight to my laptop and opened it up to find out even more about Isagenix, and that's when I saw the 16-week IsaBody Challenge®," Joyce says.
Since Joyce had begun to feel better after a short period with Isagenix, she was excited by the prospect of spending 16 weeks focused on the products.
Fitness on Fire
Fueled with Isagenix products and motivated by the IsaBody Challenge, Joyce decided to take her health to the next level. She had never been in a gym before, so she enlisted the help of a friend to give her some workout tips. Joyce was in the gym twice a day, four days a week. As she put on muscle and could see her body transforming, her goals changed.
Joyce started to train for a bikini competition. With the help of her trainer, posing coach, and her trusted Isagenix products, she competed in her first show. Although she didn't place, Joyce received encouragement to compete in the figure category, and after a few competitions where she placed in the top four consistently, she placed first and received her pro card.
To top off her achievements onstage, Joyce has been featured in Crush Model Magazine in the 2016 Fitness edition and a handful of radio interviews and health fairs.
To the Future
After completing seven IsaBody Challenges, releasing 22 pounds,* and ridding herself of her emotional baggage, Joyce is a changed woman. Her transformation has brought her many blessings.
"Isagenix is allowing me to release fear and shame," Joyce says. "It gives me confidence to really see who I am and what I deserve. I am on a journey of personal development and growth, which I owe to this company."
Not only is her physical health on the mend, but Joyce also has a renewed passion for life and feels like she has purpose, drive, and a reason for living.
"My mission is to serve as God intended. I want to spread hope and light at the end of the tunnel to others who don't see hope for themselves. I want to encourage family and friends to see the Isagenix vision," Joyce says.
*Results not typical. Weight loss, muscle gain, lifestyle, and other results depicted here reflect exceptional individual experiences of Isagenix Customers and should not be construed as typical or average. Results vary with individual effort, body composition, eating patterns, time, exercise, and other factors, such as genetic and physiological makeup. In a study performed in 2012 by University of Illinois at Chicago researchers, subjects lost an average of 9 pounds with an average of 2 pounds of the loss from visceral fat after 30 days on an Isagenix System. The subjects also had a greater level of adherence and had more consistent weight loss from week to week compared to subjects on a traditional diet. View the study results. If you are pregnant, nursing, diabetic, on medication, have a medical condition, or are beginning a weight-control or exercise program, consult your physician before using Isagenix products or making any other dietary changes or attempting to lose weight.