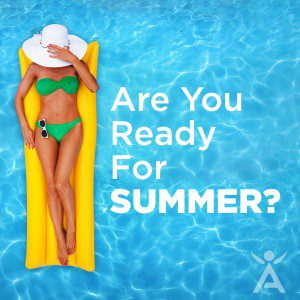 It's almost time for shorts, swimsuits and all things summer. Is your body ready? Get serious in the next 60 days and you'll be ready to face summer with confidence! Here's the plan:
Step 1: Commit!
Why are you working so hard over the next 60 days? If you don't have an answer now, you'll have a lot of excuses for the next two months. Find out what is motivating you and create positive reminders that will encourage you to stay in positive action toward your goals. Take your starting measurements and a "before" photo so you can track your positive progress. If possible, find an accountability partner to take this journey with you. If you can't find a partner, look for someone to share your goal with who will support and encourage you as needed.
Step 2: Fix Your Food Intake
You can't transform your body without transforming the way you fuel it. Start by eliminating empty foods from your pantry, your fridge and your life! Focus on high-quality, nutrient-filled food that will help you reach your goals. And, always, be sure to hydrate!
If you're looking for a simple, high-quality nutritional solution, Isagenix has a system that will work for you, no matter your goal. The 30-Day Cleansing and Fat Burning System is a simple, flexible way to help you lose weight in a healthy way, cleanse your body of potentially harmful impurities and fuel you with the best essential vitamins, botanicals and other natural ingredients to make you feel fantastic while you're slimming down. Meanwhile, for those looking to build lean muscle, our Athlete's Pak or Energy and Performance System will help rev up energy levels, maximize workouts and speed recovery.
Step 3: Plan Your Workouts
While nutrition plays a huge role in weight loss, workouts and physical activity help you sculpt your body to get the results you're looking for. Identify a workout plan (working with a trainer or by choosing a reputable in-home system). Be sure to balance your workouts. For example, don't work abs constantly and ignore your back muscles for 60 days. Also be sure to schedule in recovery time for the muscles you're building. All the planning in the world is useless if you don't follow through, so be sure you're taking human nature into account and creating backup plans in case classes, trainers or babysitters fall through.
Step 4: Celebrate!
Two months after you start, you (and your friends, family and co-workers) should be seeing a change. They might not notice exactly how much your measurements have changed but they will see a bigger smile on your face and a certain swing in your step because you set a goal, stuck to it and saw positive change!
For more information on Isagenix Solutions to Transform Lives visit IsaProduct.com or contact the person who introduced you to this website!