If you've been with Isagenix for long, you know how big of a deal our IsaBody Challenge® is to our entire Isagenix family. How could it not be? This Challenge is THE opportunity to pursue better and make a transformation in any and all aspects of your life. If you're new around here, you'll soon understand why so many people love this community. (If you think one accountability partner is helpful, try thousands!)
The IsaBody Challenge is a 16-week journey to that you can make your own — working toward whatever goal you set your mind to — and we're here every step of the way to support you while you make it happen.
As an added incentive, we name four finalists at the end of each Judging Period, recognizing those who have experienced an especially amazing transformation. So, now that our latest Judging Period has come to a close, four 2021 Canada Judging Period 2 IsaBody Challenge Finalists have been chosen. Each will receive CA$3,000 and tickets and paid expenses for them and a guest to Canada Celebration, where they'll have the chance to become the IsaBody Challenge Grand Prize Winner!
While they were celebrating this incredible accomplishment, I was lucky enough to chat with each of our finalists to hear more about their experience. Get ready for a heathy dose of helpful advice and inspiration.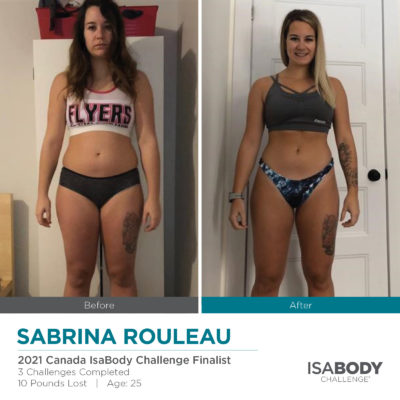 Sabrina Rouleau
Lefaivre, Ontario
Age: 25
Height: 5'3"
Total Weight Loss: 10 pounds*
Challenges Completed: 3
From suffering emotional abuse to losing three loved ones to cancer, Sabrina has already experienced her share of heartbreak at the young age of 25. But inspiringly, she's moved past that sadness to become one of our IsaBody® Finalists and an all-around amazing person!
At the time of these traumas, Sabrina did struggle and says she ate her emotions as a way of dealing with her pain. She gained some weight and felt like she had no energy — that's when she decided to make her health a priority. A friend of hers introduced her to Isagenix, and she decided to give the products a try. She also joined the IsaBody Challenge.
"I just thought, 'If not now, when?'" said Sabrina.
After university, while using the products and working on her Challenge, Sabrina became a social worker, helping other women who had suffered emotional abuse. She eventually left that position but couldn't leave her passion for helping others behind. Now, she's helping others change their lives with Isagenix and building a business.**
For Sabrina, the best part of this experience has been getting involved in the IsaBody community, which helped her to believe in herself and know her worth.
"IsaBody has shown me who I really am and who I can be," she said.
I think we can all hope to be a little like Sabrina!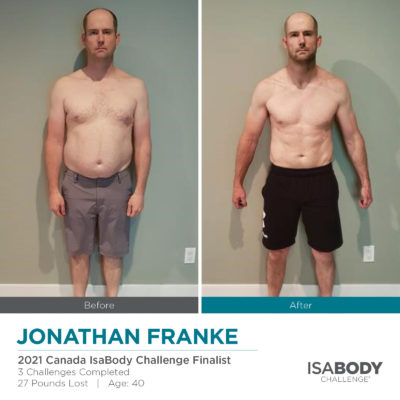 Jon Franke
Red Deer, Alberta
Age: 40
Height: 6'0"
Total Weight Loss: 27 pounds*
Challenges Completed: 3
If you grew up an active kid who loved to play sports at a competitive level, Jon can relate. And, if somewhere along the way, between the responsibilities of adulthood and having a family, you somehow lost track of that active lifestyle, Jon can relate to that, too. (But not as much anymore.)
When Jon's inactive lifestyle became more than a matter of not feeling as good as he could, Jon knew it was time to make a change. He had seen his cousins getting results with Isagenix, and decided he had nothing to lose.
When Jon signed up for his first IsaBody Challenge, he set his sights on getting rid of an extra 20 pounds.* When he filled me in on how his first Challenge actually went, to say I was impressed is an understatement. Jon lost twice that much weight with the support and accountability of the IsaBody community. But for Jon, it's about so much more than weight loss. It's his ability to be more active with his wife and kids, taking them hiking, biking, kayaking — you name it.
That's not to say the Challenge was always easy, and Jon has advice for anyone who embarks on this journey:
"Remember your goals, and stick with them. You're going to have good days, and you're going to have bad days, but every day will get a little bit better than the last."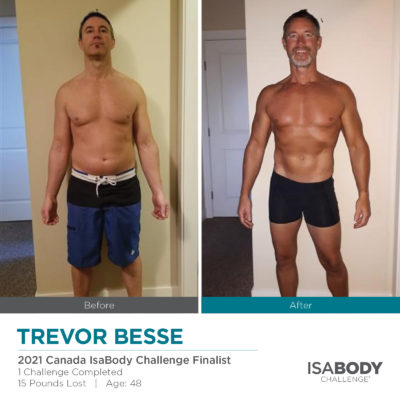 Trevor Besse
Lake Country, British Columbia
Age: 48
Height: 5'6"
Total Weight Loss: 15 pounds*
Challenges Completed: 1
The IsaBody Challenge is designed to give you the support and accountability you need to reach your goals, whether it's your first time or your 20th time. Trevor thanks the simplicity and structure of the IsaBody program for making it easy for him to keep going.
Trevor started his first Challenge in January with the encouragement of his wife. They had a trip to Hawaii planned for their 10-year anniversary, and they wanted to recreate some photos from their wedding day, this time with their younger kids. As Trevor said, there's nothing quite like a photo to keep you motivated in living healthy.
By the time they left for Hawaii, Trevor was feeling great about his progress, but by the time they got home, life as they knew it had changed. Trevor and his family faced some personal adversities as well, and they had to navigate how all of it would affect their new healthy lifestyle while remaining in their home. At first the thought was daunting, but instead of falling off track, it ended up being the best experience their family could have asked for, and they worked out as a family five to six times a week.
"I never expected the IsaBody Challenge to have had so many memorable experiences that included several unique twists and turns," said Trevor. "But it has been a winning journey for me! Truly, the best part has been including my family in my wellness journey."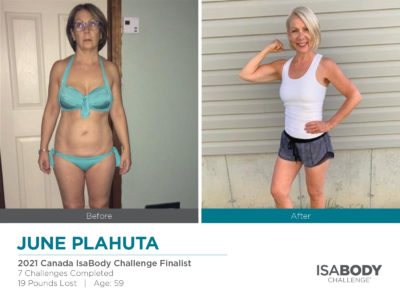 June Plahuta
Dunsford, Ontario
Age: 59
Height: 5'3"
Total Weight Loss: 19 pounds*
Challenges Completed: 7
Just listening to June talk about her experience with Isagenix and the IsaBody Challenge is enough to make you sign up for your own immediately. She has so much passion for where this journey has taken her physically and mentally.
"I'm proof that you can feel like you're aging backwards and that you don't have to settle for what life throws at you," said June.
June got started with Isagenix a few years ago. At the age of 59 with seven Challenges under her belt, she feels more alive than she has in years.
Not too long ago, when June's three kids no longer needed her as much as they had in the past, she felt lost. But that's also when she found Isagenix. Instead of being afraid, she went all in. Now she is a finalist is looking forward to getting back to CrossFit three to four times per week now that her gym has reopened and is at a point where she's continually making the changes she wants in her life.
"The Art of Wellbeing™ just describes everything so perfectly. I keep working on each part of my wellness journey and move on to the next," she said. "I just feel this confidence I never could have imagined when I first started. I can feel that good things are coming!"
H: Be one of our next Canada IsaBody Challenge Finalists!
Inspired by these incredible stories? We certainly are. Register for your own IsaBody Challenge today, and discover how you can transform your life in 16 weeks.
*Weight loss should not be considered typical. A two-phase 2016 study published by researchers at Skidmore College showed an average weight loss of 24 pounds after 12 weeks. The study evaluated the use of Isagenix products in men and women for weight loss followed by weight maintenance. As part of the weight loss phase, the participants took part in a calorie-controlled regimen of Shake Days and one Cleanse Day per week. During the weight maintenance phase, the subjects who continued the calorie-controlled program using Isagenix products better maintained their weight loss in comparison to those who transitioned to a traditional diet after 52 weeks. For more information on the study, see IsagenixHealth.net.