As members of the Isagenix 100-Pound Club, Tara McGinty and Dawn Bartolini have quite a few things in common. Not only have they each lost 100 pounds* with Isagenix, they're also both incredibly inspiring women and have been featured in the September/October issue of Oxygen Magazine!
Learn how Tara refused to let rheumatoid arthritis take control of her life and why Dawn stepped away from her family business to step into her new life.
Tara's Story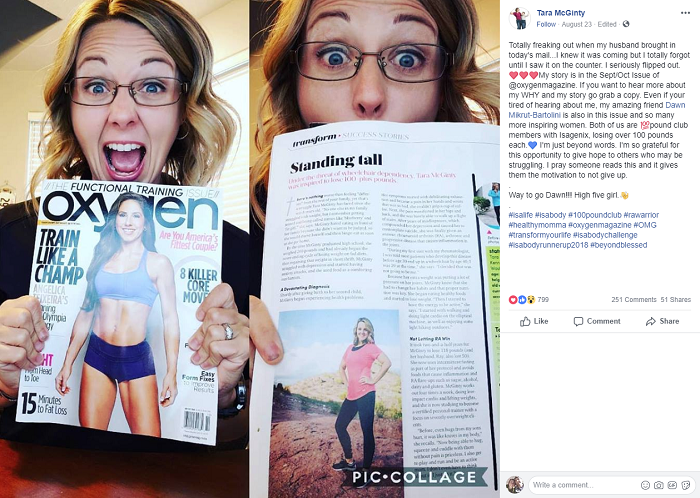 Tara had struggled with being overweight for most of her life, but when intense pain and a rheumatoid arthritis diagnosis combined with her weight threatened dependence on a wheelchair, she knew it was time to put her weight loss efforts into high gear. The extra weight she carried was putting a lot of pressure on her joints, so she needed to make her nutrition a priority.
A friend had told her about Isagenix, and when she learned about the products and the company, she knew it was exactly what she needed to help her change her habits. She signed up for the IsaBody Challenge® and shifted her mindset so she could truly embrace her journey toward becoming who she wanted to be.
"Originally, when I signed up, I was excited and ready to go, but I didn't think I could reach 100 pounds because I'd tried so many times before and failed," said Tara.
That was before Isagenix and the IsaBody™ community, though, and this time, Tara did not fail.
"The community is amazing," she said. "They lift you up, and they support you."
Today, Tara is the 2018 North American IsaBody Challenge Runner-Up and has lost more than 100 pounds with Isagenix.* She continues to manage her rheumatoid arthritis by exercising and avoiding foods that can cause inflammation and flare-ups.
Now, she's focusing on growing her Isagenix business so she can help others who felt like her before she started Isagenix. She now has confidence she never knew she'd been missing, and she's determined to help share that with everyone she can.
Dawn's Story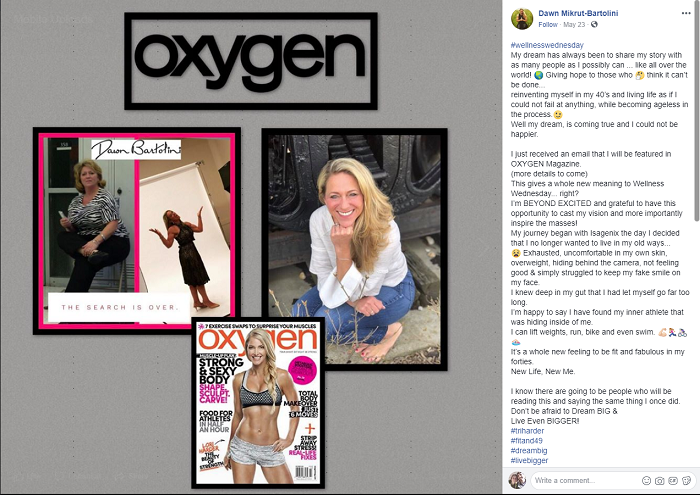 100-Pound Club member and 2017 IsaBody Honorable Mention Dawn Bartolini wants everyone to know that she was not an overnight success. In fact, she reminds everyone that it's a day-by-day process, and for her, an hour-by-hour process in the beginning.
As a young mom and busy Italian restaurant owner, Dawn's health was not her priority, and despite trying to manage her weight by starting a new weight loss program almost weekly, she never saw the desired results.
It wasn't until Dawn saw a photo of herself that she realized how much weight she had put on, and at that point, she was determined to make a change. She found Isagenix through a friend and committed herself to reaching her goals.
"I finally decided to make the decision to feel good again," said Dawn. "Isagenix has empowered me to achieve my dreams."
Today, Dawn has lost more than 100 pounds* and has kept the weight off for four years. To help her stay on track, Dawn's husband, a chef at their family restaurant, has created a 600-calorie meal that fits within the Isagenix System. Dawn has also made the decision to step away from the family's restaurant to pursue her career as a transitional life coach, alongside building her Isagenix business.
"This is an inside-out project," she said. "We have to work on ourselves internally, and then externally, it comes out."
Every day, Dawn is helping so many do just that!
To hear more incredible stories like Tara and Dawn's, visit IsaFYI.com/IsaBody, and visit IsaBodyChallenge.com to start your own Challenge today!
​*​Results not typical. Weight loss, muscle gain, lifestyle, and other results depicted here reflect exceptional individual experiences of Isagenix Customers and should not be construed as typical or average. Isagenix products are not intended to diagnose, treat, cure, or prevent any disease. Results vary with individual effort, body composition, eating patterns, time, exercise, and other factors, such as genetic and physiological makeup. ​In a two-phase study performed from 2015-2016 by Skidmore College in New York, researchers evaluated use of Isagenix products for weight loss followed by weight maintenance. As part of the weight loss phase, the participants took part in a calorie-controlled regimen of Shake Days and one Cleanse Day per week and lost an average of 24 pounds after 12 weeks. During the weight maintenance phase, the subjects who continued the calorie-controlled program using Isagenix products better maintained their weight loss in comparison to those who transitioned to a traditional diet after 52 weeks. View the study results.