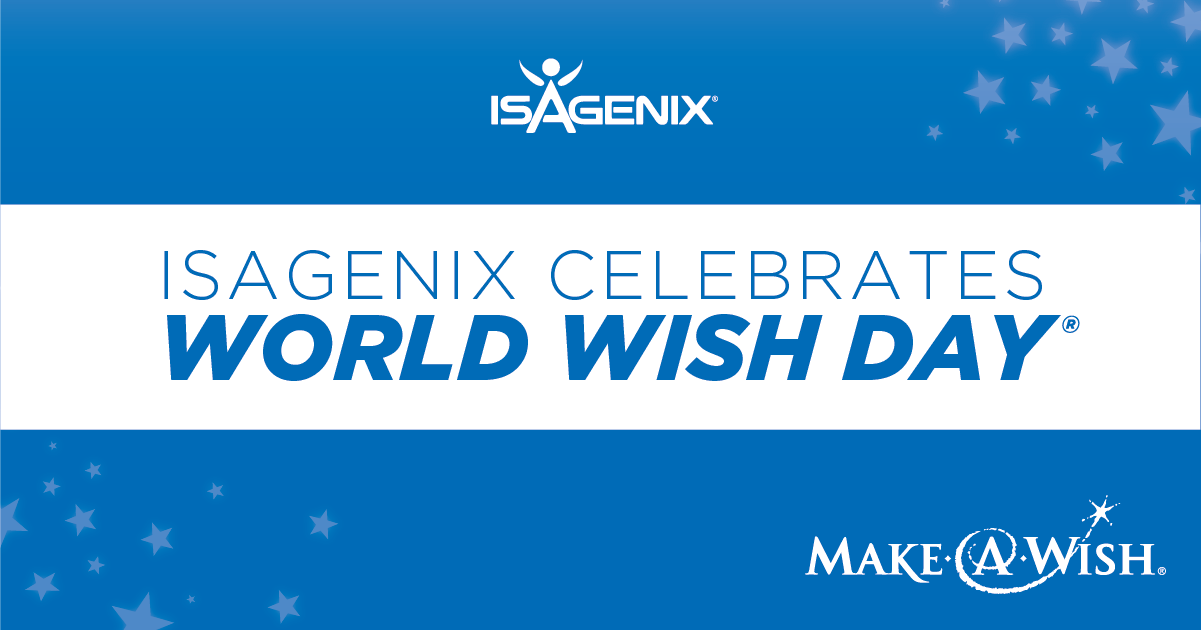 Today is World Wish Day® , a day dedicated to celebrating Make-A-Wish® and their global wish-granting movement. On this day in 1980, 7-year-old Chris Greicius' wish came true and inspired the founding of Make-A-Wish.
Here at Isagenix, we are incredibly thankful for that iconic day in 1980. This year marks the five-year anniversary of our sponsorship of Make-A-Wish, a global organization that grants the wishes of children with life-threatening medial conditions. Since 2012, Isagenix and our Customers have supported Make-A-Wish in changing the lives of hundreds of children by bringing joy and hope to them, their families, and their communities.
Isagenix is excited to dedicate the month of May to Make-A-Wish. We invite each one of our Customers to join us in reaching our goal of a total contribution of $6 million to this life-changing organization by the end of the month. Whether you donate $2 a week or $2,000 a year, your donations can help inspire these extraordinary children and families.
Our Customers have already helped us raise over $5.6 million to benefit this deserving cause! To date, Isagenix has helped Make-A-Wish grant wishes for over 633 children worldwide who are in need of renewed hope, strength, and joy. We have no doubt that with the help of our incredible Customers, we will reach our goal of contributing $6 million in total to Make-A-Wish by May 31, 2017!
How Can You Give Back?
If you would like to join the thousands of Isagenix Customers contributing to Make-A-Wish, here are four easy ways to do it:
Upgrade your Celebration 2017 seats. Celebration 2017 ticket holders can purchase upgraded reserved seating for only $200, and 100 percent of the cost will be donated to Make-A-Wish. This allows you to enhance your Celebration experience with prime seating located at the front of the audience, secure priority check-in at Registration, receive early access to the event, and more! Make-A-Wish reserved seating will be available for purchase at the end of May, so keep an eye on IsagenixCelebration.com for more information!
Purchase products. In the U.S. and Canada, for every six- or 12-count box of e+™, 32-ounce bottle of liquid Cleanse for Life® Natural Rich Berry, or IsaDelight® Milk Chocolate With Sea Salt and Caramel you purchase, Isagenix will donate 50 cents to Make-A-Wish.
Donate monthly. Visit your Back Office and select "Manage Autoship" under the "Orders" tab to make a $1 or more recurring charitable donation on every order.
Make a one-time or weekly commission donation. To donate through your commission, simply email IsaWish@IsagenixCorp.com your name, member ID, and the donation amount you would like deducted from each commission.
For more information about the Isagenix sponsorship of Make-A-Wish, visit Isagenix.com.