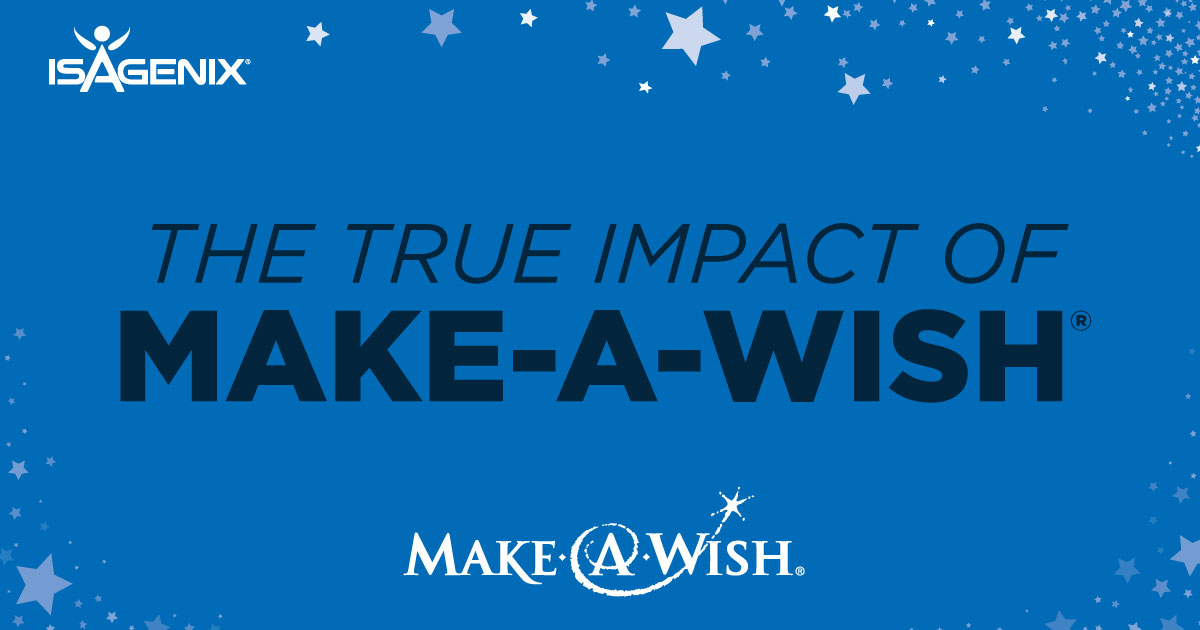 Isagenix has dedicated the month of May to Make-A-Wish® and their vision to grant the wish of every eligible child diagnosed with a life-threatening medical condition. Supporting this incredible cause has been near and dear to our hearts since the beginning of our sponsorship in 2012. With the help of our amazing Associates, we have contributed over $5.6 million to Make-A-Wish, helping to grant wishes for over 633 wish kids around the world.
Make-A-Wish and their sponsors and supporters have always believed in the powerful impact a wish has on each wish kid, but now, science has confirmed it!
In 2015, Make-A-Wish Israel participated in a study to discover just how a wish experience influences the medical outcomes of children with cancer. Conducted by the Maytiv Center, the research team studied 66 children with a diagnosis of life-threatening cancer. The study found that when a child's wish is granted, it does more than bring them joy; it gives them an edge in conquering their illnesses. The results showed significant improvements in hope, positive emotions, health-related quality of life, and anxiety.
"We looked at physiological and psychological measures, and on every variable and every parameter, we saw improvement," said Dr. Tal Ben-Shahar, co-founder and chair of the Maytiv Center.
"The answer, we believe, lies in the fact that the participants exercised a different muscle than they are used to, and that muscle is impossibility," Dr. Ben-Shahar said. "To see Messi or to meet Clinton, or for some kids, to get an iPhone, that is in the realm of impossibility. When they fulfill that wish, it becomes possible. Now, once they have turned one impossibility into a possibility, why not also do it with the medical condition they are treating?"
To learn more about this incredible study, check out the video below!
How Can You Give Back?
If you would like to help us hit our goal of $6 million in total contributions to Make-A-Wish by the end of May, here are four easy ways to do it:
Upgrade your Celebration 2017 seats. Celebration 2017 ticket holders can purchase upgraded reserved seating for only $200, and 100 percent of the cost will be donated to Make-A-Wish. This allows you to enhance your Celebration experience with prime seating located at the front of the audience, secure priority check-in at registration, receive early access to the event, and give back to an amazing cause! Make-A-Wish reserved seating will be available for purchase at the end of May, so keep an eye on IsagenixCelebration.com for more information!
Purchase product. In honor of Make-A-Wish month, for every 32-ounce bottle of liquid Cleanse for Life® Natural Rich Berry or IsaDelight® Milk Chocolate With Sea Salt and Caramel flavor you purchase in the U.S. or Canada in May 2017, Isagenix will donate 50 cents to Make-A-Wish. Isagenix will also donate 50 cents to this amazing cause for every six- or 12-count box of e+™ you purchase year-round.
Donate monthly. Visit your Back Office and select "Manage Autoship" under the "Orders" tab to make a $1 or more recurring donation on every order.
Make a one-time or weekly commission donation. To donate through your commission, simply email IsaWish@IsagenixCorp.com your name, Member ID, and amount you would like deducted from each commission.
For more information about the Isagenix sponsorship of Make-A-Wish, visit Isagenix.com.