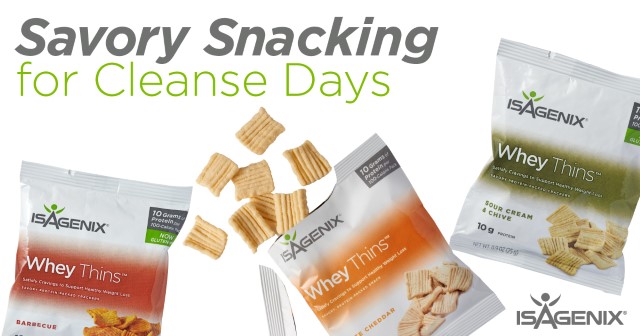 By now you've probably heard about the 2017 Product in the Spotlight as well as the announcement of the new White Cheddar Whey Thins™ flavor. This delicious, new flavor joins the rest of the savory Whey Thins family of Sour Cream & Chive and Barbecue. This family of protein-packed snacks offers a delicious way to support your healthy lifestyle and weight-management journey.
Whey Thins come in 100-calorie packs and are sure to help satisfy cravings without the overload of calories. The combination of high-quality protein, good fats, and carbohydrates support weight loss efforts and muscle maintenance while helping you stick to your ultimate health goals.
Snacking the Right 'Whey'
Choosing the right snacks can make or break seeing all those hard-earned results, which is why we want to ensure we set you up with the right tools to snack smarter. When snacking, it is important to keep in mind that what you put in your body should be nourishing, satiating, and filling all at the same time – especially on Cleanse Days. With an average of 18 chips per bag, Whey Thins can be used as an effective tool. When your body needs a little nourishment, reach for your favorite flavor of Whey Thins – you can even spread them out throughout the day, instead of consuming the entire bag in one sitting. This would allow you to enjoy the savory goodness throughout your Cleanse Day.
The Purpose of Cleanse Days
Cleanse Days are a foundation of the Isagenix System. Cleanse Days combine intermittent fasting with nutritional support for the body, supplemented by Cleanse for Life® (offered in both powder and liquid form).
With the recent inclusion of Whey Thins as an approved Cleanse Day snack, Isagenix is increasing options to support Customers on their health journeys! Giving Customers nutritious options is something we strive for, because we understand that not one person cleanses like the other. Remember to reach for Whey Thins "in substitution for" and not "in addition to" your previous or current Cleanse Day approved snack.
When cleansing, it is also important to know your limitations. Do not deep cleanse for more than two consecutive days or more than four days in a month. When you feel like you need something to get you through a hunger hump, it is important you listen to your body.
Be sure to add Whey Thins to your next wholesale or Autoship today – they are the perfect Cleanse Day companion!