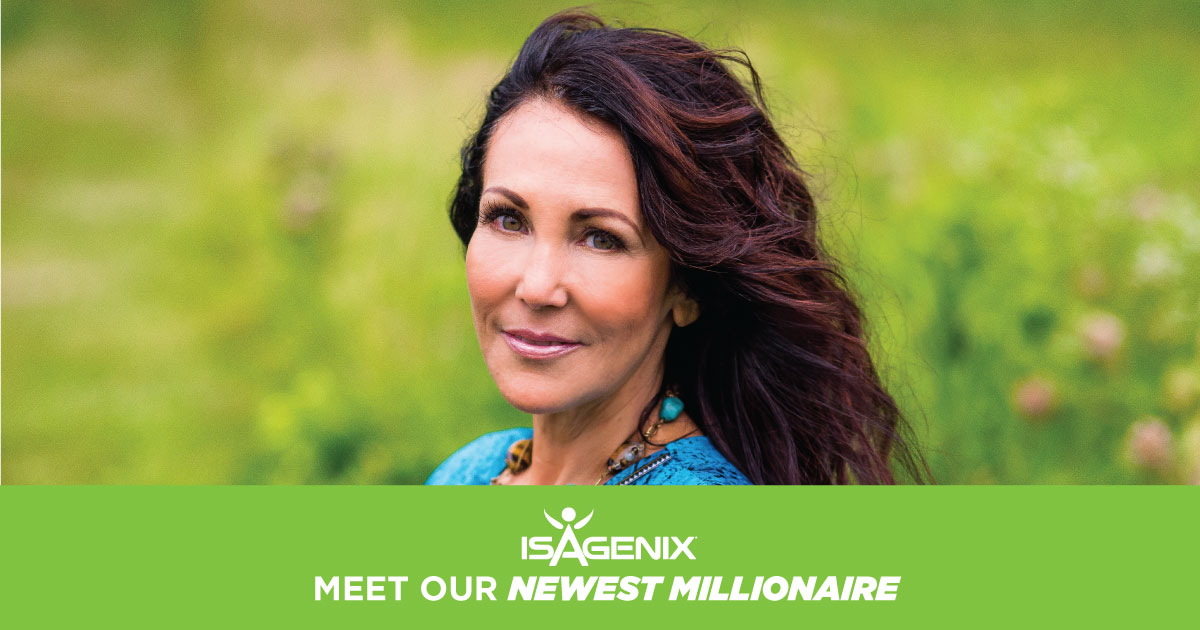 Congratulations to Isagenix Millionaire No. 191, Joy S.!
Joy walks out of her house every day hoping to make a positive change in someone's life, but as a single mom of young twin girls, this goal hasn't always been easy to meet. Joy struggled financially and faced difficult challenges in her health.
"I was that single mom who would go to the supermarket and basically have coins in a bag," Joy says. "I volunteered at a school in Haiti to help put my financial situation in perspective, and the minute I got home, I received a call from my doctor to say that I had been diagnosed with thyroid cancer."
Fortunately, Joy was cancer-free after having her thyroid removed, but the surgery left her feeling out of whack.
"I felt like a dumpy mom—I had no energy, I gained weight, and I wasn't sleeping well," she remembers.
You Can Feel This Good
Not liking how she was feeling, Joy made her health and fitness a priority. She was introduced to Isagenix by Lisa D. and started experiencing results.
"Three days after I started my Value/President's Pak, I had a bounce in my step while walking the girls to the bus stop," she says. "I remember thinking, 'Wow, I can actually feel this good.'"
Joy loved the way she felt and started sharing Isagenix right away. "I just felt like it would be stingy to keep it to myself," she says.
With experience in network marketing, Joy considered the business side of Isagenix from the beginning. "I came from a network marketing company that had an antiquated compensation plan, where the farther I went down to help people, the less commission I earned," Joy explains. "So I looked at the compensation plan at Isagenix and I thought it was brilliant."
Trust in Your Own Journey
Joy came into Isagenix with very little, so she felt a sense of urgency to start building her business as soon as she could. Although she became a Crystal Executive by her first Celebration, Joy wants business builders to know that this journey takes patience and a never-quit attitude.
"In the beginning, I moved so quickly, but it took me three and a half years to go from 4-Star to 5-Star," she says. "Sometimes things happen, but even if you have to slow down, consistency is key."
To stay motivated and focused on her goals, Joy makes declarations to herself each month and posts them on the wall in her house.
"If it doesn't happen, rather than beating myself up, I recommit and write another due date," she says. "I want people to understand that you must trust whatever journey you're on. We all have different journeys, and it's important not to compare ourselves to others."
Joy's Secret for Success
Be yourself! Many people look at others who are successful and try to be just like them, but that's really a mistake. Instead, just be yourself—people connect with authenticity.
*Isagenix Millionaires are defined as Isagenix Associates who have cumulatively earned $1 million or more with Isagenix. Earning levels for this Isagenix Independent Associate substantially exceed the average results achieved by all Associates during the same time periods and should not be construed as typical or average. Income level achievements depend on many factors, including the individual Associate's business and networking skills, personal ambition, time commitment, work habits, and other abilities. For average earnings, please see the Isagenix Independent Associate Earnings Statement found at IsagenixEarnings.com.