2020 has been so challenging, we probably don't need to end this sentence with any one reason why. Aside from anyone who bought Zoom stock in January, this year has been one of the worst in recent memory for many.
But maybe not completely. We've seen a few diamonds in the rough and silver linings in the storm cloud (frontline healthcare professionals, essential workers, Dolly Parton …), and we've added some to our repertoire. Our five finalists in this round of the IsaBody Challenge® have proven that achieving your goals is possible no matter what life throws at you. You can even inspire others while you're at it like they all did.
Congrats to each of our front-runners. Just like everyone else, they've dealt with gyms being closed and life being paused indefinitely. In a year where we were handed lemons, these finalists each made their own unique batch of lemonade. They'll now receive US$3,000 and a chance to become the IsaBody Challenge Grand Prize Winner or Runner-Up.
Let's hear what each has to say about their journey so far.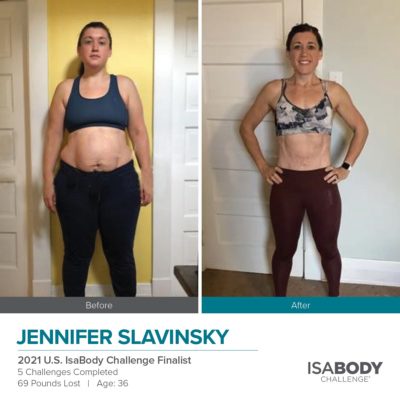 Jennifer Slavinsky
Conway, Pennsylvania
Age: 36
Height: 5'8"
Total Weight Loss: 69 pounds*
Challenges Completed: 5
Turning 36 isn't normally a big birthday milestone for most, but it was for Jennifer.
"My mom passed away at the age of 36. She was unhealthy mentally and physically and didn't have a healthy outlet for coping."
Jennifer dreaded the day she'd turn that same age for a long time. She finally decided it was time to let it stop weighing her down and planned to make 36 her healthiest birthday yet.
"I couldn't think of a better way to honor my mother."
Helping others also fueled her IsaBody Challenge journey. She started workouts for her team and guests at a local park. Witnessing people of all different fitness levels showing up and taking charge of their health brought her such joy.
"So many people need better health for a multitude of reasons. It's such a privilege that Isagenix can pour into people this way. It's something I don't take for granted."
She's loved what IsaBody® has led her to, and now she's working toward her own "Jen 2.0" transformation. She has her eyes set on receiving her personal training certification and is becoming more proactive with her business.
"Isagenix has so much to offer people. I have so much to offer people, and I am just getting started."
We can't wait to see where she goes.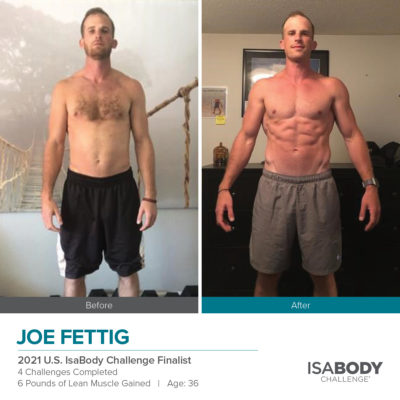 Joe Fettig
St. Louis Park, Minnesota
Age: 36
Height: 6'0"
Total Weight Gain: 6 pounds of lean muscle*
Challenges Completed: 4
Joe is living proof that persistence pays off. When he was first introduced to Isagenix, he said no. But his team leader wasn't giving up, thankfully.
"He didn't know just how much I needed him. If he wouldn't have patiently waited nearly two years for me to say yes, I don't know if I'd be walking this Earth today."
Joe admits to wearing masks most of his life. He used those masks to hide his personal struggles. At Celebration 2019 when Zach Slobin shared his own pain in a keynote speech, Joe knew it was time to take the masks off for good. He started sharing the painful aspects of his own story hoping it would reach others who might be struggling like he had been.
He credits his success in the IsaBody Challenge to the community and accountability at Isagenix.
"This has been the perfect family where I can reveal myself for who I am, scars and all, and take off my mask. The endless support has saved many lives and blessed even more."
We're not crying, you're crying.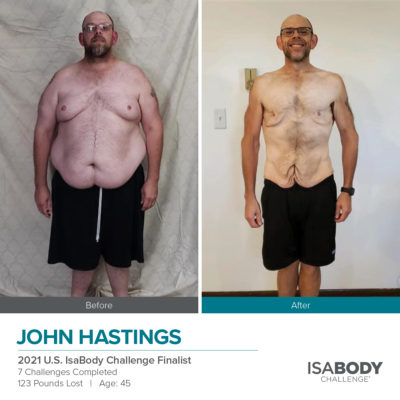 John Hastings
East Troy, Wisconsin
Age: 45
Height: 5'9"
Total Weight Loss: 123 pounds*
Challenges Completed: 7
7 IsaBody Challenges. 112 weeks. 784 days. When asked where to start describing his journey, John isn't sure where to begin.
"I lost weight, I gained weight. I was lazy, I worked hard. So many things happened."
Each day, he was faced with the decision to be better than he was the day before. But he's quick to point out that it took time to make positive changes to his behavior because it was a roller coaster.
As he describes it, "In the beginning, change resembles a mountain. Climbing it seems endless, but once you reach the top, you see it's all rolling hills from there on out. Even by making lifestyle changes, you'll still face ups and downs, but they're much easier to climb than the mountain in the beginning."
Over the past 112 weeks, John climbed his mountain many times. Sometimes he wanted to quit, but he didn't. And he's so happy he never gave up because he's now enjoying the fruits of his labor, all because he said yes to the IsaBody Challenge opportunity when it was introduced to him. The consistent high-quality nutrition he was feeding his body and the "Start. Complete. Repeat." mentality were two of the factors that helped him tackle the mountains and carry on to completion.
Ain't no mountain high enough for this guy.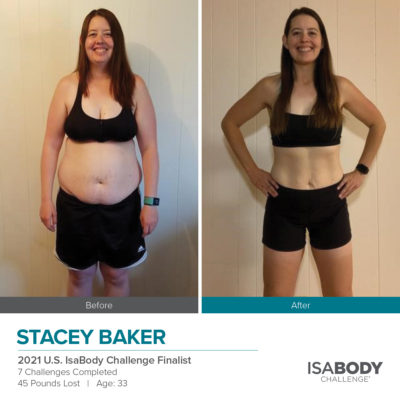 Stacey Baker
Bend, Oregon
Age: 33
Height: 5'10"
Total Weight Loss: 45 pounds*
Challenges Completed: 7
Stacey spent most of her life thinking her body was failing her. Her weight made her an easy target for bullies, her metabolism wasn't as fast as her siblings', and she quit a sport she loved (volleyball) because the spandex shorts made her self-conscious. Her body was, to her, the enemy.
"I was so focused on what my body couldn't do that it left me defeated and feeling worthless."
It wasn't until a lifelong friend, 2020 U.S. IsaBody Grand Prize Winner Kim Nase, kept posting about her success with Isagenix and the IsaBody Challenge that Stacey realized what was missing: community. She instantly felt the connection with Isagenix.
"I was greeted with open arms by a team who was excited about my achievements!"
When the pandemic hit this year, the old Stacey would've fallen back into bad habits of ordering takeout and sleeping in every day. Instead, she was up early to run before her family was awake. At lunchtime, she'd do HIIT workouts, and when the kids were in bed, yoga. She shaved nearly four minutes off her old 12-minute mile pace and is looking to cut 35 minutes off her last marathon time when the Rock 'n' Roll Las Vegas marathon reopens for business.
What has she learned over the past 2.5 years since she first signed up for the IsaBody Challenge?
"I've come to realize that my body has never failed me; I'm just now giving it the right nutrition to fuel it for greatness. I'll never feel defeated again because I have an entire community supporting me and cheering me on. Most importantly, I will never feel worthless again because everyone is worthy of this journey for better health."
We couldn't agree more.
Susan Kinman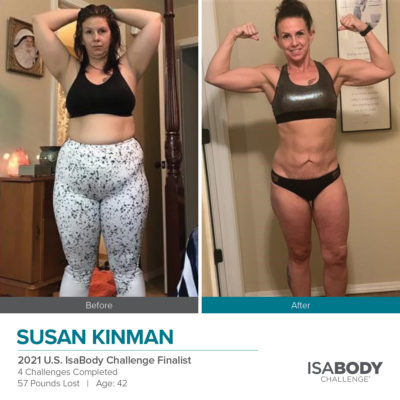 Van Buren, Arkansas
Age: 42
Height: 5'8"
Total Weight Loss: 57 pounds*
Challenges Completed: 4
July 2019. That's when Susan's existence was revolutionized. It was when she started her Isagenix journey not knowing the profound impact it would have on her, and in the long run, so many others around her.
Susan originally set out to lose weight when she started her first IsaBody Challenge, but what she gained ended up being worth so much more.
It wasn't just about the weight loss (which she rocked!). It was about finally being able to consistently maintain a healthy weight.
It wasn't the fact that she was finally working out. It was that she'd discovered the energy and motivation to do it six days a week while working two jobs and starting a new business.
It wasn't simply about counting calories. It was about increasing her nutritional IQ and developing a healthy relationship with food by cutting out unhealthy food addictions and replacing them with nutritious eating habits.
But the biggest reward for her is being able to share her Isagenix and IsaBody Challenge experiences with others.
"I've been able to build relationships, have conversations, inspire and encourage others, and share life-changing nutrition, all while being paid. I never imagined this is where I'd be, but it keeps getting better, and I'm so grateful!"
So are we, Susan.
Be one of our next U.S. IsaBody Challenge Finalists!
Inspired by these incredible stories? We certainly are. Register for your own IsaBody Challenge today, and discover how you can transform your life in 16 weeks.
*Weight loss should not be considered typical. A two-phase 2016 study published by researchers at Skidmore College showed an average weight loss of 24 pounds after 12 weeks. The study evaluated the use of Isagenix products in men and women for weight loss followed by weight maintenance. As part of the weight loss phase, the participants took part in a calorie-controlled regimen of Shake Days and one Cleanse Day per week. During the weight maintenance phase, the subjects who continued the calorie-controlled program using Isagenix products better maintained their weight loss in comparison to those who transitioned to a traditional diet after 52 weeks. For more information on the study, see IsagenixHealth.net.