If you've been with Isagenix for long, you know how big of a deal our IsaBody Challenge® is to our entire Isagenix family. How could it not be? This Challenge is THE opportunity to pursue better and make a transformation in any and all aspects of your life. If you're new around here, you'll soon understand why so many people love this community. (If you think one accountability partner is helpful, try thousands!)
The IsaBody Challenge is a 16-week journey that you can make your own — working toward whatever goal you set your mind to — and we're here every step of the way to support you while you make it happen.
As an added incentive, we name five finalists at the end of each Judging Period, recognizing those who have experienced an especially amazing transformation. So, now that our latest Judging Period has come to a close, five 2021 U.S. Judging Period 2 IsaBody Challenge Finalists have been chosen. Each will receive US$3,000 and tickets and paid expenses for them and a guest to New Year Kick Off, where they'll have a chance to become the IsaBody Challenge Grand Prize Winner or Runner-Up!
Amid their celebrations for this outstanding accomplishment, I caught up with each of our finalists to hear more about their journey and provide you with one-of-a-kind stories, advice, and incredible inspiration.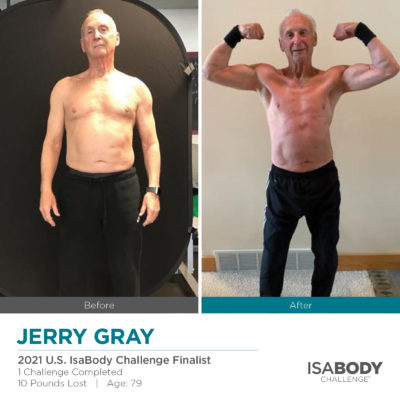 Jerry Gray
Stanwood, Michigan
Age: 79
Height: 5'9"
Total Weight Loss: 10 pounds*
Challenges Completed: 1
Jerry has a passion for sport and competition, from playing racquetball and coaching the sport at a collegiate level, to biking and running marathons, to now competing globally in kettlebells late into his 70s. I think we can all admire his athletic abilities (and hope we're in that good of shape at his age, too!). And Jerry has good reason for his dedication to staying fit: He had a heart attack at the young age of 39.
Since then, it's been easy for him to stick to his exercise and healthy living routines because he knows how important it is to take care of the body that allows him to do the things he loves. Even though he was doing just fine on his own, it doesn't mean he couldn't benefit from the IsaBody Challenge, right?
Jerry jokes that his Challenge began when his wife, Liberty, said he could get a $200 product coupon if he let her take some pictures of him. Obviously, he said yes to the photos, and he's now one of our Judging Period 2 Finalists!
"That's why I'd tell anyone to give this Challenge a shot," he said. "You have absolutely nothing to lose."
At age 79, and after four more heart attacks from 1980 to 2011 and nine stents, Jerry's not slowing down anytime soon, and he's thankful that he and Liberty are in this journey together. It's always helpful to have a partner in reaching your goals — that's why we love our IsaBody® community!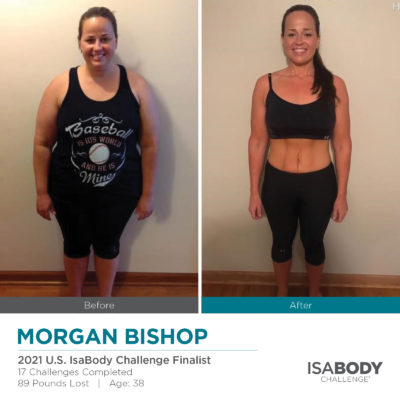 Morgan Bishop
Hopkins, South Carolina
Age: 38
Height: 5'4"
Total Weight Loss: 89 pounds*
Challenges Completed: 17
From her honesty about making excuses to her appreciation for her crazy twisting and turning journey with Isagenix, talking to Morgan certainly provides a healthy dose of inspiration. She's no stranger to hard work or the IsaBody Challenge, having just completed her 17th (let that soak in — she's been on her IsaBody journey for almost six years now).
And it's not just her physical transformation that's so inspiring. Of course, with a weight loss of 138 pounds (89 pounds while participating in IsaBody Challenges), that's definitely part of it.* What's most inspiring, though, is what she's done with this new body that allows her to fully live.
Morgan is a better mom, friend, sister, daughter, and teammate and an Isagenix 100-Pound Club member. She's building this business with her family, speaking at events, and sharing what she's learned with others to help them find the same success.
"The biggest thing I've learned is that there is no 'there.' You're never going to have the perfect abs or be the perfect weight. This is about growth," she said. "I didn't always lose weight at the end of each Challenge. Sometimes I only lost a pound, and sometimes I gained weight. I kept writing the same essay every 16 weeks. But I never gave up."
And that's the key to success, right? Never giving up. We hear it all the time, but it often takes us much longer to really believe it. But take it from Morgan, who now feels like a completely different person than she was at the start of her first Challenge inside and out.
"Now I feel strong, confident, and motivated," said Morgan. "I feel like I'm truly living."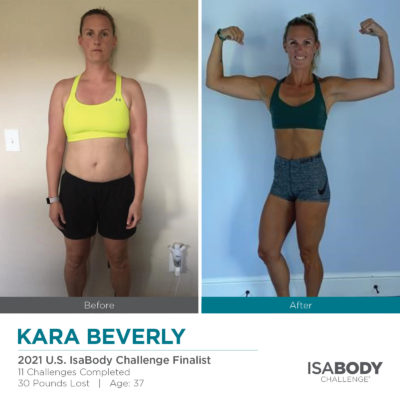 Kara Beverly
Bethel, Connecticut
Age: 37
Height: 5'7"
Total Weight Loss: 30 pounds*
Challenges Completed: 11
Calling all busy moms: If you're ready to take your time back and become yourself again, Kara's story will give you all the motivation you need. A former college athlete turned public accountant turned stay-at-home mom of three boys, Kara knows what it's like to get busy and put your family before yourself. But she also knows just what you need to get back to who you are.
"I've identified as an athlete my whole life, and then suddenly I didn't have a competitive outlet anymore," she said. "I found one with IsaBody, and I feel more like myself than I have in years."
The IsaBody Challenge not only gave Kara her competitive edge back (she was determined to become a finalist), but it also allowed her to fuel her body with great nutrition and start participating in fitness competitions, which is something she never thought she'd be able to do.
She'll be the first to tell you, though — this journey isn't just about the physical transformation. It's about the personal growth, change in mindset, and change in lifestyle.
"I learned to put my focus on all aspects, and I can now say that this Challenge didn't just change my body. It changed my whole life."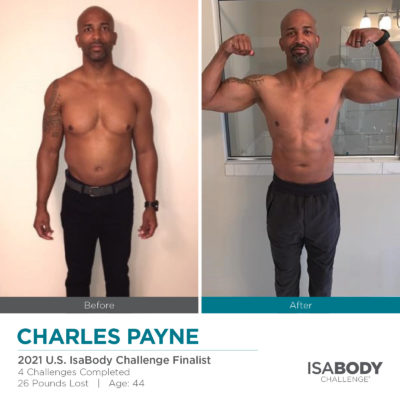 Charles Payne
Cumming, Georgia
Age: 44
Height: 6'3"
Total Weight Loss: 26 pounds*
Challenges Completed: 4
No one said embarking on a full-body transformation journey was easy. Now imagine doing so while recovering from your third reconstructive knee surgery. Sounds intimidating, right? It is, but that doesn't mean it can't be done. Just ask Charles.
Charles has always been active, but when he blew out his knee five years ago and could no longer run or move like he used to, it had a big impact on his life. Between that and frequent work travel, Charles gained a significant amount of weight. Then his wife encouraged him to try the Isagenix products and join the Challenge.
"For me, it was never about winning anything," said Charles. "I just knew I needed to change up my entire routine, lose weight, and stay as lean as possible for the sake of my knee. I wanted to be able to keep up with my kids."
Thankfully, the Isagenix products have helped Charles by helping him with his goal of getting lean while keeping his muscle mass, something he has struggled with in the past. Each Challenge has been the perfect way to mark how far he has come.
"I would tell anyone, don't look at this as a massive transformation you're going to accomplish all at once," said Charles. "Break it down into small achievable goals so you can focus on winning the day, and then you'll start winning the week."
(And hey, once you've won 16 weeks, you've done it! You've completed the Challenge.)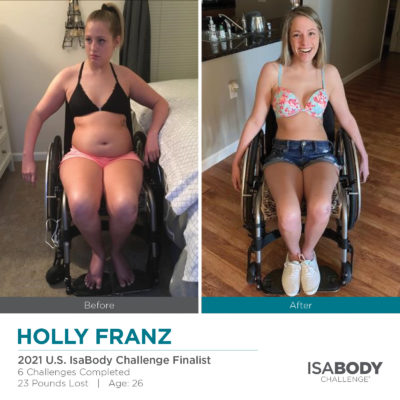 Holly Franz
Bedford, New Hampshire
Age: 26
Height: 5'4"
Total Weight Loss: 23 pounds*
Challenges Completed: 6
"When I started my first IsaBody Challenge, little did I know this would finally be the journey I needed to improve my overall health and wellness," shares Holly. "I've been confined to a wheelchair for over 12 years due to a rare neuromuscular disorder called Friedreich's ataxia, which makes it difficult for me to find the capability and energy to exercise and eat correctly."
Holly wanted to lose the stubborn freshman 15 she left college with (relatable, right?) but was struggling to lose the weight. Luckily, though, she's not the type to give up easily.
After watching a close friend and her own mom get great results with Isagenix and the Challenge, Holly knew she wanted in. She started using the products and having great results, but what she didn't expect was the positivity and support she received from the IsaBody community.
Over the past three years, IsaBody has helped Holly feel more confident about her appearance than she has since being confined to her wheelchair.
"The people I've met are truly what makes this experience worth it," she said. "I can't imagine a day without this lifestyle, and I am forever grateful for the memories that I have created through this community."
Be one of our next U.S. IsaBody Challenge Finalists!
Inspired by these incredible stories? We certainly are. Register for your own IsaBody Challenge today, and discover how you can transform your life in 16 weeks.
*Weight loss should not be considered typical. A two-phase 2016 study published by researchers at Skidmore College showed an average weight loss of 24 pounds after 12 weeks. The study evaluated the use of Isagenix products in men and women for weight loss followed by weight maintenance. As part of the weight loss phase, the participants took part in a calorie-controlled regimen of Shake Days and one Cleanse Day per week. During the weight maintenance phase, the subjects who continued the calorie-controlled program using Isagenix products better maintained their weight loss in comparison to those who transitioned to a traditional diet after 52 weeks. For more information on the study, see IsagenixHealth.net.