Yet again, we have the amazing privilege of announcing our top five U.S. IsaBody Challenge® Finalists. These five individuals have worked so hard the past 16 weeks to transform not only their bodies, but their lives, too.
This Challenge is such an epic part of Isagenix, and we are so honored to be at the center of it, getting to know our participants and cheering them on. Announcing our finalists is even better, and we could not be prouder. Each will receive US$3,000, an all-expenses-paid trip for them and a guest to IsaBody™ Escape 2020, and tickets and paid travel expenses for New Year Kick Off 2020, where they will compete for the title of grand prize winner or runner-up!
So, without further ado, meet the five incredible people who were selected as 2020 Judging Period 2 U.S. IsaBody Challenge Finalists!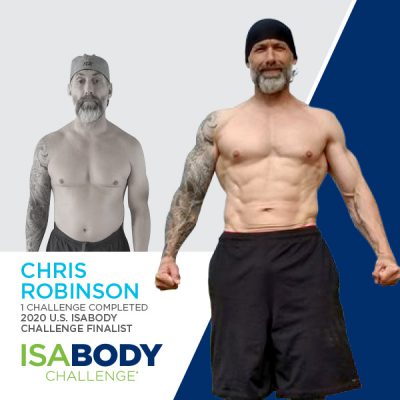 Chris Robinson
Waxhaw, North Carolina
Age: 47
Height: 5'10"
Total Weight Loss: 20 pounds*
Challenges Completed: 1
After an injury put his seven-year career in the New York City Fire Department to an end, Chris was frustrated at his inability to get his youthful body back. Add to that the stress of life — unexpectedly losing his mom, moving from New York to North Carolina, and getting the surprise of baby No. 4 — and Chris was not where he wanted to be, mentally or physically. Then he and his wife learned their baby has Down syndrome, and the fear of the unknown hit hard. Chris knew he needed to do something, and the IsaBody Challenge helped him change not only his physique but also his mindset.
"Families with kids with Down syndrome are the lucky ones," Chris said. "Harper is our gift from God, and Isagenix is the gift of a life transformation."
Kristyn Koegel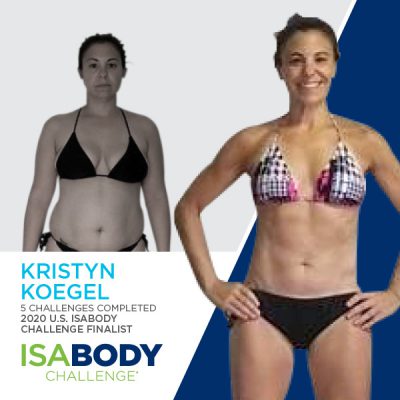 Mebane, North Carolina
Age: 40
Height: 5'2"
Total Weight Loss: 21 pounds*
Challenges Completed: 5
As a single mom, Kristyn usually has custody of her sons 50% of the time, but after she and her husband decided it would be best for her to have them full time for the time being, her health and fitness journey was put on a roller coaster. To be there for her kids, Kristyn had to cut her time in the gym in half, but luckily, she has taken this opportunity to focus on her nutrition. She started listening to her own coaching and advice, and once she put her words into action, it was a game changer.
"I love having the IsaBody Challenge to hold me accountable no matter what," she said. "Start. Complete. Repeat!"
Becky Sanow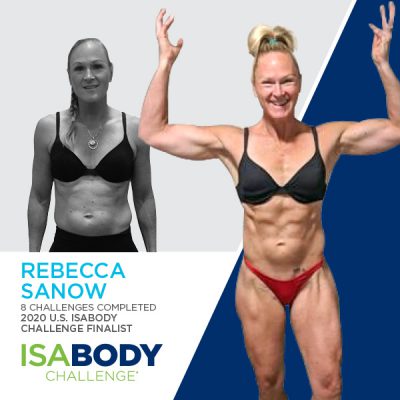 Elkhorn, Nebraska
Age: 43
Height: 5'9"
Total Weight Loss: 10 pounds*
Challenges Completed: 8
At 25, Becky was living her dream playing professional soccer. Playing through pain, constantly icing her knees, and taking prescription strength ibuprofen was just part of her routine. But, after five knee surgeries, her career came to an end. She coached collegiate soccer for five years after that and stayed as active as she could, but that led to a sixth surgery and her doctor telling her she was partially disabled. No heavy lifting, running, or being extremely active unless she wanted a knee replacement by 40.
Becky lived by those rules with constant discomfort in her body, but after being introduced to Isagenix, she started dreaming again. Now, she's using the Isagenix products and this Challenge to stay in shape between her physique competitions.
"I'm in the best shape of my life at 43," she said. "I love sharing Isagenix so others can believe in their ability to reinvent themselves at ANY age!"
Reginald Jackson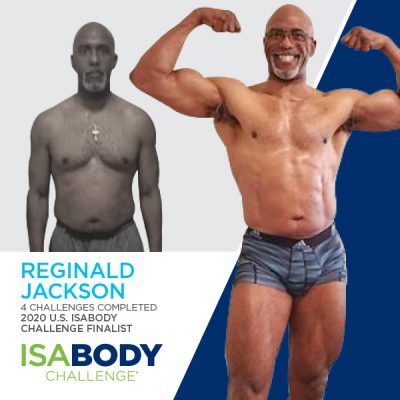 Dumfries, Virginia
Age: 56
Height: 5'9"
Total Weight Loss: 6 pounds*
Challenges Completed: 4
This past Challenge has been different for Reginald because of the relationships he's made and his jump into his Isagenix business. With the help of his mentors and past IsaBody Finalists, he's finally been able to make the connection between what he already knew about business and sharing Isagenix. He's now showing others how they can truly change their lives with nutrition.
"It's been said we're 'products of the product,'" Reginald said. "This couldn't be a truer statement — I see this more and more each day.
"There is so much more to this Challenge than an IsaBody product coupon, a T-shirt, and a certificate. Instead, it's the gateway to motivating, inspiring, and challenging others to become better and greater versions of themselves. For that, I'm eternally grateful."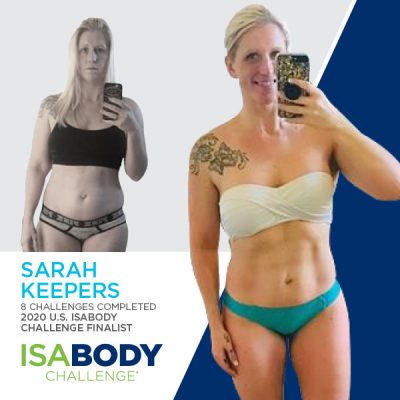 Sarah Keepers
Eugene, Oregon
Age: 37
Height: 5'8"
Total Weight Loss: 21 pounds*
Challenges Completed: 8
Both growing up and as an adult, Sarah has struggled with her weight and body image, always comparing herself to models she's seen in magazines. She struggled with her relationship with food, and her mind was consumed with how she looked. While she's not completely over that, she can say with confidence that she is so much better today than when she started. Now, her goal is to be healthy, fit, and strong, and the IsaBody Challenge is what holds her accountable.
"I am on a mission to live my healthiest life, and I will continue fueling my body with Isagenix because it makes me feel better than I ever have before," she said. "My goal is to help others break the chains of unhealthy and unhappy living, just like I did."
Be One of Our Next U.S. IsaBody Challenge Finalists!
Inspired by these incredible stories and ready to see yourself onstage as an IsaBody Finalist? Register for the IsaBody Challenge today, and discover how you can transform your life in 16 weeks.
*Weight loss should not be considered typical. A two-phase 2016 study published by researchers at Skidmore College showed an average weight loss of 24 pounds after 12 weeks. The study evaluated the use of Isagenix products in men and women for weight loss followed by weight maintenance. As part of the weight loss phase, the participants took part in a calorie-controlled regimen of Shake Days and one Cleanse Day per week. During the weight maintenance phase, the subjects who continued the calorie-controlled program using Isagenix products better maintained their weight loss in comparison to those who transitioned to a traditional diet after 52 weeks. For more information on the study, see IsagenixHealth.net.