Over the last 16 weeks, thousands of IsaBody Challenge® participants have dedicated themselves to transforming their bodies and their lives. We've had the pleasure of watching them grow as they reach their goals, and we couldn't be happier to be a part of one of the biggest programs at Isagenix.
Now, for our favorite part — announcing four of these outstanding individuals as our latest finalists. Each will receive CA$3,000, an all-expenses-paid trip for them and a guest to the IsaBody™ Escape 2020, and tickets and travel expenses paid to Canada Celebration 2020, where they will compete for the title of grand prize winner.
Here we go! Meet the awesome people who were selected as the 2020 Judging Period 2 Canada IsaBody Challenge Finalists.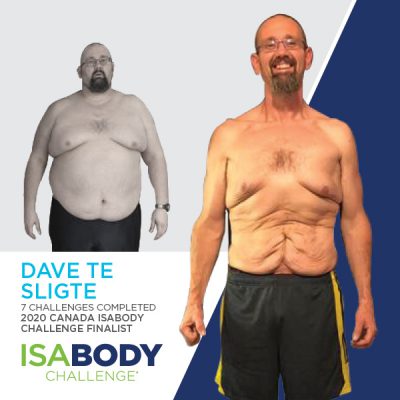 Dave te Sligte
Selwyn, Ontario
Age: 43
Height: 6'3"
Total Weight Loss: 176 pounds*
Challenges Completed: 7
Between finishing his master's degree, working a full-time job, completing an internship, and being a dad, Dave has a lot on his plate. The pace of his life could easily be overwhelming, but luckily, he has all the energy he needs thanks to Isagenix nutrition.
Since beginning his journey with Isagenix, Dave has lost 176 pounds and has gone from being the dad who made excuses for not being active with his kids to being someone his kids can look up to.*
Dave recently participated in his first 5K Spartan Race and was honored to have his four kids run the Spartan Kids Race as well.
"I'm so excited to have hit my health and wellness goals, but even more excited about continuing to set new ones," he said. "I want to be strong, fast, and healthy, not only for me but also for my family. I can't wait to make them as proud of me as I am of them as we run, get muddy, and celebrate what our bodies can do!"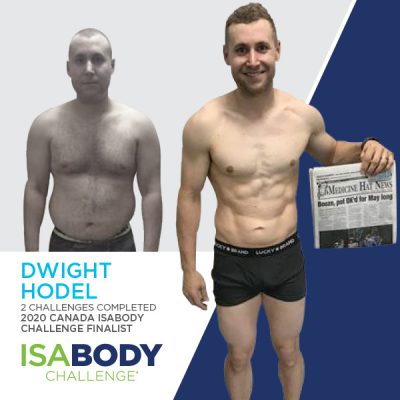 Dwight Hodel
Medicine Hat, Alberta
Age: 29
Height: 5'10"
Total Weight Loss: 70 pounds*
Challenges Completed: 2
Dwight was always active and involved in sports but never had the lean body he wanted because he didn't take the time to care about the nutrition he was giving his body. Even with the Isagenix products as a staple in his home for the past four or five years, it wasn't until this last year that Dwight decided to put an end to his on-again, off-again healthy choices and make a complete lifestyle change. So far, he's lost 90 pounds (70 of those pounds while enrolled in the IsaBody Challenge)!*
Now, at 29 years old, Dwight has abs and has become an inspiration for his friends and family, which motivates him to continue going after more and more goals.
"Isagenix has changed me and has given me a new outlook on life," he said. "I like who I've become, and I can't wait to keep growing more as a person, all thanks to this product giving me the courage to do so."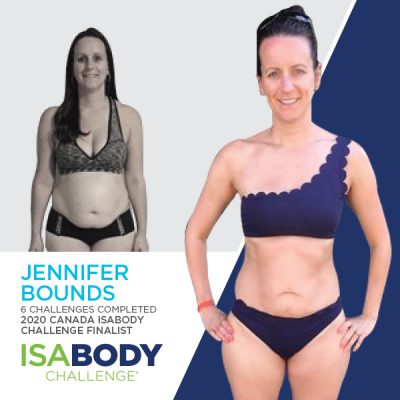 Jennifer Bounds
Fort McMurray, Alberta
Age: 39
Height: 5'6"
Total Weight Loss: 24 pounds*
Challenges Completed: 6
Looking back at how intimidated she was starting her very first Challenge, Jennifer can't believe she's now on number six. She's learned so much when it comes to believing in herself, which has given her back the confidence she once lost.
In her latest Challenge, Jennifer was determined to work on her personal development and her exercise routine. She is so proud of how far she has come, from stepping out of her comfort zone frequently to staying consistent with her workouts.
"I'm so excited to continue these Challenges and look forward to bettering myself along the way and showing my children the importance of taking care of your body," she said. "I'm teaching them that you have to go after what you want, and no one can do it for you. Onwards and upwards from here!"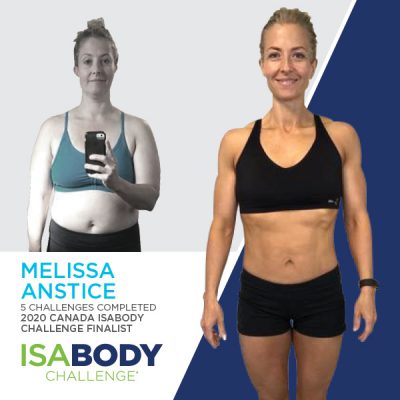 Melissa Anstice
Victoria, British Columbia
Age: 45
Height: 5'6"
Total Weight Loss: 43 pounds*
Challenges Completed: 5
Before Isagenix, Melissa felt like untapped potential wrapped in an ever-widening body and was sabotaged by self-limiting beliefs. It wasn't until she began her first IsaBody Challenge and focused on her mental health that she reached the point of believing in herself enough to make a physical transformation. Now, she dreams bigger than ever and recently competed (and earned a medal) in a bodybuilding competition.
"I'm not just a product of the products — I'm a product of the Isagenix community," she said. "I'm forever grateful for this path, and I'm just getting started! Fear is no longer going to keep me from living my best life."
Be One of Our Next IsaBody Challenge Finalists
Inspired by these incredible stories and ready to see yourself onstage as an IsaBody Finalist? Register for the IsaBody Challenge today, and discover how you can transform your life in 16 weeks.
*Weight loss should not be considered typical. A two-phase 2016 study published by researchers at Skidmore College showed an average weight loss of 24 pounds after 12 weeks. The study evaluated the use of Isagenix products in men and women for weight loss followed by weight maintenance. As part of the weight loss phase, the participants took part in a calorie-controlled regimen of Shake Days and one Cleanse Day per week. During the weight maintenance phase, the subjects who continued the calorie-controlled program using Isagenix products better maintained their weight loss in comparison to those who transitioned to a traditional diet after 52 weeks. For more information on the study, see IsagenixHealth.net.