At Celebration 2018, we announced that for the first time ever, we will be crowning a GLOBAL IsaBody Challenge® Grand Prize Winner at Global Celebration 2019.
We've been waiting a year to make this EPIC announcement, so it was nothing short of extraordinary when we revealed the winner's name.
That's right — not only did we get to bring the IsaBody™ Grand Prize Winners of each country in attendance up onstage together, we also got to announce one of these incredible people as the GLOBAL grand prize winner.
Each grand prize winner was interviewed by members of the Executive Leadership Team, and the final selection was made by Isagenix Co-Founders Jim and Kathy Coover.
Please help us congratulate Thomas Philbin-Malucelli, our 2019 Global IsaBody Challenge Grand Prize Winner! Not only will he represent this amazing title, but he'll also receive US$50,000 and an all-expenses-paid trip to Celebration 2020!
Your Global Grand Prize Winner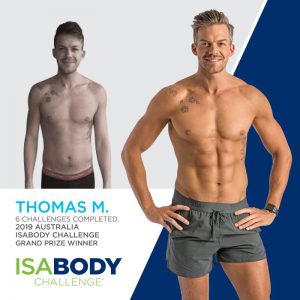 As a burned-out restaurant manager, Thomas was working long hours and late nights and felt like his life was falling apart. He was losing his health, his relationship, and his self-confidence. He wanted to make a change, but the negative environment and people he surrounded himself with left him feeling stuck … until he found the IsaBody Challenge.
This journey has not only given Thomas the space to set big goals and the community to inspire and motivate him, but it has also given him the love and support he needed to keep pushing himself every day. Now, just two years later, he's the fittest, strongest, and happiest he's ever been.
Be Our Next GRAND PRIZE WINNER!
Inspired by these incredible stories, and ready to see yourself onstage as an IsaBody Finalist? Register for the IsaBody Challenge today, and discover how you can transform your life in 16 weeks.
*​Weight loss, muscle gain, lifestyle, and other results depicted here reflect exceptional individual experiences of Isagenix Customers and should not be construed as typical or average. Results vary with individual effort, body composition, eating patterns, time, exercise, and other factors, such as genetic and physiological makeup. A two-phase 2016 study published by researchers at Skidmore College showed an average weight loss of 24 pounds after 12 weeks. The study evaluated the use of Isagenix products in men and women for weight loss followed by weight maintenance. As part of the weight loss phase, the participants took part in a calorie-controlled regimen of Shake Days and one Cleanse Day per week. During the weight maintenance phase, the subjects who continued the calorie-controlled program using Isagenix products better maintained their weight loss in comparison to those who transitioned to a traditional diet after 52 weeks. For more information on the study, see IsagenixHealth.net.