Tiffanie Nelson remembers being faced with this reality when her son brought home forms from his school requesting food assistance for students. She could hardly believe what she was reading, that students in her son's school were going hungry while trying to learn.
She immediately went out with her sons and bought $300 worth of food for the students at his school. But, as she learned more about the prevalence of food insecurity in schools and its lasting impact on childhood development and performance, she realized it would not be enough. And thus, Food For Thought was born.
Meals for Children in Need
Based in Santa Rosa Beach, Florida, Food For Thought has been devoted to eliminating child hunger since 2010. The 501(c)(3) not-for-profit organization supplies students in 32 schools who are dependent on free or reduced school lunch with backpacks filled with healthy, easy-to-prepare foods. They currently provide backpacks for 3,300 students every week, including during summer vacations and holidays, for a total of 40,000 food items every year.
Summer vacation, also known as the "hunger season," is particularly difficult for children who rely on school breakfasts and lunches for their daily nutrition. Food For Thought meets this need by designating monthly pickup locations for students and their families to collect the food they need to make it through the summer months.
Along with the backpack program, Food for Thought also conducts a Full Circle Kitchen program. Taught by a local chef, the kitchen program shows students how to prepare healthy breakfasts and lunches on their own. This program has even proven itself to be a career opportunity; one of the students was hired as the chef's assistant because of the skills he acquired while enrolled.
Disaster Relief After Hurricane Michael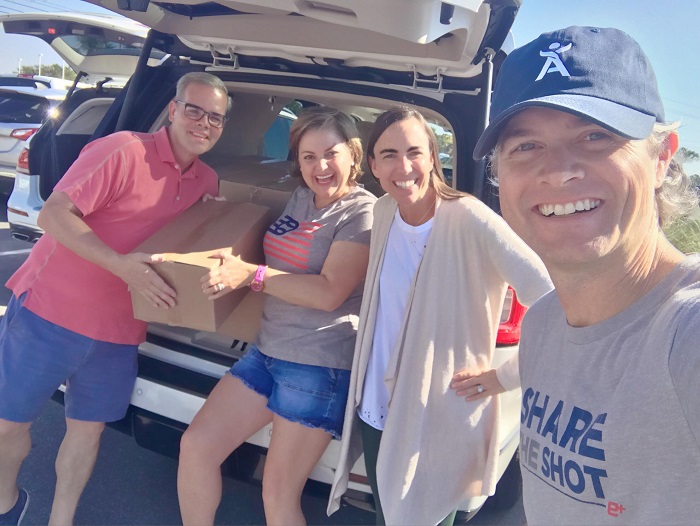 Along with fighting child hunger, Food For Thought has also aided in disaster relief, specifically the devastation left in the wake of Hurricane Michael. On Oct. 10, 2018, the Category 5 hurricane swept through the Florida Panhandle, causing massive destruction to towns along the Gulf Coast and leaving many with limited access to food and water. The Isagenix Legacy Foundation donated over 3,000 meals and snacks to Food For Thought to aid those affected by the hurricane.
Isagenix Independent Associate Julia Johnson and her husband, Jay, helped distribute snacks and meals alongside Food For Thought.
"As residents of Seagrove Beach, Florida, my husband, Jay, and I saw the impact of Hurricane Michael firsthand," said Julia. "We were honored to help Food For Thought distribute the generous Isagenix contribution of meal replacements and snacks to so many in need. Schools were closed, homes and businesses destroyed. We were able to not only serve families who lost everything but also serve school children who were dependent on the free meals from schools that were now closed. The devastation was surreal. People needed the basics."
Additional Funding and a New Pantry
The Isagenix Legacy Foundation continued their support in 2019, awarding Food For Thought a grant of just over $25,000. This grant helped fund the backpack program and allowed Food For Thought to renovate a third pantry in DeFuniak Springs, Florida. By expanding their impact to rural areas like DeFuniak Springs, Tiffanie hopes to bring Food For Thought to those who are at the most risk for food insecurity.
"It's hard," said Tiffanie, "but it's worth it every day."