The beautiful thing about Isagenix solutions is that they are infinitely flexible and can be tailored to fit your lifestyle, your strengths, and your personal style.
Let Isagenix Strategic Training Consultant David T.S. Wood help you identify where you are on your Isagenix journey and what your next steps are.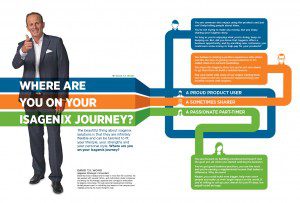 About David
David has lived, traveled, and worked in more than 40 countries. He has worked with several million- and multimillion-dollar companies and brings his knowledge, expertise, and contagious enthusiasm to Isagenix. Through personal development training, he has played a part in cultivating top leaders in the company and inspires everyone he meets along the way.
Learn more about the Isagenix business opportunity, and get all the training tools you need at IsagenixBusiness.com. Like what you read? You'll love training with David and other Isagenix leaders at our events.