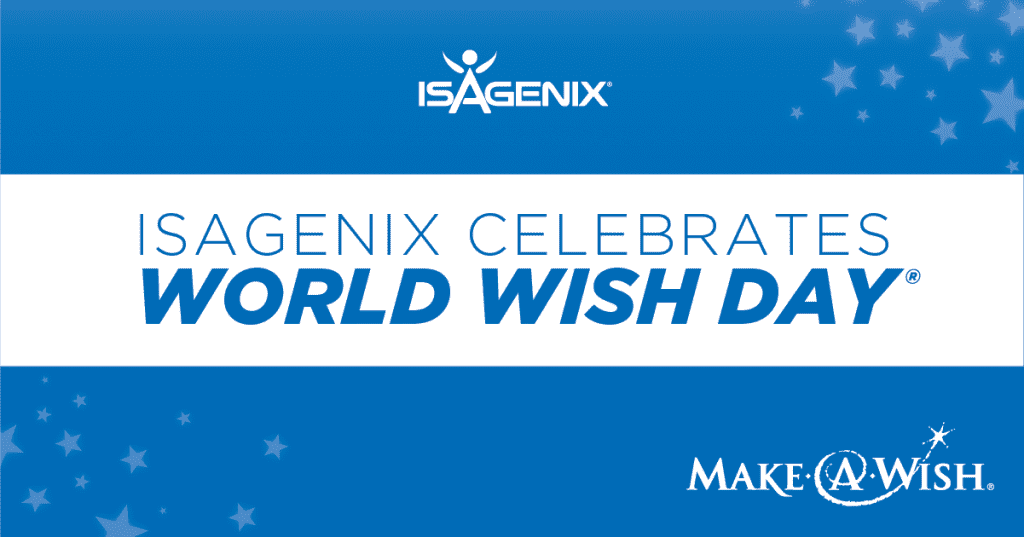 Today is World Wish Day®, a day dedicated to celebrating Make-A-Wish® and their global wish-granting movement. On this day in 1980, 7-year-old Chris Greicius' one true wish to become a Phoenix police officer came true and inspired the start of Make-A-Wish.
Here at Isagenix, we are incredibly thankful for that iconic day in 1980. Since 2012, we have been a proud sponsor of Make-A-Wish, a global organization that grants the wishes of children with life-threatening medical conditions. Isagenix and our Associates have helped support Make-A-Wish in changing the lives of hundreds of children by bringing joy and hope to them and their families.
Isagenix is excited to dedicate the month of May to Make-A-Wish. During this Make-A-Wish month, we invite our Associates to stand together as One Team and push toward our goal of hitting a total contribution of $5 million to this life-changing organization by the end of May.
Last year during Make-A-Wish month, with the help of Associates like you, Isagenix was able to raise $206,582, surpassing the 2014 total of $150,290! And to date, Isagenix has raised a total of nearly $4.7 million globally and helped to grant more than 580 wishes worldwide. In just 2015 alone, we donated over $2 million to this organization, and our goal is to top that in 2016!
How Can You Give Back?
Our goal is to have every single Associate donate to Make-A-Wish during the month of May. Whether you contribute $5 a week, $150 a month, or $10,000 a year, your donations can help inspire and give renewed strength to these extraordinary families to continue their fight.
If you would like to join the thousands of Associates contributing to Make-A-Wish, here are four easy ways to do it:
Upgrade your Celebration 2016 seats. For those attending Celebration 2016, you can purchase Make-A-Wish reserved seating* for only $200 by visiting IsagenixCelebration.com. You can enhance your Celebration experience, and 100 percent of the ticket price will go to Make-A-Wish! With Make-A-Wish reserved seating, you get:

Priority check-in at Registration
Early access wristbands
Prime seating located at the front of the audience
Guaranteed seating for the prestigious Gala event
Your name on your assigned seat
A thank-you goody bag, which you will receive at Registration

Purchase product. In the U.S. and Canada, for every six- or 12-count box of e+™ you have on Autoship, Isagenix will donate 50 cents to Make-A-Wish.
Donate monthly. Visit your Back Office and select "Manage Autoship" under the "Orders" tab to make a $1 or more recurring charitable donation on every order.
Make a one-time or weekly commission donation. To donate through your commission, simply email

[email protected]

your name, member ID number, and donation amount you would like deducted from each commissions.
For more information about Make-A-Wish, visit the "Culture" tab on Isagenix.com and select "Charities."
*Make-A-Wish reserved seating does not include the Celebration Global After-Party with Maroon 5.