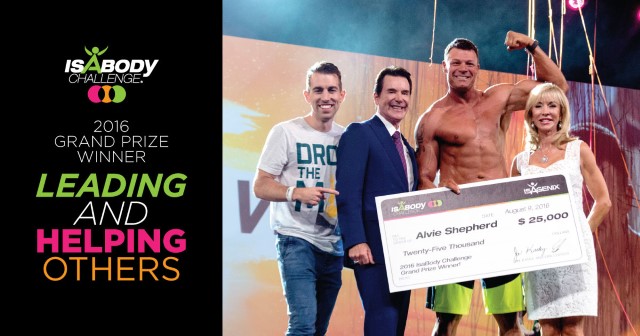 Alvie pursued the IsaBody Challenge® after coming to a turning point in his life. Years of leading an unhealthy lifestyle, which resulted in a major health scare, proved to be the wake-up call he needed. He joined Isagenix and enrolled in his first IsaBody Challenge almost immediately, setting a goal to not only become an IsaBody™ Finalist, but to be awarded the title of Grand Prize Winner.
Months and months of hard work, hours at the gym, three Challenges, proper nutrition, dozens of canisters of IsaPro®, and the support of his family helped him reach his goal. In August of 2016, Alvie was crowned the 2016 IsaBody Grand Prize Winner at Celebration in Las Vegas, Nevada!
Leading the Way
When he heard his name announced, Alvie was filled with joy. His wife and two young children joined him onstage. Alvie says his family was the driving force behind his motivation for change not only physically but also mentally.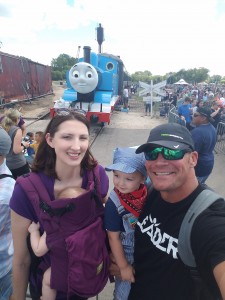 "It really meant the world to me to have them up there and to be able to celebrate that moment with me, because it was really about them anyway," Alvie says.
While Alvie's physical transformation is noteworthy, his Isagenix business grew noticeably as well during his IsaBody Challenges, helping him develop into a strong leader and reach his current rank of 2-Star Golden Circle, Executive.
"My leadership style is more of lead by example," Alvie says. "I still have plenty of room for improvement, but I really feel it starts with being a product of the product. I see it as a blessing to be able to help others."
Even on the plane back from Las Vegas after Celebration, he was sharing the Isagenix solutions with people sitting next to him, truly exemplifying what it means to be a product of the product.
Back to Work
Once he returned home, Alvie got to work right away, changing up his training and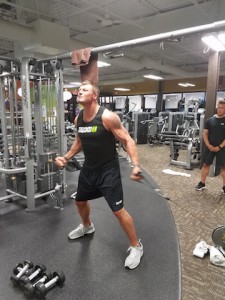 continuing to lead his team while building his business. He began working with a new trainer to take his workouts to the next level, and he has spoken on multiple conference calls with other teams and leaders.
Alvie maintains his diet by staying consistent with his product use, regularly going through four to six canisters of IsaPro each month. He's also a huge fan of the AMPED™ line. Alvie has successfully put on over 25 pounds of lean muscle and has set a new goal to put on even more muscle mass.*
Tips for Success
When it comes to getting the most out of IsaBody, Alvie has three very important tips for those hoping to find success with the Challenge.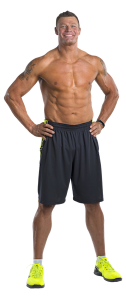 Believe.  "You have to believe and have faith," he says. "Before anything, number one is to believe in yourself.
Write down your goals, or declare them in some way. Alvie says this is something he did after his second Challenge; he posted a video on social media stating that he was going to become the next IsaBody Grand Prize Winner. He says this was a great way to hold himself accountable as well.
Do the work. "This doesn't mean you have to be in the gym every day," Alvie explains, "but you have to do the work. Be sure to do some cardio, watch what you eat, and have a plan."
Looking toward the future, Alvie is excited to have the opportunity to share his insight as the 2016 IsaBody Challenge Grand Prize Winner.
He will be attending many events in the coming months, such as Isagenix University (IsaU) in Atlanta, New Year Kick Off in January, and many Super Saturdays.
"It's about helping others," he says about IsaBody. "This is something that has changed my life significantly; I'll never be the same. Knowing that I can help others, that's my calling."
*Weight loss should not be considered typical. In a study performed in 2012 by University of Illinois at Chicago researchers, subjects lost an average of 9 pounds with an average of 2 pounds of the loss from visceral fat after 30 days on an Isagenix System. The subjects also had a greater level of adherence and had more consistent weight loss from week to week compared to subjects on a traditional diet.