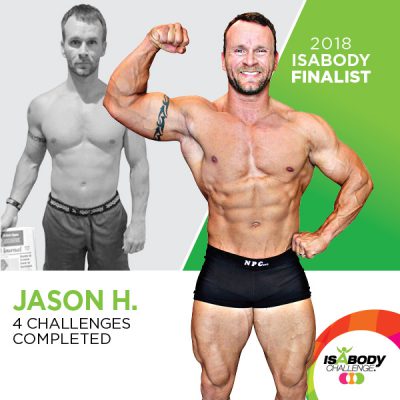 Three years ago, when Jason, a talented competitor in bodybuilding and physique shows, watched his body decline for seemingly no reason, he felt like he was trapped in someone else's body. Mentally a wreck and physically nowhere near where he felt he should be, Jason was frustrated at his inability to control his physique.
He hadn't changed his diet and still followed a vigorous workout routine, so how was his body changing so drastically?
Jason's wife, Katie, was already several weeks into her Isagenix journey to better her health and wanted an accountability partner. Jason was skeptical and felt the products were the last thing he needed to reach his goals, but to support his wife, he obliged.
To his surprise, the Isagenix System ended up being exactly what HE needed, too. He put together a plan using the Isagenix Performance line, along with other products and whole foods, and started the IsaBody Challenge®, which helped him gain 22 pounds* of lean muscle over four IsaBody Challenges!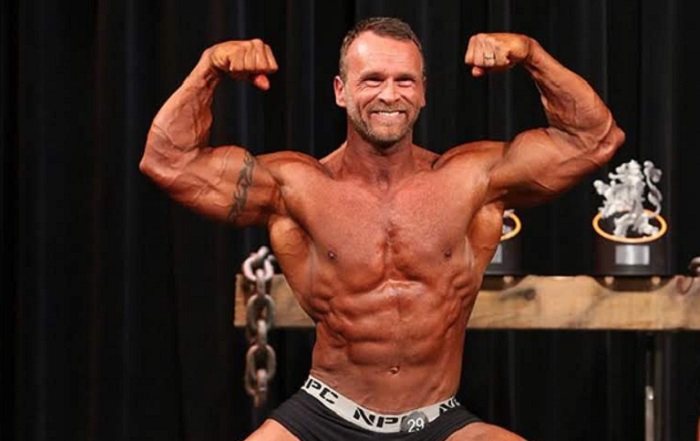 Through each 16-week Challenge, he got more and more of the old Jason back and feels he even got a new and improved version.
"I feel like Jason 2.0!" he said.
Now, this Team Isagenix athlete is focusing on showing fellow competitors that there is a better and easier way to get the body they dream of – the "Isagenix way."
"Throughout these last three years, I can't picture a day without Isagenix," said Jason. "It is such an integral part of my everyday health and wellness, and it is my passion to share this with others."
Get to Know Jason
We asked this IsaBody Challenge Finalist a few questions about his success, and here's what we found out.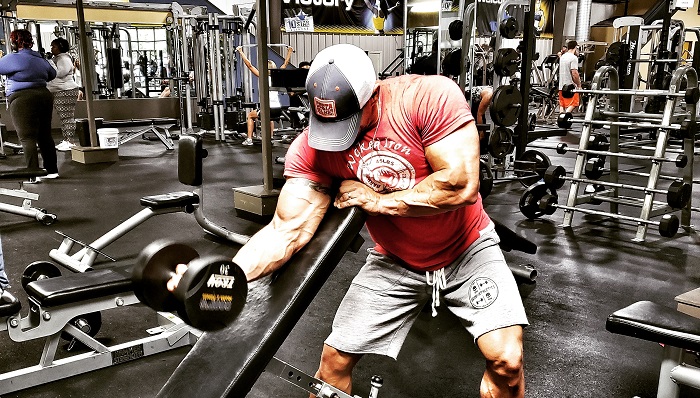 I: What makes every IsaBody Challenge different from the last?
J: In my experience and throughout my past Challenges, I was focused solely on the physical transformation. However, it wasn't until my fourth and latest Challenge that I realized how much I had taken my journey and personal growth for granted. Now, in each Challenge, I see an opportunity to grow both physically and mentally and to share the value and experiences that have made me better today.
I: What's your best advice for someone who is doing the IsaBody Challenge for the very first time?
J: My motto is "#BrickByBrick," meaning take one step at a time, one meal at a time, one day at a time. We are all in the process of achieving better health, whether it's weight loss, weight gain, or just overall wellness. Focus on crushing your goals one brick at a time. Continue to lay your foundation to set yourself up for success by setting short, attainable goals and keeping your vision engraved in your mind. Commitment plus consistency equals results.
I: In addition to your favorite Isagenix products, what foods are always in your kitchen to help you stay on track with your health and wellness goals?
J: Slow-cooker chicken, 3-4 pounds of cooked ground beef or turkey, salad, sweet potato fries and tots, broccoli, rice cakes, and nut butter.
I: Do you have any favorite healthy recipes?
J: My wife's famous protein waffles!
½ cup oats.
½ cup egg whites.
½ cup fat free cottage cheese.
Dash of Stevia.
Dash of cinnamon.
Dash of vanilla extract.
Choice of strawberries or blueberries.
Just blend everything up, pour it on the griddle, cook, and enjoy!
I: What's your best tip for making living a healthy lifestyle easier?
J: This is such an important question, so I have three answers!
Always set yourself up for success by having healthy food options (options that you love!) prepared and ready to go. This takes the guesswork out of healthy eating and will help you avoid making rash decisions when you're hungry and don't know what to eat.
Connect with accountability partners who have similar goals so you can help each other stay on track.
Show yourself GRACE. If you get off track, don't give up! Just dust yourself off, realize you're human, and remember that tomorrow is just another day to work on crushing your goals.
Inspired by Jason's incredible story? To try this amazing 16-week Challenge and discover how you can transform your life, visit IsaBodyChallenge.com.
*​Results not typical. Weight loss, muscle gain, lifestyle, and other results depicted here reflect exceptional individual experiences of Isagenix Customers and should not be construed as typical or average. Results vary with individual effort, body composition, eating patterns, time, exercise, and other factors, such as genetic and physiological makeup. ​In a two-phase study performed from 2015-2016 by Skidmore College in New York, researchers evaluated use of Isagenix products for weight loss followed by weight maintenance. As part of the weight loss phase, the participants took part in a calorie-controlled regimen of Shake Days and one Cleanse Day per week and lost an average of 24 pounds after 12 weeks. During the weight maintenance phase, the subjects who continued the calorie-30 controlled program using Isagenix products better maintained their weight loss in comparison to those who transitioned to a traditional diet after 52 weeks. View the study results.