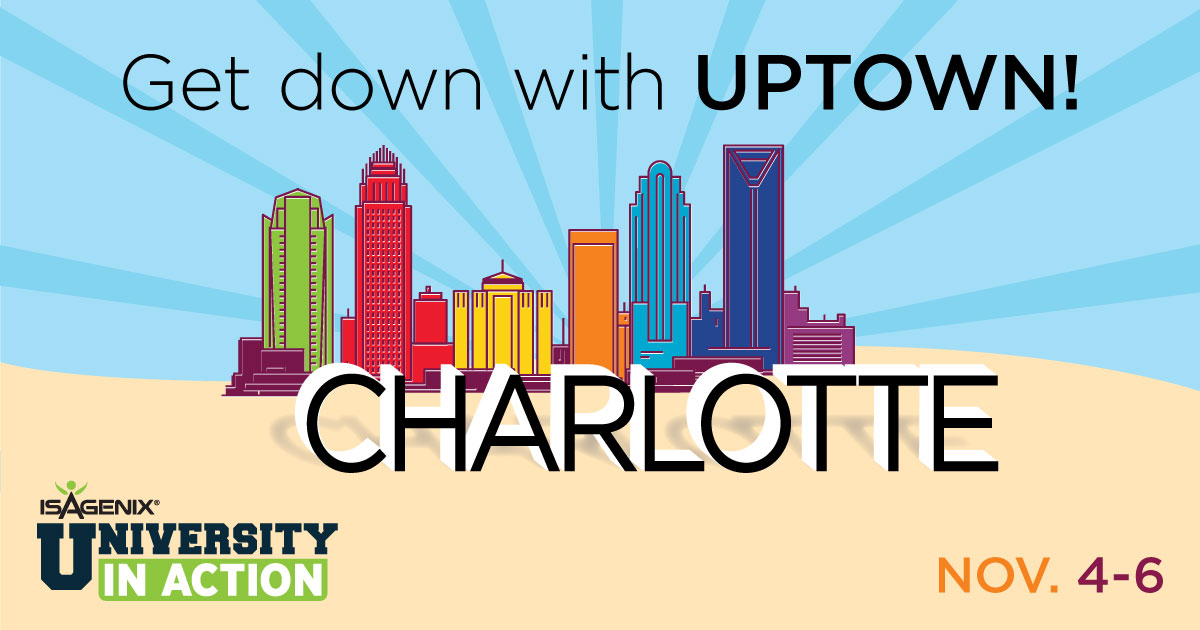 We are bringing University in Action (UIA) to Charlotte from November 4 to November 6, 2016, and we want you to join us. A ticket to this unforgettable event gives you access to personal development, leadership training, and networking. Whether you are new to Isagenix or a seasoned business builder, this event offers valuable training to help launch or grow your Isagenix business!
During UIA Charlotte, Strategic Training Consultant David T.S. Wood and Isagenix Millionaire, 9-Star Platinum, and 8-Star Crystal Executive* Jessica Johnston will be your guides as you discover your strengths, master foundational tools and skills, and break down doubts and concerns—ultimately helping you become a successful network marketer.
When you walk into the UIA General Session room, you can expect to:
Learn about the history of Isagenix.
Get the 411 on the network marketing industry.
Receive valuable information on our quality products and no-compromise policy.
Craft and practice your 30-Second Story with fellow Associates.
Master the unique Isagenix compensation plan.
Learn how to complete a successful three-way call.
Acquire connecting skills to find common ground and set appointments.
Celebrate your accomplishments and the accomplishments of your fellow Isagenix Associates.
Attendees will receive product handouts in General Session and a boxed lunch on Saturday and Sunday.
Walk away from UIA Charlotte with an unwavering belief in Isagenix, the products, the industry, and most importantly, yourself! For a sneak peek into UIA, check out this video!
If you and your team are ready to take your businesses to the next level, visit IsagenixEvents.com today to secure your tickets to UIA Charlotte. Then make sure you invite at least one of your team members to join you for this life-changing experience.
*Rank current as of 10/13/16. Isagenix Millionaires are defined as Isagenix Associates who have cumulatively earned $1 million or more with Isagenix. Earning levels for this Isagenix Independent Associate substantially exceed the average results achieved by all Associates during the same time periods and should not be construed as typical or average. Income level achievements depend on many factors, including the individual Associate's business and networking skills, personal ambition, time commitment, work habits, and other abilities. For average earnings, please see the Isagenix Independent Associate Earnings Statement found at IsagenixEarnings.com.