Congratulations to Isagenix Millionaires* No. 221, Natalie Cook and Sarah Maxwell!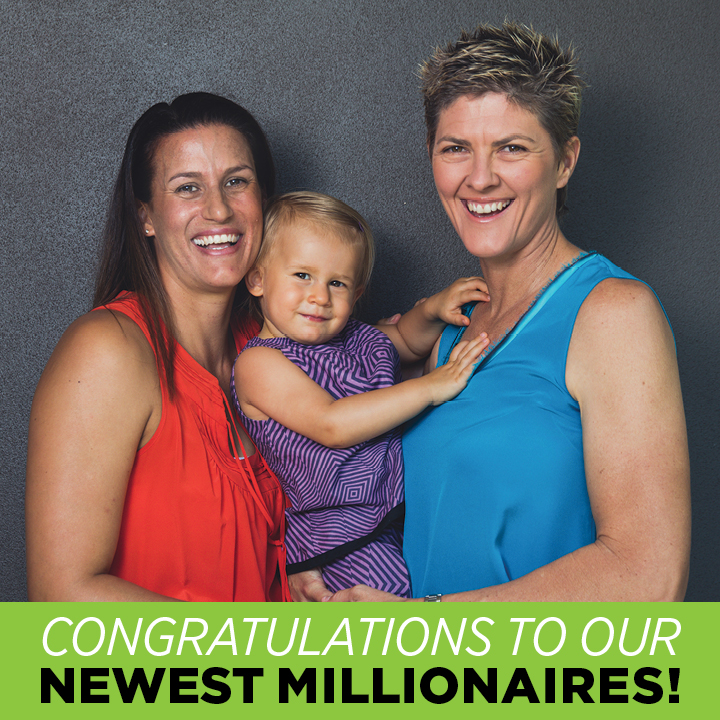 As professional beach volleyball players, Natalie and Sarah have both lived lives full of rare and outstanding experiences. Natalie played in five Olympic Games, representing Australia and taking home both gold and bronze medals, and Sarah represented Canada for eight years where she reigned as National Champion for two years.
The pair performed at the top of their sport, traveled the world, and became well-known in the public eye.
"We had big experiences, and we loved what we did," said Natalie. "We never considered or expected something like Isagenix to come into our lives."
It wasn't until the couple decided to retire from their athletic careers that some uncertainty about their future began to set in. Their introduction to Isagenix came at the perfect time.
An Unexpected Opportunity
"I became a professional speaker after retiring, but I never knew when the next job would come along, so I found myself saying yes to every offer," Natalie admitted. "I ran a beach volleyball center in Brisbane as well, but it was much more difficult to generate an income than I anticipated."
In addition to having new financial uncertainties, Sarah and Natalie had become less active after retiring from professional volleyball and had started searching for a weight loss solution. It was in this search that they were introduced to Isagenix by Isagenix Millionaires* Jen Patch and Carmen Rumsey.
"Jen knew we were both looking for a weight loss solution, and she was getting great results from the Isagenix System," said Natalie.
The couple agreed to try the products in the hopes of improving their nutrition and losing weight.
Stepping Into a New Life
"I was able to release weight, which was exciting to me," said Sarah. "I had never been able to achieve my weight loss goals before, and my energy levels improved."
It wasn't long before people began asking the pair how they were able to get their physiques back in peak condition after retirement.
"We began sharing the products as a way to help others, but I refused to look at Isagenix from a business perspective," said Sarah. "It took me a while to realize there wasn't a catch – we really were getting paid to share Isagenix and help others."
Expanding Their Vision
While Sarah and Natalie have experienced success with Isagenix, they admit that it hasn't always been easy. After becoming mothers, the pair had to learn to structure their day better in order to find concentrated time to work. They also had to learn how to work together, which was new, and at times, challenging.
"It's easy to love the products, but it takes a lot of consistency, hard work, and structure to build a business," said Natalie.
Now, Natalie and Sarah couldn't be more grateful for aligning themselves with Isagenix.
"You hear the word 'legacy' a lot at this company, and we thought it sounded great, but it wasn't until we became parents that we understood the full scope of what a legacy company truly is," said Natalie. "We're working this business for her now so that we can give her the best life possible."
Helping others reach their full potential has always been a priority for Natalie and Sarah, and after becoming parents, their vision grew further than they'd ever imagined.
"I don't want to be the only parent who gets to be with her child full time," said Sarah. "That's what gets me up in the morning – I want to help other families."
A Future of Endless Possibilities
With gratitude at the forefront of their minds, Natalie and Sarah continue to give back not only to their team but also to their community. Sarah has been able to offer financial support to a friend who volunteers full time at an orphanage in Hades.
"Before Isagenix, I offered small financial support, but I had such a strong desire to give in a way that would have more impact," said Sarah. "Now, I've been able to help her expand the orphanage so she can help hundreds of children."
Natalie has created the Live Out Loud foundation as a way to tackle childhood obesity by encouraging children to get active, develop their self-esteem, and make healthy food choices.
"We're passionate about the welfare of children," she said. "It's so important that they understand what it means to be healthy, both physically and mentally."
"This is just the beginning for us," added Sarah. "At first, we thought we could help a few people here and there, but now, we see ourselves helping millions of people take control of their health."
"Being a professional athlete and winning an Olympic gold medal is something that only very few people get to experience, but with Isagenix, people are living gold medal moments every day – whether it's helping pay off debt, being able to spend more time with their family, or hitting Isagenix Millionaire,"* said Natalie. "The possibilities are endless if we share this health and wellness gift with the world."
*An Isagenix Millionaire is an Independent Associate to whom Isagenix has paid a gross total of $1 million or more since joining Isagenix. Earnings reflect gross amounts that do not include any business expenses. Earning levels or income statements (including claims such as the ability to quit a job or stay at home or portrayals of luxury lifestyles) for the Isagenix Independent Associates discussed here exceed the average results achieved by all Associates during the same time period, are not necessarily representative of the success or compensation that any particular Associate will receive, and should not be construed as typical or average. The ability to earn income under the Isagenix Team Compensation Plan depends on many factors including an individual Associate's business, social, and sales skills; personal ambition and activity; availability of time and financial resources; and access to a large network of family, friends, and business contacts. Isagenix cannot and does not guarantee any particular level of earnings. Even Associates who dedicate a significant amount of time, effort, and personal funds may not achieve a meaningful level of success. For average earnings of Independent Associates, please refer to the Isagenix Earnings Disclosure Statement at IsagenixEarnings.com.