Congratulations to Isagenix Millionaires No. 223, Angie and Andrew Logan!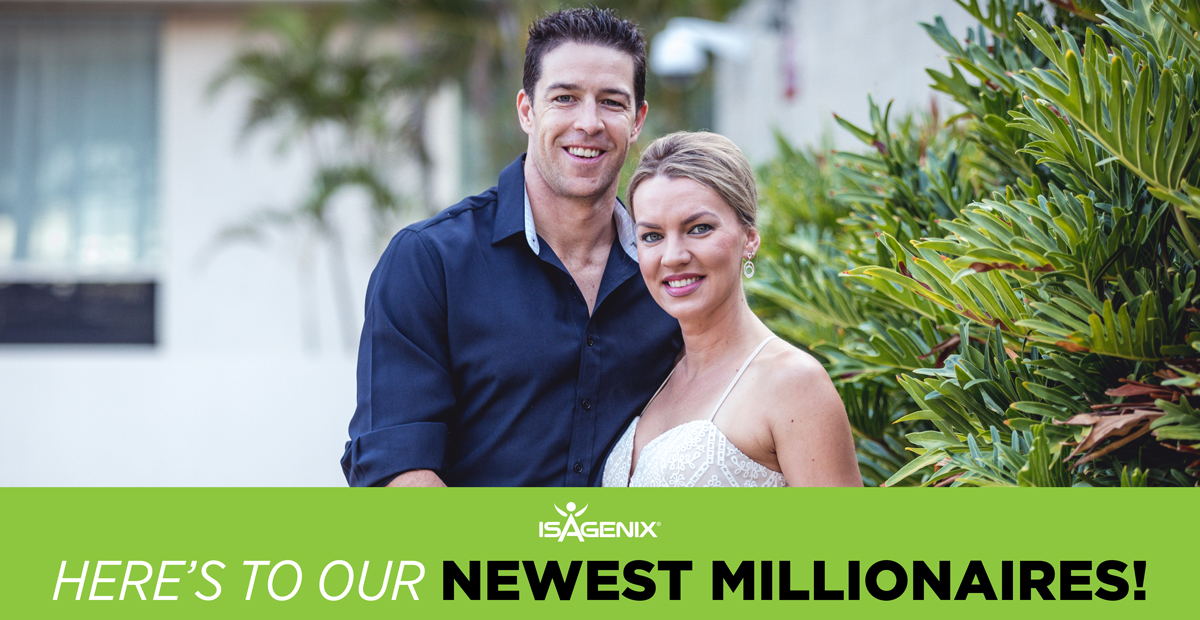 As small business owners, Andrew worked from early in the morning to late at night in his physiotherapy practice while Angie worked full time at a local hospital. The parents of one dreamed of having another child, but between their clashing work schedules and limited time to connect as a family, they questioned whether they'd be able to make their dream a reality.
As a physiotherapist, Andrew believed he knew all there was to know about health and wellness, but despite his best efforts to keep a balanced diet and regular exercise regimen, he was frustrated with his lack of results.
"I was putting so much effort into training and eating well, but I wasn't seeing the results I expected," he said. "I knew I needed to make my limited time in the gym work better for me."
Andrew was extra determined to lose a last bit of excess weight, as his and Angie's wedding was coming up. He told his friends and fellow Isagenix Millionaires Jen and Jono Patch about his goals to get in better shape, but when they introduced him to the Isagenix System, he was reluctant to try it.
"Jen and Jono had told me about the products before, but I was a skeptic because of my profession," Andrew said. "They were experiencing great results, but I just didn't think Isagenix was for me."
Taking a Chance
When his diet and workout regimen continued to not produce the results he was looking for, Andrew decided it was time to try something different and agreed to try the Isagenix products.
"It didn't take long to feel the results," said Andrew. "With the improved nutrition, I had the energy to lift more in the gym, run faster, and wake up feeling refreshed instead of tired."
He was better able to get through long days at his practice and was able to come home and spend time with his family rather than falling asleep on the couch.
Soon, Andrew's results became a talking point between family and friends, and many became interested in improving their health and energy – including Angie.
"Before I met Andrew, I was a single mom, so exercise wasn't a priority in my life," she said. "I was naturally slim and didn't think Isagenix was for me because I assumed it was a weight loss product."
It wasn't until Angie saw the improvement in Andrew's energy and sleep that she realized she needed to try the products, too.
Angie loved her results, and before long, the couple realized they were earning an income simply for sharing the products they loved so much.
"We just wanted to share what we loved; the Isagenix Team Compensation Plan was nothing more than an added bonus," said Angie. "When we realized how building an Isagenix business could change our lives and the lives of those around us, we decided to get into action."
Getting Into Action
Andrew and Angie started attending as many Isagenix events as they could and focused on growing as leaders. The pair realized that Isagenix could be the answer to their lack of flexibility.
"Our 'why' started as a desire to have another child and for me to be home full time, but as our business grew, so did our vision."
Eventually, Andrew was able to slowly cut back on his hours at the practice and has since stopped working as a physiotherapist to focus on building their Isagenix business and helping other families.
The hardworking couple has experienced significant business growth, but they're the first to admit it hasn't been without sacrifice and persistence.
"We made plenty of mistakes when we first started," said Andrew, "but we did our best to learn from those mistakes. We weren't natural born leaders by any means, and events changed everything for us."
The couple strives to share that message with others, and encourages their team to attend events. Andrew will even be at 2017 Celebration as one of our breakout trainers, something he is very excited about.
Hitting Milestones
Now, the successful parents of two are living their dream as full-time parents to their children.
"Being able to be home and watch them grow is incredible," said Angie. "I know we'll never miss a football game, school event, or any other milestone."
The couple has always wanted to be parents first and are so grateful that they no longer have to choose between being great parents and being successful in their work.
"We're living a life we never thought was possible, and this is just the beginning for us," said Andrew. "We want this for all families and will continue to share Isagenix with as many people as possible so that they can experience the gratitude we feel every day."
An Isagenix Millionaire is an Independent Associate to whom Isagenix has paid a gross total of $1 million or more since joining Isagenix. Earnings reflect gross amounts that do not include any business expenses. Earning levels or income statements (including claims such as the ability to quit a job or stay at home or portrayals of luxury lifestyles) for the Isagenix Independent Associates discussed here exceed the average results achieved by all Associates during the same time period, are not necessarily representative of the success or compensation that any particular Associate will receive, and should not be construed as typical or average. The ability to earn income under the Isagenix Team Compensation Plan depends on many factors including an individual Associate's business, social, and sales skills; personal ambition and activity; availability of time and financial resources; and access to a large network of family, friends, and business contacts. Isagenix cannot and does not guarantee any particular level of earnings. Even Associates who dedicate a significant amount of time, effort, and personal funds may not achieve a meaningful level of success. For average earnings of Independent Associates, please refer to the Isagenix Earnings Disclosure Statement at IsagenixEarnings.com.