Congratulations Isagenix Millionaire No. 184, Jennifer J.!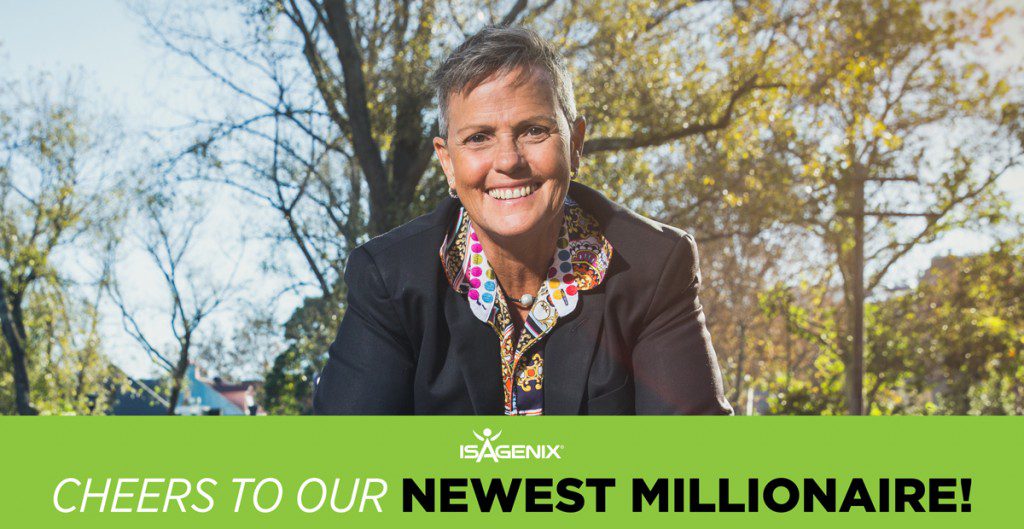 As a young adult, Jennifer experienced a wave of ups and downs. She explored a career path in the pharmaceutical industry and worked in management for a number of years but felt burnt out by the age of 27 and decided it was time for a change.
"I decided to focus on getting my health back on track through natural therapy," Jennifer says.
Delving deeper into health and well-being, Jennifer studied naturopathy before working in a clinic for 10 years.
"I love helping people, but I could only help a limited number of people in the clinic," she says.
Jennifer wanted to find a way to do more, so she sold her clinic to pursue a career in public speaking and began publishing books on health and wellness.
Living a Life of Contribution
Jennifer was first introduced to Isagenix when someone offered her Ionix® Supreme and Cleanse for Life® at one of her speaking events in Sydney. She took the products home, but they ended up collecting dust on her desk.
"It took me a while, but I decided to meet with former ANZ [Australia/New Zealand] General Manager Sharron Walsh," she remembers.
Sharron connected Jennifer with Isagenix Co-Founder Kathy Coover, and they were able to meet at Celebration. "Kathy won me over when I sat down with her," says Jennifer. "She explained the compensation plan, and she was real; I loved her genuine attitude."
Still, for the first three years, Jennifer only stayed with Isagenix because she loved the products. Now, she feels that those years it took her to warm up to the idea of pursuing the business side of Isagenix were a form of natural progression.
"The truth is that Isagenix works when you first take care of your own health, which then lets you look after others and live a life of contribution."
Contribution is a core value for Isagenix and remains close to Jennifer's heart. "I wouldn't have set up my own charity if it wasn't for Isagenix," she says. "I am so thankful I've been able to create ­The Q Foundation."
The Q Foundation gives health, hope, and happiness to children in need.
Jennifer's foundation is inspired by a young boy named Q who she has looked after for the past five years. Q's mother died when he was just two years old, and he later lost his father at the age of eight. Jennifer has been able to care for Q through donations, along with sponsoring the educations of five other children in another country.
"I just want to give children the life they are worthy of and make them feel safe," she says. "This coming September, I'll spend a year being a full-time mum to Q. He's coming over from Thailand to learn English."
Keeping It Simple Leads to Success
Jennifer has achieved a lot on her Isagenix journey, but she wants others to know that it's not always rainbows and smiles on the way to becoming an Isagenix Millionaire.
"We have to allow ourselves to not only make mistakes, but also to learn from them," she says.
Remember that you don't need to try to be an expert in this field.
"Try the products, feel good, and share them. This is a company that provides the tools to help you be successful—the light comes on when you keep it simple," she explains. "Share the tools and guides, and subscribe to Isagenix Health and IsaFYI.com."
Jennifer knows that everything we do in the world has a ripple effect on others, and because of this, she aims to continue living a life of positive action.
"Isagenix gave me a purpose when I met Q, and now I'll never give up providing health, hope, and happiness for the world."
*Isagenix Millionaires are defined as Isagenix Associates who have cumulatively earned $1 million or more with Isagenix. Earning levels for this Isagenix Independent Associate substantially exceed the average results achieved by all Associates during the same time periods and should not be construed as typical or average. Income level achievements depend on many factors, including the individual Associate's business and networking skills, personal ambition, time commitment, work habits, and other abilities. For average earnings, please see the Isagenix Independent Associate Earnings Statement found at IsagenixEarnings.com.