Being Mindful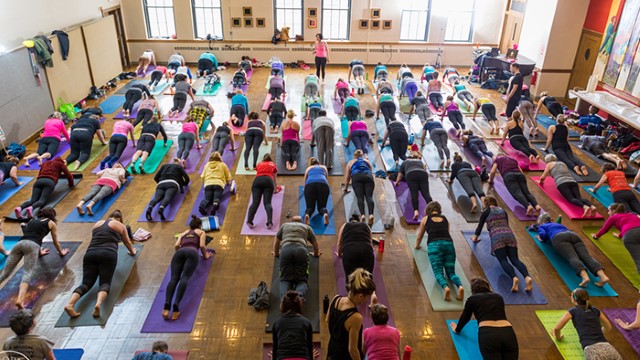 Yoga classes often begin with a "community breath" where participants close their eyes, quiet their mind, and breathe together, in and out. This can embody a connection to one another, the surrounding community, and all of humanity.
The practice of yoga and mindfulness is what inspired Dana Christen Lee's philosophy: Feel better, do good, and the best way to learn and help oneself is through service to others. Based on this principle, she founded Embody, a 501(c)3 nonprofit organization and ISA Foundation grant recipient dedicated to providing free access to physical and mental wellness practices to those in need. Embody events offer participants the opportunity to realign their mind and body through yoga and mindfulness as well as give back to their community.
Embody Supports Physical and Mental Health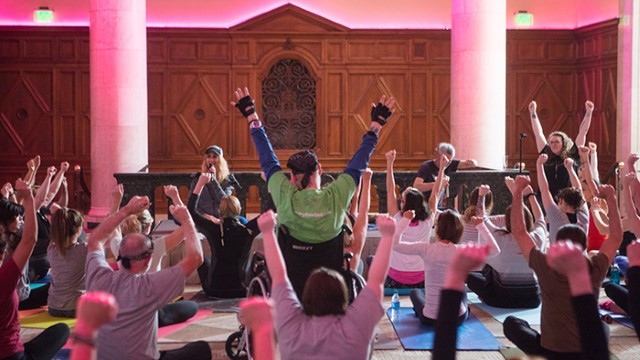 Dana knows firsthand how crucial access to yoga can be to maintain one's mental health. Suffering from postpartum depression after the birth of her children, she felt isolated and despondent. Her friend suggested she try yoga, which instantly drew Dana into the practice.
Yoga helped Dana feel more grounded, gave her a sense of community, and strengthened the connection between her mind and body. She regularly attended classes at her local yoga studio and eventually became a certified instructor. Although she had found healing and purpose through yoga, she was forced to face the reality that her marriage was rapidly deteriorating. She got divorced, and as a single mom, was no longer able to afford yoga classes or have time to teach. Sadly, when she needed yoga most, it was unavailable. So, she decided she needed to act and launched Embody in Grand Rapids, Michigan, in 2014.
Dana is passionate about providing people with a sense of purpose, especially those experiencing homelessness, many of whom suffer bodily ailments due to lack of shelter. Embody offers a place for these individuals to reduce isolation, to be at peace, and to connect with their body, mind, and heart. The organization also partners with the Mental Health Foundation of West Michigan and formed a team for the Stomp Out Stigma 5K Walk to raise awareness about the importance of mental health while inspiring people to give themselves back in service.
Finding Inspiration With Isagenix
Dana was introduced to Isagenix one day after her son, Wills, came home from basketball practice completely exhausted. Dana's friend and Isagenix Independent Associate and Founders Club member, Margaux Drake, recommended Wills try AMPED™ Recover. The post-workout drink soon perked him up!
"I am extremely grateful that products like this exist," said Dana.
Shortly after, Dana signed up to become an Isagenix Associate.
"Being an Associate is a fun, active part of my day-to-day life," she explained. "I am a daily product user who is passionate about the health benefits of Isagenix and the energy it gives me to do my life 100% as a mom, wife, and founder and executive director of Embody."
Providing Yoga for All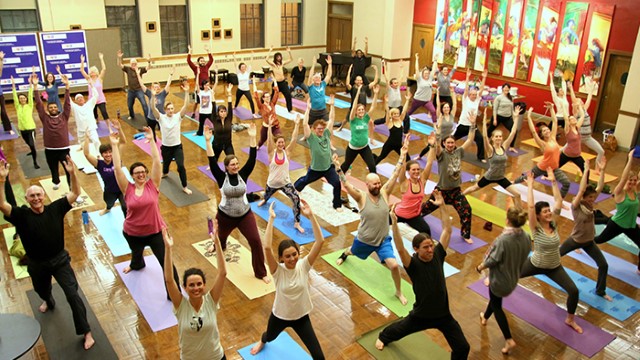 Dana's outstanding service to the community and her commitment to providing access to health and wellness for all encouraged her to apply for an ISA Foundation grant on behalf of Embody, which was awarded a grant in 2019.
With the help of the ISA Foundation grant, Dana is on a mission to spread her philosophy of service, mental and physical health, and wellness all over the country. She is relocating to Northern California to establish a second Embody location on the West Coast. One day, she hopes to have a location in every state so that as many people as possible can have access to the life-changing power of yoga, mindfulness, and community service.
"I am very thankful to be part of Isagenix and the ISA Foundation," Dana said. "The alignment is incredibly powerful and has already positively impacted countless people. I look forward to all the lives we can continue to support with physical, mental, and financial freedom."
Learn more about the impact of Embody by visiting FeelBetterDoGood.org.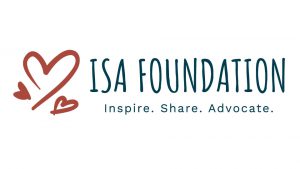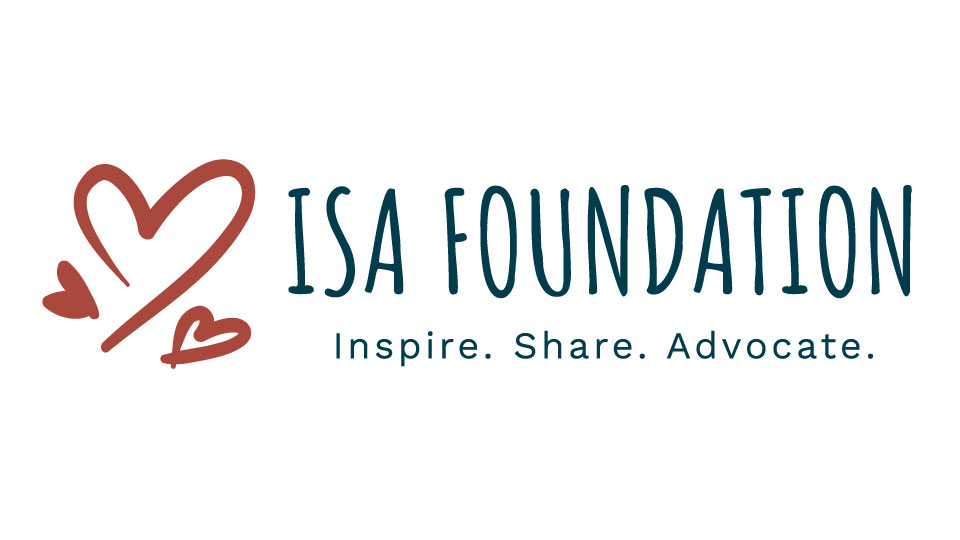 Do you know a deserving U.S.-based nonprofit organization that aligns with the mission of the ISA Foundation? Grant applications are now being accepted, so apply now!