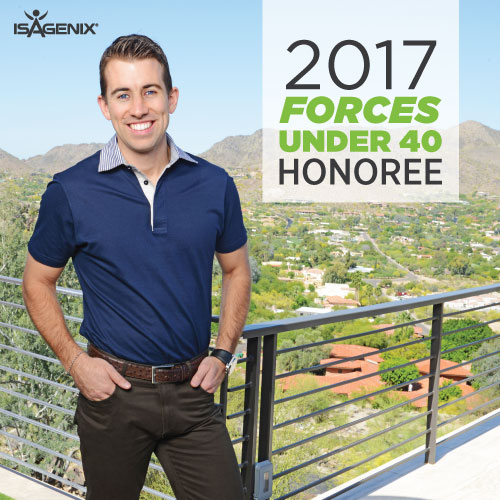 Innovative. Goal driven. Fun. These are all words that describe Isagenix Owner and Senior Vice President of Global Field Development Erik Coover, who was recently named to the Direct Selling News annual "Forces Under 40" list.
The prestigious honor spotlights leaders who are spearheading change through thought leadership, collaborative interaction, and good stewardship – all characteristics Erik inherently evokes.
Joining the family business in 2010, Erik's charisma and passion quickly catapulted him into doing what he does best: uniting people and empowering them to be the best they can be. His hard work and dedication helped him move up in the company over the last seven years.
His biggest contribution has been leading the global START movement for those 18-35 years old. Erik urges all START members to own their lives by realizing their full potential and understanding that hard work and dedication are best served pursuing the life they want.
When not actively trying to help Customers transform their lives, Erik plays an active role in the Unstoppable Foundation, a nonprofit organization bringing sustainable education to children and communities in developing countries as well as giving back to the Make-A-Wish® foundation.
Throughout all his successes, Erik maintains a humble yet welcoming personality. He repeatedly proves his ability to lead through diverse and challenging situations. As an avid golfer, he has honed his sense of focus to achieve goals that will change people's lives and those around them forever.
Erik, on behalf of your entire Isagenix family, we are so proud of you. Congratulations on this incredible acknowledgement!