Contribution is what builds our legacy. From experience, we've learned that giving back helps us move forward into our most powerful future. It's no surprise, then, that Isagenix Customers and Associates have embraced contribution and completely blown us away by donating millions of dollars to support the Make-A-Wish® Foundation and sacrificing countless hours by volunteering on Global Give Back Day.
This commitment to contribution inspired us to take our legacy of giving to a whole new level!  Drumroll, please….We're proud to introduce the Isagenix Legacy Foundation!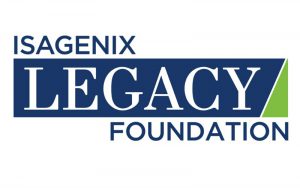 Now, the Isagenix family can unite to make an impact on the health and wellness of people who need it most around the world through our very own charitable foundation. Moreover, the impact of your contributions is greater than ever because every dollar will go to those in need. When forming the Foundation, the Isagenix Board agreed that all Foundation costs – including salaries and overhead of the staff –  will be paid by our company. That means that 100 percent of the donations you make to the Foundation will go directly to impact the lives of those in need.
We're Building a Community
The Isagenix Legacy Foundation is at the core of our community pillar in the new Isagenix brand architecture, alongside sustainability and volunteerism. Getting behind the Foundation allows Isagenix to demonstrate our leadership as a philanthropic and purpose-driven brand, and that is good for business and for the world. We believe that companies have a responsibility not only to give but also to share their vision for a better world. Through the Foundation, Isagenix can powerfully share our charitable vision for a healthier world, and in the process, enhance our brand, build loyal Customers, and make us all even prouder to be part of the Isagenix family.
The Isagenix Legacy Foundation will focus our giving on three main areas where we have unique expertise and the world has tremendous need:
Children's nutrition. We believe every child has the right to access healthy meals, but unfortunately, that's not a reality for millions of young people around the world. Let's be the ones who feed the world.
Wellness education. We believe everyone deserves to live their healthiest, happiest life. We believe it's much more powerful and sustainable to provide a "hand up" than a handout. We want to wipe out childhood obesity, help seniors enjoy mobility and wellness, and lead the way in innovations that can create healthier communities around the world. Let's be the ones who show it's possible to achieve a happy, healthy lifestyle.
Disaster relief. We believe that no family should be on its own when disaster strikes. We believe that good nutrition and safe water are essential to overcoming tragedy. Let's be the ones who are there for families in their time of need.
Grant Process Is Coming Soon
The Isagenix Legacy Foundation will make grants to organizations throughout the world that specialize in one of these areas of giving. Our grant process will soon be open to qualifying charitable organizations, and we will announce our first grants at New Year Kick Off in Phoenix in January 2019. In the meantime, we need your help donating and volunteering so we can make our greatest impact, beginning right now!
Contribute Today
There are many ways to contribute, and you can give your first donation today! Visit IsagenixLegacyFoundation.org to learn how you can get started building your legacy of contribution.