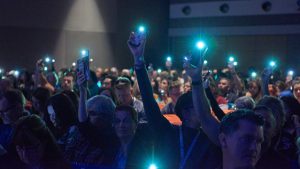 At Canada Celebration 2019, the Isagenix Legacy Foundation proudly announced that it has officially expanded into Canada. The mission of the Isagenix Legacy Foundation, which launched in the U.S. in 2018, is to create sustainable impact globally through charitable contributions focused on healthy nutrition and support for underserved children, wellness education for all, and aid for those affected by natural disasters.
"Our Isagenix family shares the company's passion for giving back, so I was not surprised to see our Isagenix Independent Associates and Customers in Canada embrace the foundation," said Isagenix Chief Executive Officer Travis Ogden. "We're grateful for their generous and enthusiastic support, which will help us partner with nonprofits to make a tremendous difference in communities across Canada and around the world."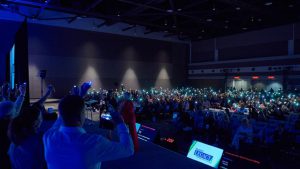 We Accomplished Our Goal
Our generous Associates helped us reach our goal of raising $200,000 to launch the Isagenix Legacy Foundation! Thank you to these leaders who donated $5,000 or more during the event:
Andrea Sinclair
Angela and Joe Martini
Anna and Craig Earley
Bo (Kim) Kalil
Carol and Mark Foullong
Carole Taylor and Peter Oleman
Courtney Bouchard
Darren and Cindy Little
David T. S. Wood
Janey and Kevin Snelgrove
Jen Newman
Josette Leblanc
Karen and Bill Bayles
Kari-Lyn and Shawn Owen
Kyle and Megan Nekrash
Malcolm and Christina Murray
Misty Howard
Natacha Ouellette
Natalie Boese
Neil and Tammy Browning
Nicole and Rob Stewart
Sarah-Jane Vandenberg
Shannon and Chris Fisher
Susan and Glenn Field
Tammy McGillivray
Terry Smith and Leah Probst
Terry Trecarten
Treslie and Ryan Frey
Warren and Arlene Lance
You Can Make A Difference
The impact of your contribution is greater than ever because every dollar will go to those in need. Isagenix will pay for all foundation costs — including the salaries and overhead of the staff. That means that 100% of the donations* you make to the foundation will directly impact the lives of those in need.
We are ecstatic about the Isagenix Legacy Foundation impacting Canada. You can join in this effort by contributing when you place an Isagenix order or by making a monetary donation online . Our goal is to begin providing grants to Canada-based nonprofit organizations in 2020. With your help and our Isagenix community, we have the ability impact millions of lives. Visit IsagenixLegacyFoundation.ca .
*Tax receipts for donations to the Isagenix Legacy Foundation maybe subject to retroactive charitable registration approval in Canada. If such approval is not secured before the end of 2019, your donation will be transferred to Make-A-Wish® on your behalf who will provide a tax receipt.