Is Essence by Isagenix Essential Oil changing your life, but you're still having trouble incorporating it into your business? This one's for you.
Essence has been a part of the Isagenix System for more than a month now and is the perfect complement to the Isagenix lifestyle. Maybe it's obvious to you as a business builder but less so to the person experiencing Essence for the first time.
The Essence Toolkit breaks down everything you need to know about building a business with essential oils, but there is plethora of information. Here's five takeaways from the toolkit to help you get started sharing the benefits of Essence by Isagenix:
1. Essence vs. Other Essential Oils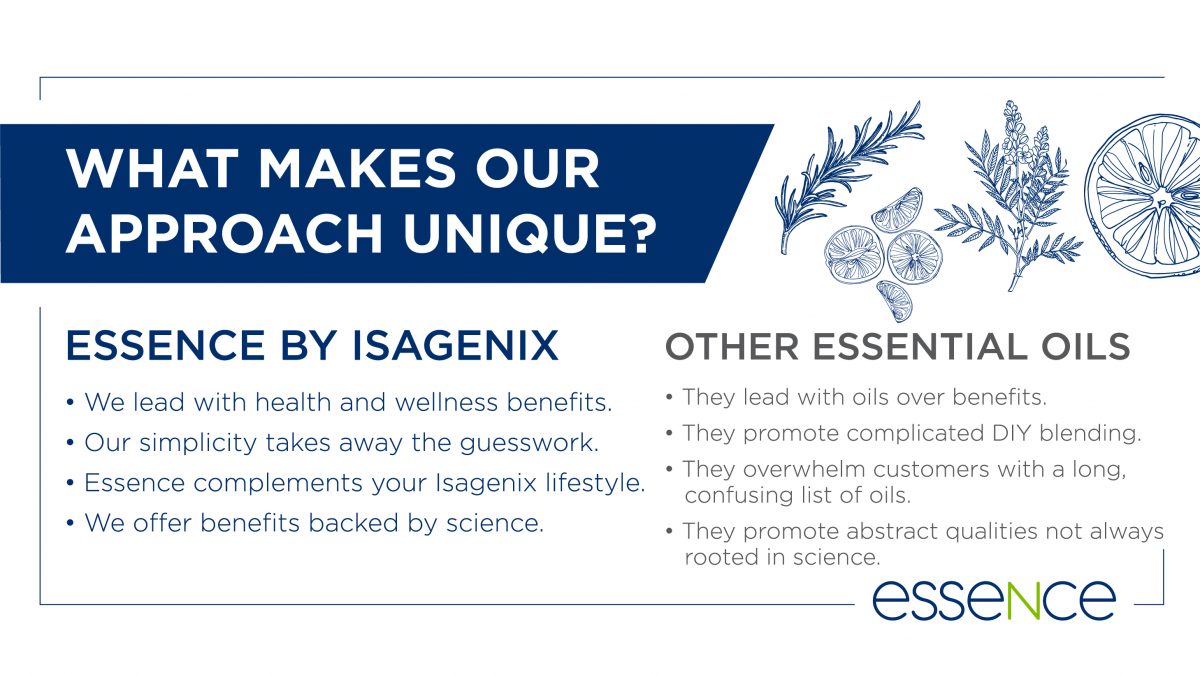 You can buy essential oils almost anywhere, so why buy Essence by Isagenix Essential Oil? Even Associates who know the story well have trouble condensing it down to a quick pitch, so there's an easy-to-process chart in the toolkit that explains what separates Essence from other essential oils on the market. It's a great visual to grab someone's attention when the longer, more detailed story could lose some people.
2. The Eight-Step Process
Our responsible quality sourcing is a big part of the Essence story, and it's a process that's better shown than told. Two graphics show each step of our essential oils steam distillation and cold press, which might look confusing at first glance, but the eight-step quality process walks through each part and shows how much care we put into how we source our oils.
3. Three Ways to Use
First-timers likely think about diffusing when they hear about essential oils, but that only scratches the surface of what Essence offers. You can find how to use each oil on their individual labels, but let's review:
Apply. Just one or two droplets of Essence to your skin for soothing benefits depending on the single or blend you're using. Isagenix Coconut Application Oil helps minimize skin sensitivity when used with Essence.
Diffuse. The Isagenix Cool Mist Diffuser releases your favorite Essence by Isagenix Essential Oil aroma in a cool fine mist. The diffuser itself is also pretty cool! It creates the perfect ambiance by illuminating eight different colors, and the wood grain finish makes it a great set piece in your home.
Ingest. This is the one many Essence newbies don't know about! Except for a few different singles and blends (check your toolkit), Essence can enhance both the flavor and experience of your IsaLean® Shake or Cleanse Day. You'll also find Essence in many of our latest recipes.
4. Tips for New Users
Even with all the information listed above, essential oils can still intimidate new users. The best way to share the benefits of Essence by Isagenix to new users is to address their concerns head-on. The toolkit has a section titled "7 Mistakes New Oilers Make" for just this reason. It covers common barriers that deter new users from trying essential oils or giving up on them after starting. Alleviate their fears, and people will feel much better about trying something new!
5. Sharing on Social Media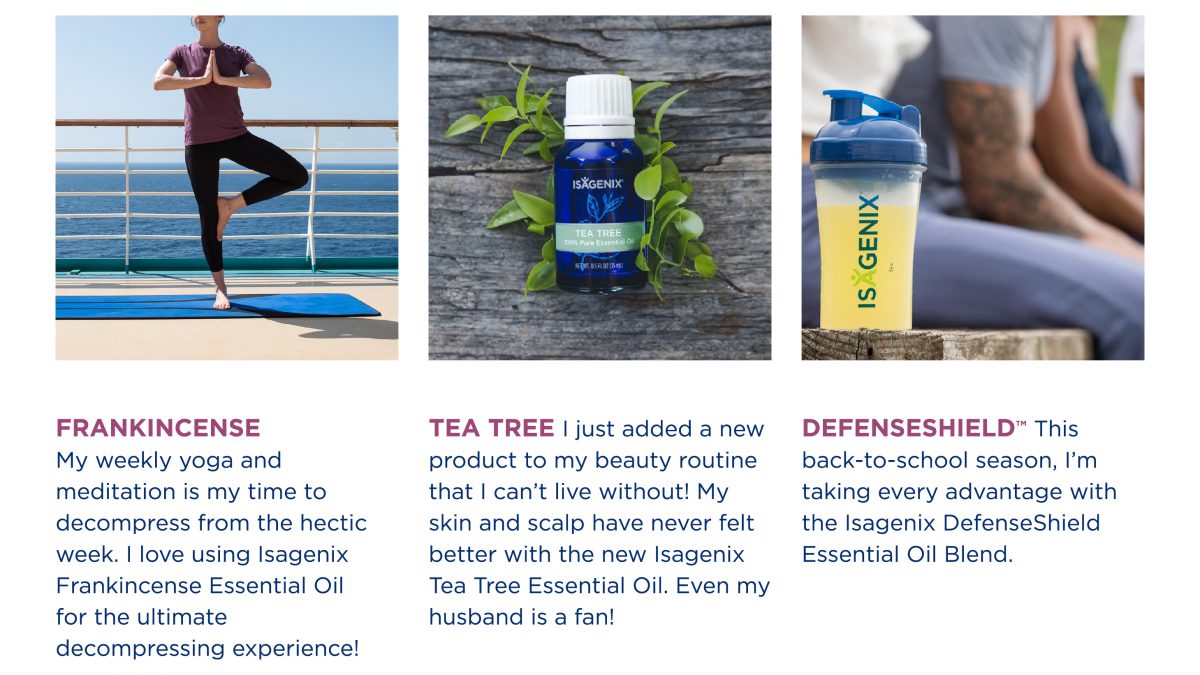 You're probably already talking about Essence on social media, and that's fantastic, but a consistent message is just as important as an enthusiastic one when sharing such a new kind of product to the masses. The good news is the toolkit takes the guesswork away and gives you tons of awesome content to share on your channels. Just download the pictures, copy the text, and add your own personality. It's that simple!
If you still haven't tried Essence by Isagenix Essential Oil for yourself, every single, blend, collection, and accessory is waiting for you on your IsaLife™ app and Back Office. You can also check out other tools like this panel discussion about incorporating Essence into your business.